Euro 2012: Why Benching Mario Balotelli Would Be a Mistake for Italy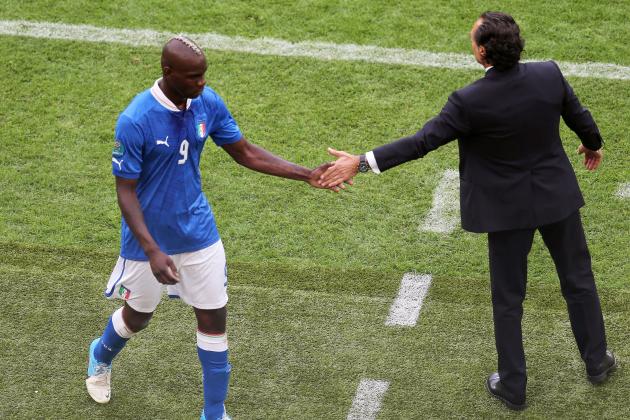 Alex Grimm/Getty Images

Heading into the 2012 UEFA European Football Championship in Poland and Ukraine, Italy manager Cesare Prandelli and his squad left many questions to be answered, and much to be desired.
Three consecutive losses without scoring a goal in the build up to the tournament were compounded by injuries and a match-fixing scandal that swept the nation, and robbed the former Fiorentina manager of his starting left-back Domenico Criscito.
But after an exciting 1-1 draw with Spain during the opening Group C match, many of those questions were answered. Prandelli utilized the 3-5-2 formation to great effect, Daniele De Rossi was immense at the heart of the defense, and Italy proved that they could indeed find the back of the net.
But one new question that arose following the match was whether or not striker Mario Balotelli would retain his place in the starting XI following his disappointing attacking display against the reigning European and World champions.
Squandering a glorious opportunity early in the second half (after doing everything right to create the chance), Balotelli was otherwise unable to threaten Spanish goalkeeper Iker Casillas, and was ultimately substituted before the hour mark.
To make matters worse for the youngster, his replacement Antonio Di Natale came in and promptly gave Italy the lead with his first chance in the 60th minute.
That goal now has some suggesting that the Udinese striker should start in the Azzurri's critical match with Croatia later today, at the expense of Balotelli.
Here are five reasons why that would be a mistake.
What do you think? Should Balotelli be dropped from the starting XI to face Croatia?
Begin Slideshow

»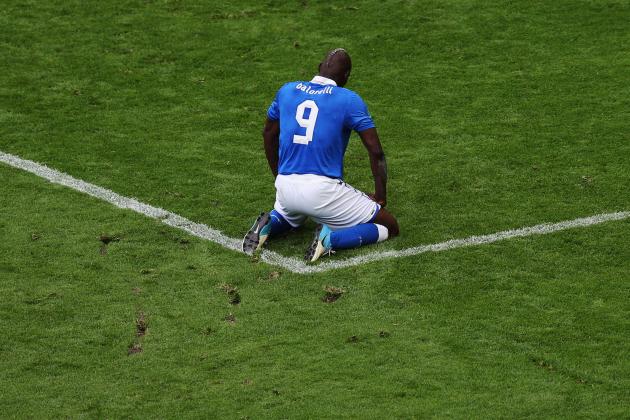 Alex Grimm/Getty Images

Balotelli's mental fragility has been very well documented throughout his career, and if Prandelli were to remove him from the starting lineup for the crucial match with Croatia, one would think that could only harm Balotelli's confidence, which is arguably the most critical attribute that separates good strikers from great ones.
Despite the fact that the 21-year-old seems to move about the pitch with supreme confidence in his ability—to the point of arrogance, some would say—his removal from the starting XI would be a big mental blow for a player who is still very raw at the international level.
If Italy hopes to get a positive result against Croatia and make a deep run in the tournament, Balotelli will be an integral piece of the Azzurri puzzle. It remains to be seen how his removal from the lineup would affect his psyche, but all things considered, it would be a surprise if he accepts the decision and reacts positively to it.
Clearly, picking a starting lineup based on whether or not a certain player will be irritated if he is not selected is by no means a good way to go about managing your team, and that should not (and will not) be the determining factor for Prandelli in the build up to today's contest in Poznan.
But Balotelli is certainly aware that he did not have the greatest of matches in the opening fixture, and he will be raring to improve against Croatia.
Seeing that his manager still has faith in him would be a big boost for the striker, and it could very well push him to be at his very best not only against Croatia, but for the remainder of the tournament.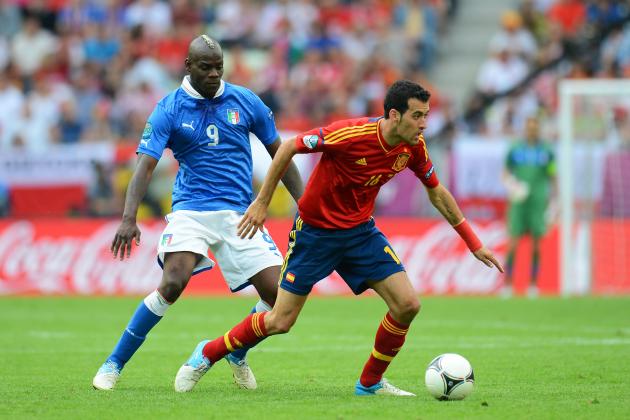 Shaun Botterill/Getty Images

You probably didn't expect to read that. In truth, I didn't expect to be writing it.
Mario Balotelli and hard work don't exactly go together like peanut butter and jelly, but the Azzurri No. 9 showed on Sunday that he is willing to commit himself at both ends of the pitch—not just one—for the good of the team.
While he did squander that glorious breakaway chance early in the second half against Spain, that has distracted many people from what was a very selfless performance from the former Inter man.
Balotelli worked hard to help his team, tracking back and often becoming the first line of defense. For a player who is criticized for his selfishness, his performance against Spain was a positive in that sense.
After all, the way he created his breakaway chance in the first place was by hounding down and dispossessing Sergio Ramos.
Full of running, Balotelli looked more than willing to get involved in the match from a defensive standpoint. Even his fouls—and subsequent yellow card—were a result of his hard work and industry more than they were the types of reckless challenges that he has committed all too often in the past.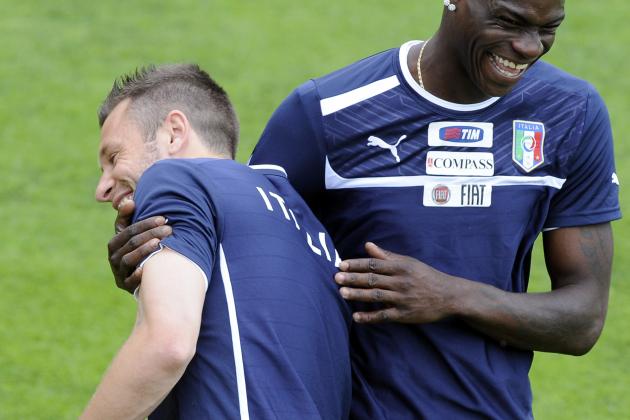 Claudio Villa/Getty Images

After being on the wrong end of a 3-0 thrashing at the hands of Russia in their final pre-tournament friendly, many people were predicting a disastrous showing for the four-time World Cup champions at Euro 2012.
Injuries, a lack of creativity in midfield—we're looking at you, Riccardo Montolivo—and a shaky defence were all being touted as reasons why the Azzurri would falter come tournament time.
But one positive aspect that was taken from that loss was the continued development of the partnership between Balotelli and Antonio Cassano. The two men seemed to have a keen understanding of each other's movement and thought process with the ball in Zurich, and those signs were ultimately enough for Prandelli to start the mercurial duo against Spain.
While it didn't exactly work out on Sunday afternoon, both men did manage to cause the defending champions problems at the back, with Cassano's dribbling ability and Balotelli's pace and power making life difficult for Sergio Ramos and Gerard Pique.
While Antonio Di Natale received much of the praise—and deservedly so—for his goal, Balotelli together with Cassano is still the most dangerous attacking pairing for Italy, and they should be given the chance to link up once again against Croatia.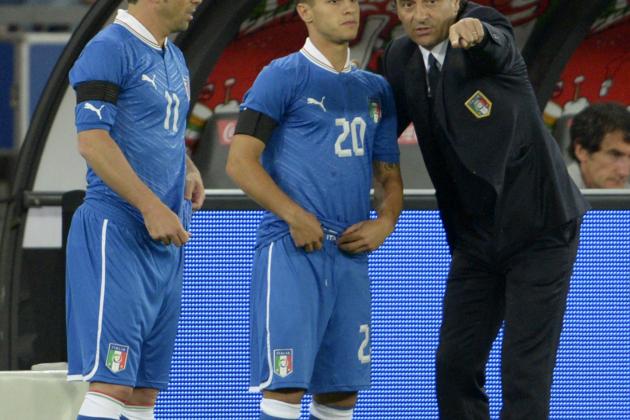 Claudio Villa/Getty Images

Of Italy's main attacking threats in Poland and Ukraine, the Manchester City striker is the only player who offers a legitimate physical presence up front, as well as strong aerial ability.
Despite the fact that Balotelli didn't look as threatening as he normally does, that presence still seemed to unsettle the Spanish defense at times.
Prandelli has shown both in the past and on Sunday that he has no reservations about turning to a diminutive duo up front, but it seems that option is best suited for the latter stages of the match.
That is when the likes of Di Natale and Sebastian Giovinco can come in and cause problems with their quick movement and pace against a tiring opposition.
But utilizing two small strikers for the majority of the 90 minutes could make Italy very one dimensional, and thus, easier to defend against, which could help Balotelli's case for retaining his place in the starting eleven.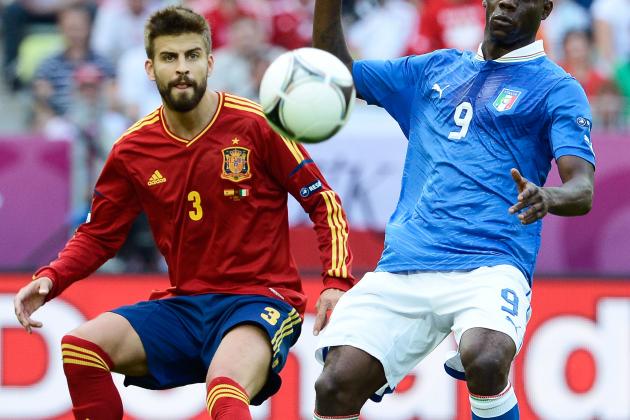 Claudio Villa/Getty Images

On numerous occasions against Spain, the Italian defence could be found lumping the ball forward in order to release the pressure they were being placed under.
Many of those balls were aimed towards the 6'2" striker, who is the only player in the side with the ability to win those balls in the air.
While Prandelli's system is one where the defenders are encouraged to knock the ball around and play it out of the back in order to launch an attack, that is simply not always possible.
Throw in the fact that Italy gave away possession far too many times—and far too easily—while trying to move the ball out of defense, and there is a need for someone of Balotelli's ilk to provide an alternative option for Daniele De Rossi and co. when they are in trouble.
While Croatia will not apply the same pressure as the Spaniards in terms of ball retrieval in the attacking third, that does not mean they will simply sit back and allow the Italians to keep possession and attack as they wish.
Croatia are well aware that a victory in this match will assure them of a place in the knockout rounds, and that should be more than enough motivation for them to push hard and put the Italian defenders under some pressure.
If that happens, Italy will need an outlet that has the ability to contest big, strong center-backs in the air, and neither Di Natale nor Giovinco can do that.