Matt Cain: SF Giants Ace Cements Place Among Pitching Elite with Perfect Game
June 14, 2012

Jason O. Watson/Getty Images
Up until Wednesday night, it was possible to argue that San Francisco Giants ace Matt Cain was the most under-appreciated pitcher in Major League Baseball. 
That argument no longer applies. Not after what Cain did to the Houston Astros. Tonight, he has everyone's attention. 
In the event that you just slithered out from under a rock, we're talking about Cain because he pitched a perfect game in a game the Giants won 10-0.
And believe me, it was a truly great perfect game. In fact, Cain's might be the best perfect game ever pitched.
All told, Cain struck out 14 Astros, tying Sandy Koufax's record for strikeouts in a perfect game. Per ESPN.com, he finished with a game score of 101, which happens to tie Koufax's record for the highest game score ever recorded in a perfect game.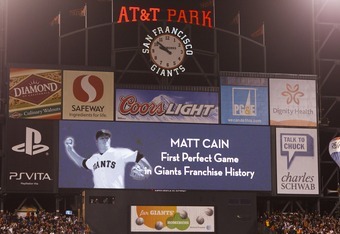 Jason O. Watson/Getty Images
That's just as big a deal as the fact that Cain pitched a perfect game. According to FanGraphs, Cain's game score of 101 is tied for the second-highest game score ever recorded in a nine-inning game. He came very close to breaking Kerry Wood's all-time record game score of 105, which he set in his 20-strikeout game against the Astros (poor guys) in 1998.
Oh well.
At any rate, Cain was on point from start to finish, throwing 86 of his 125 pitches for strikes. He threw first-pitch strikes to 19 of the 27 hitters he faced. Of the 13 non-strikeout outs he recorded, six were via ground balls and seven were via fly balls.
Of course, no perfect game is complete without a clutch defensive play. Cain got two: one from left fielder Melky Cabrera in the sixth inning, and another from right fielder Gregor Blanco in the seventh inning.
To make his clutch grab, Blanco had to chase down a hard shot into Triples Alley off the bat of Jordan Schafer with nobody out in the seventh. He needed every inch of his 5'11" frame to make a sprawling catch that set the capacity crowd packed into AT&T Park on a roar.
MLB.com has the video highlight.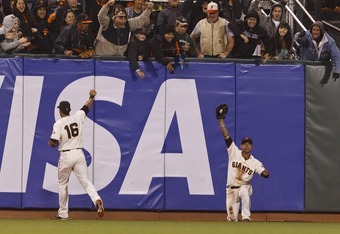 Jason O. Watson/Getty Images
From there, it was smooth sailing for Cain, and he capped off the 22nd perfect game in baseball history by getting pinch-hitter Jason Castro to ground out quietly to third. It's the first perfect game in the history of the Giants.
For the season, Cain now has a 2.18 ERA and a 0.85 WHIP. His record is now 8-2, and his career record is now 77-75.
That career record is a great injustice, and it's a big reason why Cain doesn't get the respect he deserves. In fact, quite a few people laughed at the Giants' apparent recklessness when they signed Cain to a $112.5 million extension earlier this season. Surely a pitcher with such a mediocre career record wasn't worth that much coin.
Heck, if anything the Giants aren't paying Cain enough.
When they look back on Cain's career many years from now, people are going to view his perfect game as his big breakthrough. It will be viewed as the game that put Cain on the same level as the other greats of the day: guys like Justin Verlander, Roy Halladay, Felix Hernandez, CC Sabathia, and so on.
That will be the perception, but that won't be the reality. From the start of the 2009 season until now, Cain is one of just nine pitchers with an ERA under 3.00, and he's pitched more innings since the start of the season than all but five other pitchers.
So the reality is that Cain has been among the elites all along. It just took him a while to stand out.
If you want to talk baseball, hit me up on Twitter.