Could New York Yankees Be Looking into Adding Ben Sheets for 2nd Half?
June 14, 2012

Most of you probably just did a double-take at that headline and thought you were reading an article from two years ago, but you read that headline correctly: Ben Sheets has found his way back into baseball headlines again and may be looking into making a pitching comeback.
Tim Dierkes from MLB Trade Rumors reported late Wednesday night that Sheets threw for scouts in Monroe, La.
Sports Illustrated's website also picked up the news, which was based on Dierkes's report as well.
Scouts from the Phillies, Braves, Angels and Yankees were all in attendance to watch Sheets throw.
Sheets has not pitched in baseball since 2010, which is when he signed a one-year, $10 million deal with the Oakland A's.
He started out 4-9 with a 4.53 ERA in 20 starts before missing the rest of the season with a flexor tendon injury, which required surgery.
Sheets has been recovering from his injuries and surgeries, one of which was Tommy John surgery, but it appears he is now looking to get back into baseball and potentially pitch with a contender in 2012.
Early on in his career, Sheets looked like one of the best pitchers in the game, but he was always sidetracked by injuries.
His last full season was back in 2008, where he made 31 starts for the Milwaukee Brewers before being put on the shelf for over a year.
The Yankees were linked to having interest in Sheets during the 2009 offseason, but they decided to trade for Javier Vazquez instead—a move that didn't pan out as expected for the Bombers.
Would the Yankees have serious interest in adding Sheets, who will be 34 come July?
Taking on Sheets would be an incredible risk given he hasn't been healthy and active for over two years now.
If he is healthy and can be anywhere near the pitcher he once was for the Brewers, though, he could be an interesting pickup.
However, with the Yankees' current starting rotation, where would Sheets fit in?
They already have a rotation of CC Sabathia, Hiroki Kuroda, Phil Hughes, Andy Pettitte and Ivan Nova, who are a combined 31-18 and have been pitching well lately.
If the Yankees didn't have Pettitte—especially with Pettitte pitching well—looking into Sheets would make sense.
If Hughes's struggles had continued from earlier in the season, where he started out 1-4 with a 7.00-plus ERA, adding Sheets would make sense.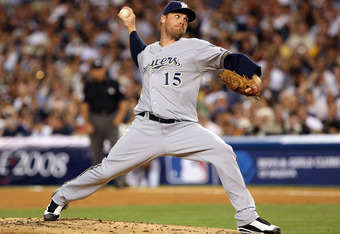 Nick Laham/Getty Images
If Kuroda's inconsistencies were continuing, and he was racking up losses, then adding Sheets would make sense.
And if Ivan Nova weren't winning and still had an ERA over 5.00, then adding Sheets would make sense.
But Pettitte, Hughes, Nova and Kuroda are all pitching well for the Yankees, which makes the Yankees' interest in Sheets a little surprising.
That said, with the Yankees bullpen depleted by injuries, they could put Sheets in the bullpen, and, if they make the postseason, they could use him as an extra arm in late innings.
My gut reaction says the chances of the Yankees ending up with Sheets are very low. He could very well join another contending team if he does come back in 2012.
But Sheets returning to baseball and having the interest of the Yankees could be an interesting story to follow over the next couple of weeks.
Stay tuned, Yankees Universe.