Minnesota Vikings: Are They Finally Done Rebuilding?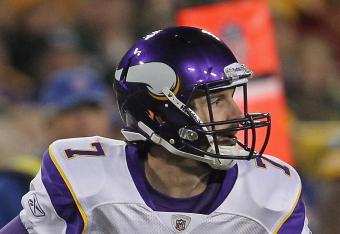 Christian Ponder will have more influence than any other player on Minnesota's roster on when the franchise makes its next playoff appearance. It's simply the nature of the quarterback position in the NFL today.
Jonathan Daniel/Getty Images
On Jan. 24, 2010, Minnesota Vikings fans thought their team was heading to Super Bowl XLIV.
Brett Favre appeared to be the prescription the Vikings needed to bring the franchise its first Super Bowl title.
He, combined with Minnesota's stellar defense and Adrian Peterson, led the Vikings to a 12-4 regular season. Minnesota earned a bye into the NFC divisional round where it demolished Dallas 34-3.
Fans were preparing for a grand parade with Favre front and center. Things seemed right for those in purple.
But Tracy Porter's interception of Favre with seven seconds left in the 2009 NFC championship coupled with a field goal on the opening possession of overtime did in the Vikings, the hopes for a parade and the long-term future of the franchise.
Since that day the Minnesota Vikings have been in a tailspin. It is a tailspin that led the franchise to where it is today: one of the worst teams in the NFL.
In 2010, the Vikings finished 6-10. The Brett Favre experiment proved to be a one-year fix. Year two proved a bigger disappointment than Facebook stock on the open market.
After throwing for 4,202 yards (third most in his career), 33 touchdowns (fourth most in his career) and completing 68.4 percent of his passes (career-best) in 2009, he threw 19 interceptions compared to 11 touchdowns and played in 13 games in 2010.
Favre proved to be over-the-hill in 2010, which led the Vikings to another over-the-hill quarterback: Donovan McNabb.
When will Minnesota make its next postseason appearance?
For six games, Minnesota let McNabb drive the offense into the ground before it handed the keys to its version of an NFL offense to Christian Ponder.
That move should expedite the rebuilding process.
But any Minnesota fans that EXPECT the Vikings to compete for a postseason berth in 2012 are living in a delusional world. Expecting that should be grounds to test a person's sanity.
Let me start with the most important position in the NFL—quarterback. The Vikings do not have a player ready to lead a winner in 2012.
Christian Ponder showed glimpses of greatness in 2011. He completed 29-of-47 passes (61.7 completion percent) for 381 yards and three touchdowns against the Denver Broncos on Dec. 4. But he also threw two interceptions that game.
There was also his performance against the Green Bay Packers on Nov. 14. He completed 16-of-34 passes (47.1 completion percentage) for 190 yards with zero touchdowns and one interception. The Vikings lost 45-7.
Ponder will be a better quarterback in 2012. But don't expect him to play at a high enough level to bring Minnesota near postseason contention. Long-term, he projects as an above-average quarterback with the abilities to quarterback a winner.
Minnesota restocked its receiver cupboard this offseason selecting Greg Childs and Jarius Wright in the draft and signing tight end John Carlson and wide receiver Jerome Simpson.
Ponder will need time to develop chemistry with those new players and to continue to progress his rapport with players like Percy Harvin, Kyle Rudolph, Michael Jenkins and Devin Aromashodu.
Who is most important to Minnesota's playoff chances in the near future?
That core is young and has the talent to grow into a talented group.
Adrian Peterson, who is Minnesota's franchise player, is a complete question mark for 2012. He insists he'll be ready for Week 1 of the 2012 campaign, but his doctors haven't made any comments that validate his belief—expect him to recover long-term. But at 27 years old, the franchise must wonder when he will hit his peak.
Toby Gerhart is a very talented running back to fill Peterson's void, but he's no Adrian Peterson (no one compares to him). He should grow into a very strong No. 2 running back and an adequate No. 1 back.
The offensive line needs time to gel.
Matt Kalil is the new franchise left tackle. Charlie Johnson will shift from left tackle to left guard. The right guard position is a big question mark. And Phil Loadholt could lose his starting spot by the end of the season if he doesn't improve. Center John Sullivan is the only one whose performance can be reasonably projected.
The line should be better in 2012 than it was in 2011 and moving into the future, which only benefits Ponder.
On to the defense.
The defensive line is one of the game's best but is aging. I expect Jared Allen and Brian Robison to be standouts at the defensive end position for the near future. Kevin Williams showed resurgence in 2011 (38 tackles, five sacks in 14 games), but how long will it last?
The linebacking corps and secondary need time to prove themselves.
We don't know who the middle linebacker will be. Erin Henderson must prove he deserves to be a starting outside linebacker.
The secondary…with Chris Cook back from suspension, Antoine Winfield aging, the selection of Josh Robinson and Harrison Smith in the 2012 NFL draft and the signing of cornerback Chris Carr, the group is moving in the right direction.
Long story short, Minnesota won't compete for the playoffs in 2012.
Look for the franchise to compete for a playoff berth in 2013, fall short and be in position to make the playoffs in 2014 (should everything go according to plan).
This article is
What is the duplicate article?
Why is this article offensive?
Where is this article plagiarized from?
Why is this article poorly edited?

Minnesota Vikings: Like this team?