Mapping out the San Francisco Giants' 1st-Base Plan for the Rest of 2012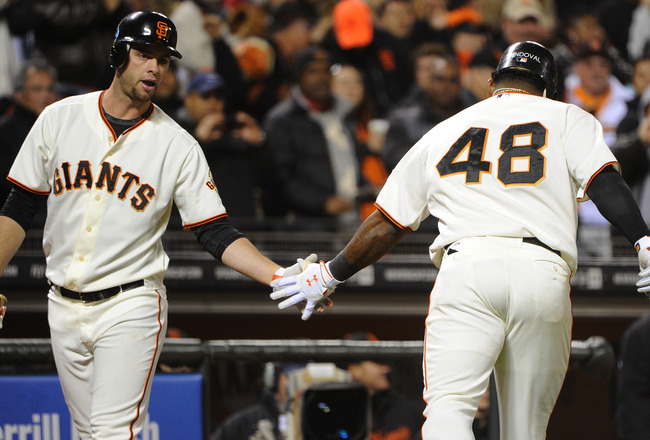 Thearon W. Henderson/Getty Images
Sometimes you just play with the cards you are dealt. Even if those cards are a pair of threes, a four, a six and a joker, someone forgot to remove from the deck. Such is the Giants' first-base situation in 2012.
Brett Pill's demotion to Fresno simplifies the situation a little, but it does not fix it. The Giants have slap hitters where there should be power—which is okay if you have Troy Tulowitzki at shortstop or Chase Utley at second, but the Giants have neither.
Even so, the Giants are red hot.
They are finally scoring plenty of runs and seem to have enough firepower to stay relevant in both the NL West and wild-card races. But can this team win the World Series?
It's likely that we will find out. With midseason acquisitions likely to target the middle infield and bullpen, the solution is likely to come from within.
Let's take a look at the potential remedies, listed in order of preference.
Brandon Belt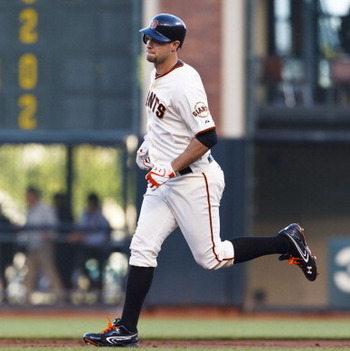 Jason O. Watson/Getty Images
Ideally, the Giants would love Brandon Belt to step up and claim the first-base job for the rest of the season and beyond. With Pill out of the platoon picture, the spot is Belt's to lose—which feels strange, since he hasn't really done anything to earn it.
Belt has yet to show the power stroke he had in the minors. Even so, James Loney-like production would be more than enough for the rest of 2012. It seems the Giants are willing to give Belt the rest of the season to take the next step before looking for a more permanent solution in the offseason.
Pablo Sandoval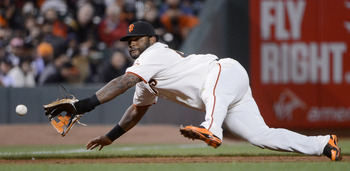 Thearon W. Henderson/Getty Images
Perhaps it's Pablo's substantial girth or his steady power stroke. In any case, Giants fans have long seen Pablo Sandoval as a natural fallback solution at first base.
Because it's hard for us to imagine Prince Fielder being a long-term solution at third base, we can only naturally conclude that Pablo's days there are numbered. Though he was originally a catcher, a switch to first base seems doable.
Of 408 games played in a Giants uniform, Pablo has played 57 of them at first base. I have no particular memories, good or bad.
The real question in moving Pablo to first is whether his replacement at third would be better than anybody else who could be plugged in at first. At the moment, that option is Joaquin Arias, who has shown defensive capability but is an unknown quantity over a full season at the plate.
Trade Market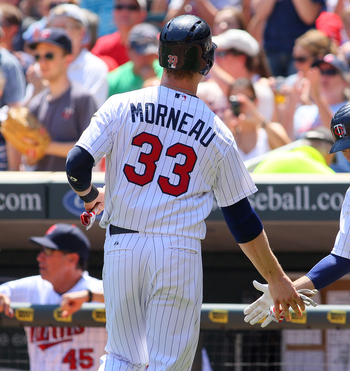 Adam Bettcher/Getty Images
Brian Sabean is notorious for pulling the deadline deals. Sometimes he hits and sometimes he misses, but he's always active.
What names would be available? I'll throw out a few: Kevin Youkilis, Adam LaRoche, Billy Butler, Michael Cuddyer, Justin Morneau.
Would the Giants give up anything of substance to obtain one of these guys? All of them would be a substantial downgrade in defense with no guarantee of an offensive upgrade.
Playing the deadline market can be treacherous. After handing Zack Wheeler to the Mets last season, Sabean may be a bit gun shy in 2012.
Buster Posey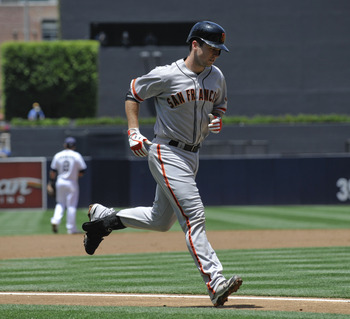 Denis Poroy/Getty Images
Buster Posey is so much more lovable behind the plate. He's the young phenom who can not only drive the ball to all fields, but manages the best pitching staff in the league. Oh, and he wins World Series.
Move him to first base, and he becomes Michael Young without the ability to play other infield positions. The thought behind this move would be to move Hector Sanchez behind the plate full time, hoping he learns a bit of patience and figures out a way to hit .280. That way the team can preserve Posey's knees for a long Giants career ahead.
Downside: Posey hasn't shown a great propensity to field the first-base position. Plus, his value takes a severe hit, as MVP-quality catchers only come around once in a lifetime.
Solid-hitting first basemen? I have three of them on my fantasy team.
Keep Posey where he belongs.
Aubrey Huff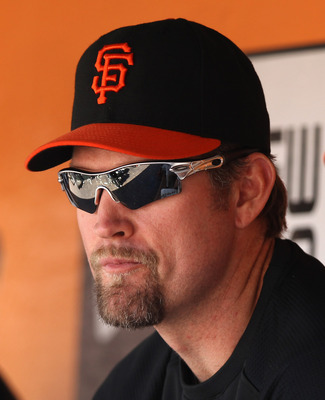 Ezra Shaw/Getty Images
Giants fans criticized Bruce Bochy all through 2011 for continuing to play 2010 hero Aubrey Huff over the younger, more promising Brandon Belt. After a tumultuous start on and off the field, Huff is currently buried at the end of the Giants bench, with only eight at-bats in the month of June and a paltry .155 average on the year.
At this point, Huff is playing out the string of his contract. There's a chance he gets hot and comes back for one last run of glory, but at this point, it seems the Giants are headed in a different direction.
Keep Reading

San Francisco Giants: Like this team?