Counting Down the Top 5 Players in the NFC North: No. 2, Calvin Johnson
June 14, 2012

Chris Graythen/Getty Images
Down to the final two players in our top five here and, as has been pointed out, it's hard to shock with these.
That's not the point of this list—I could easily stir up hits and debate with an off-the-wall list where Christian Ponder is first, but that's not my style.
I actually think there will be some debate about the order of these last two as there was when I wrote about the Peterson-Rodgers-Johnson domination order. Some people will see these as flipped in some way—I think you can absolutely make that argument.
In my world, Calvin Johnson is the No. 2 player in the NFC North. No other receiver in the league comes close—which, one could argue, might put him as the top player in the division. However, as I argued in that domination piece, the effect of removing Johnson isn't the same as removing a guy like Rodgers.
On the other hand removing Johnson isn't exactly like shutting down—well, anyone else on the planet.
Last year, during the Matt Stafford throw-a-thon, Johnson had nine games over 100 yards, three over 200, including during the playoff loss to New Orleans. He had six two-touchdown games, again including the playoff game.
Even without Stafford, Johnson dominates. In 2010 he had 100-plus yards with balls thrown mostly by Shaun Hill and Drew Stanton.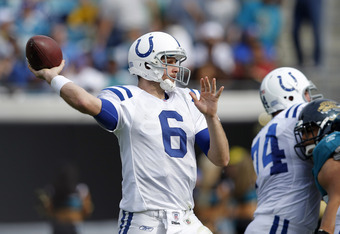 Joe Robbins/Getty Images
Heck, he had 1,300 yards in 2008 when Dan Orlovsky, Daunte Culpepper and Jon Kitna were his primary quarterbacks.
Nate Burleson is the best complementary wide receiver he's had yet, and as reliable as Burleson has become, he isn't exactly drawing defensive backs like flies to honey.
Top receivers often get help from a solid running game as that will pull the coverage off the receivers because they can't afford to give up ground yards by focusing too much on the pass.
Not Johnson. Since he has joined the Lions (really even before he arrived), Detroit hasn't had a running back total 1,000 on the ground. Kevin Smith came close in 2008 but that's about it.
Nobody pulls coverage off Calvin Johnson. Teams will risk another receiver beating them because nobody kills you like Megatron.
The hope this year is that a combination of a healthy backfield, a receiver with a chip on his shoulder (Titus Young) and a young rookie coming off a bad leg injury (Ryan Broyles) will finally provide Johnson with some single coverage.
We haven't even talked about what a physical freak this guy is. Speed? Check. Tremendous vertical? Check. Velcro hands? Check. Physical play? Check. My ball mentality? Double check.
There's nobody like him in the league. Certainly there is nobody like him in the division.
Check out the B/R NFC North Facebook page - like us and keep up with everything NFC North on Bleacher Report!