Are the Washington Redskins done rebuilding? No.
Are they going in the right direction? For the first time in years, yes, they are.
If Mike Shanahan's tenure ended today in Washington, he's going to be remembered for his botched attempt at Donovan McNabb and now the selection of Robert Griffin III.
When new coaching regimes come in, rebuilding seems evident. However, going into year one of the Shanahan and Bruce Allen era, they really didn't rebuild. The Redskins front office mistakenly thought they had a winning football team, so they gambled. They traded for what is now a washed-up Donovan McNabb. They put together one of the worst defenses in Redskins history as they were placing defensive players best suited in a 4-3 defensive front into the 3-4, and they depended on veterans like Joey Galloway, Roydell Williams, Larry Johnson, Artis Hicks and Stephon Heyer.
The 2011 draft, which featured future landmarks like Ryan Kerrigan, Roy Helu, Evan Royster, Niles Paul and Chris Neild, should have happened in 2010. Shanny screwed up and he recognized that. So he began his rebuilding process a year later than he was supposed to.
Last year, there was plenty of criticism that a quarterback was not drafted, as Blaine Gabbert, Christian Ponder and Andy Dalton were all selected after their initial 10th overall pick. Even though Dalton appears to be a Pro Bowler in the making, this was the right decision.
At the time, the 'Skins front office was laying a foundation down for their future quarterback by developing their young players, improving their defense and smart/cost efficient free-agent signings.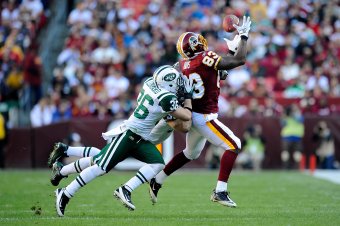 Patrick McDermott/Getty Images
It is unarguable now that the Trent Dilfer's or Kyle Orton's will not win you the primary goal in the NFL, and that is a championship. You need a quarterback who is a top-tier talent in the league.
Obviously, that's where Robert Griffin III comes in. Rookie quarterbacks are a huge risk, and of course nothing is guaranteed.
However, the Redskins have bolstered the offensive talent around him. Both Helu and Royster appear to be willing to carry the rushing attack. They have a trio of young receivers all with high potential in Pierre Garcon, Leonard Hankerson and Josh Morgan, as well as rising tight end Fred Davis.
What about defensively? Well, the defensive line is just about complete as long as Jarvis Jenkins recovers from his knee injury. The linebacking corps seems to be set as long Perry Riley improves. What about the secondary? That's not looking so good, especially if DeAngelo Hall has another poor season.
So where does that leave the team as a whole? Despite all the positives mentioned with the talented youngsters and the potential emergence of RG3, they still have a long way to go—very long, for that matter.
Let's break it down: There are 22 starting positions on offense and defense collectively. We can also factor in three important positions on special teams (kicker, punter and return specialist). For all those mathematicians out there, that gives us 25 slots.
Out of those 25, there are 14 that I am more than comfortable with. On offense there is RG3, the running back trio of Helu, Royster and Hightower, Darrel Young, Fred Davis, Pierre Garcon and Trent Williams. I'm being kind on a few of those, too.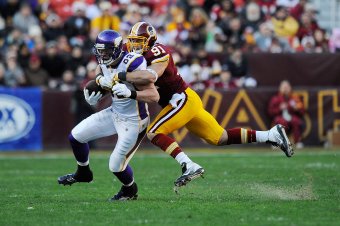 Patrick McDermott/Getty Images
On defense I have the defensive line as a whole (Stephen Bowen, Barry Cofield, Jarvis Jenkins and Adam Carriker), Ryan Kerrigan, Brian Orakpo, London Fletcher and Josh Wilson.
On special teams, the only one I like is Sav Rocca, and he's a punter. So how much can we really care about him?
To break it down some more, we haven't even touched depth yet, which I can't even stress the importance of that. It's something the Redskins have lacked since, I don't know, forever. OK, maybe the last 20 years.
To avoid any major arguments, let me clarify. I like players like Hankerson, Perry Riley, Willie Smith, Niles Paul, etc. That being said, we aren't entirely sure if they are going to be solid football players for years to come. We haven't seen them play enough and some of them haven't had a lot of opportunities yet.
What's even more concerning is that the most important player is Robert Griffin III, and how confident are we in the offensive line? I'm not confident at all.
Trent Williams has the talent and he should be able to bounce back from his embarrassing punishment. Other than that, just how good are the rest of the guys? The Redskins will not be a winning team if RG3 is on the ground half the time, especially when they play some of the best pass-rushers in the NFL year after year.
For the second year in a row, the Shanahans are simply hoping for the best when it comes to Jammal Brown. We really don't know if Kory Lichtensteiger can fully recover, I'm assuming that Will Montgomery is creating a bridge for one of the recent draft picks to take over at center one day, and Chris Chester is decent at best.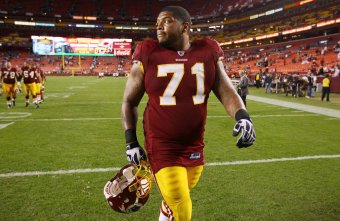 Win McNamee/Getty Images
To me, that's not enough and the 'Skins are going to be in a hole. They don't have a first-round draft pick next year and the salary cap infractions could demoralize the 2013 offseason plan.
In regards to personnel, my second biggest concern is the secondary. NFL offenses have transitioned to pass-happy schemes, thus the need for superior defensive backs to combat them.
I love Josh Wilson and he overachieved last year; he has proven to be a solid complementary-type cornerback. On the other hand, DeAngelo Hall regressed. The 'Skins don't have an answer at nickel yet and have a lot of inexperience after that.
The same goes with both the free and strong safety positions. They have five moderate players: DeJon Gomes will have an uphill battle, Reed Doughty is best suited as a reserve, Brandon Meriweather hasn't been the same in two years, Tanard Jackson has had major injury concerns, and Madieu Williams is past his prime. In previous years, we have learned that decent safety play isn't going to work.
In addition to player personnel, it takes more than just athletes to complete a rebuild. The culture needs to be changed, the leaders on the team need to step up, and the team as a whole needs to remain professional at all times.
Since Dan Snyder bought the team, there has been a culture of losing. That's not going to be fixed overnight, though adding high-quality, team-first football players will slowly build the mold of a winning foundation.
It has been shown year after year that it takes more than just speed, size and strength to win football games. That has to begin with the culture of the franchise, by enjoying and appreciating what you do as a career, loving playing for the Washington Redskins and defending home turf, just to name a few.
In a previous article, I mentioned these steps are finally taking shape and they truly are. Almost on a yearly basis, I have to find a way to ground myself before the season starts because it typically ends in disappointment.
However, not anymore, as they have too many positive aspects going in their direction. So I will repeat myself, are the Redskins done rebuilding? Definitely not, but I like what I'm seeing. By taking my obsessive fanhood out of it, I still see eventual positive results. That's really good for those that know me.
It may take longer than we wish, but soon enough.
Please.