MLB Power Rankings: Re-Ranking All 30 MLB Rotations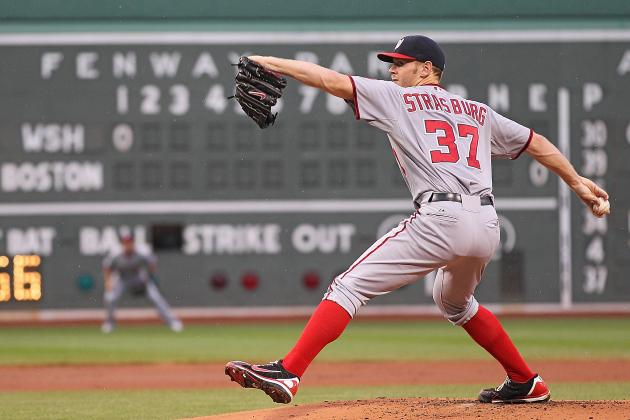 Jim Rogash/Getty Images

Now more than three months into the season, it's time to take a look at where each MLB rotation stacks up.
Squads like the Detroit Tigers and Boston Red Sox have grossly underperformed while the Los Angeles Dodgers and Washington Nationals have been dominant.
With still plenty of time to turn it around, here's a look at the most updated power rankings for MLB rotations:
*All statistics compiled before games played on 6/16
*Pitching rotations are listed in alphabetical order
Begin Slideshow

»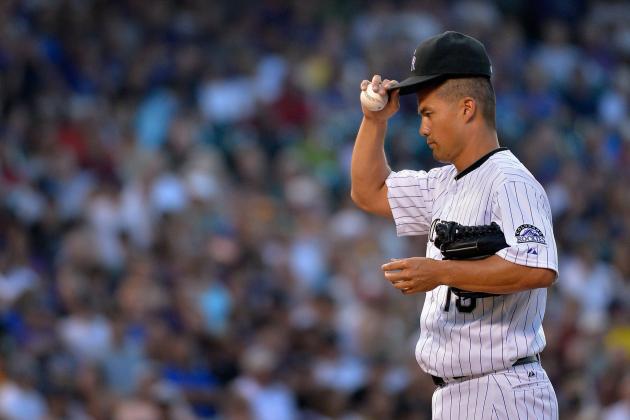 Doug Pensinger/Getty Images

Jeff Francis
Christian Friedrich
Jeremy Guthrie
Josh Outman
Alex White
Sitting at fourth in the NL West, the Colorado Rockies pitching has been nothing but a disappointment this season.
Christian Friedrich leads the staff with just four wins but has a 5.85 ERA and 1.63 WHIP.
Colorado's No. 1, Guthrie, has struggled in 2012, going 3-5 with an inflated 6.91 ERA and 1.75 WHIP—not numbers you want to see from your number one.
The Rockies pitching staff sports the highest team ERA—6.30—and has just 13 wins, which is the worst in the league.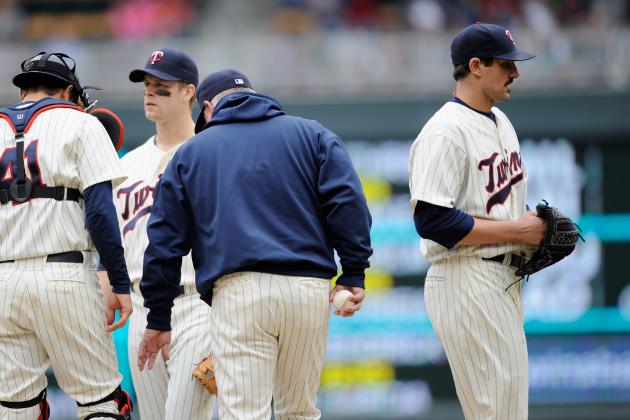 Hannah Foslien/Getty Images

Nick Blackburn
Scott Diamond
Francisco Liriano
Carl Pavano
P.J. Walters
The Minnesota Twins have gotten just 16 wins out of their starters in 61 games, which ranks No. 27 in the MLB.
Scott Diamond (5-2, 2.13 ERA) has been the best in the rotation for Minnesota, but it drops off from there, as no regular starter posts a winning record.
The Twins rotation has the second-to-worst ERA in the bigs—6.09—and are allowing opposing lineups a .310 average.
Furthermore, the Twinkies' starters rank dead last in the MLB in strikeouts, with a mere 196.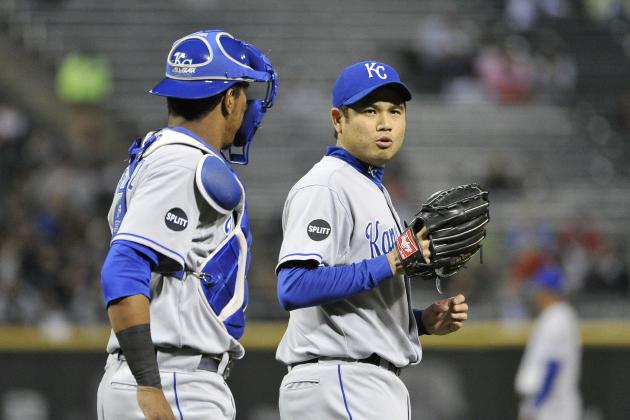 Brian Kersey/Getty Images

Bruce Chen
Luke Hochevar
Vin Mazzaro
Luis Mendoza
Jonathan Sanchez
The Kansas City Royals' fourth place standing in the AL Central reflects the starting pitching thus far.
Bruce Chen leads in wins with five but sports a 4.44 ERA. What's even sadder is the fact that his inflated ERA is the lowest of the rotation.
As a staff, the Royals have a 4.87 ERA and 19-25 record while opposing batters are hitting .275 off of them.
I think it's safe to say KC isn't going anywhere with this rotation.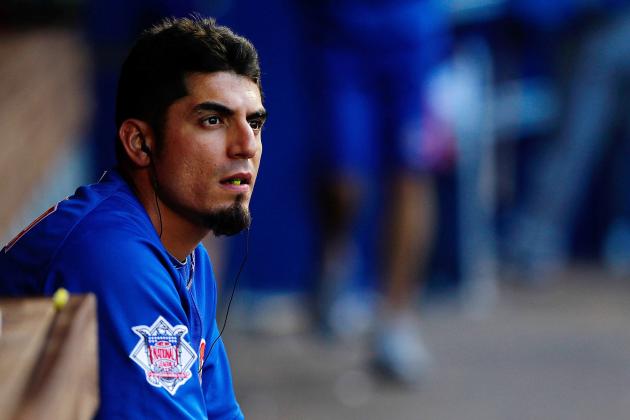 Mike Ehrmann/Getty Images

Ryan Dempster
Matt Garza
Paul Maholm
Jeff Samardzija
Travis Wood
At 2-5 with a 4.04 ERA, Matt Garza doesn't look like the ace of the Chicago Cubs starting rotation.
It's Jeff Samardzija, on the other hand, who leads the struggling pitching staff with five wins.
As a rotation, the Cubs post a 4.24 ERA and 14-27 record, which ranks second for fewest victories in the league for a starting rotation.
Ryan Dempster has pitched well, showing a 2.11 ERA, but has earned just three victories in 12 starts.
The Cubbies need some offense.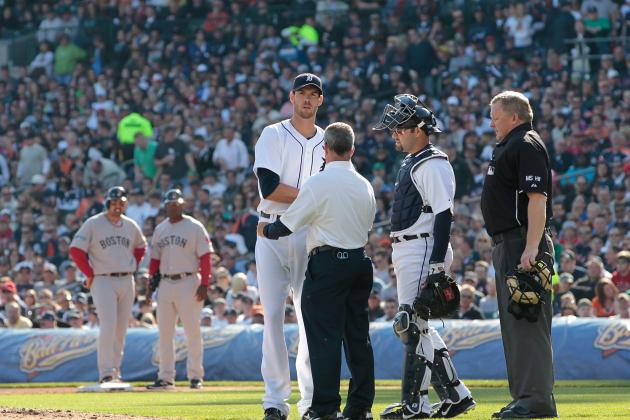 Leon Halip/Getty Images

Casey Crosby
Rick Porcello
Max Scherzer
Drew Smyly
Justin Verlander
It's hard to believe that a rotation featuring Justin Verlander ranks this badly among Major League pitching rotations.
But make no mistake about it; Detroit's pitching has been pretty bad.
Their starters have earned victories in just 18 of 64 games and have posted a 4.42 ERA while doing so.
Opposing lineups are hitting .272 against this staff—they have definitely missed Doug Fister, who has spent a lot of the season battling injuries.
Verlander has been the only consistent starter for Detroit, going 6-4 with a 2.66 ERA and 0.97 WHIP.
Get this guy some help!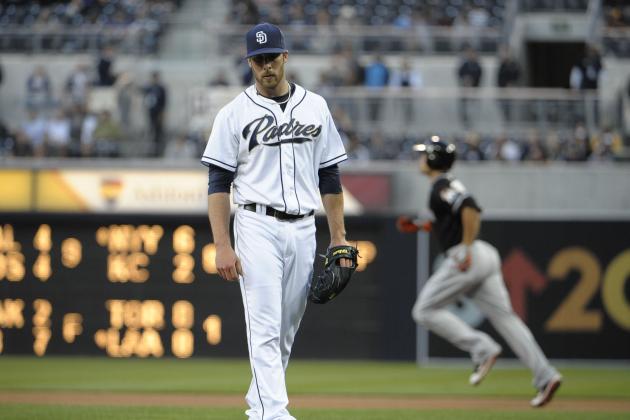 Denis Poroy/Getty Images

Anthony Bass
Jason Marquis
Ross Ohlendorf
Clayton Richard
Edinson Volquez
When Ross Ohlendorf starts this Saturday against the Oakland Athletics, he'll be the 12th starter the San Diego Padres have used this season.
That about sums it up for San Diego, who has gotten just 15 wins out of its pitching staff so far in 2012.
Their 4.19 ERA could be worse, but the 30 losses by starters and the fact that no starter has more than three wins is pretty horrendous.
Saying that SD needs more offense would be an understatement, but they need help in the starting rotation as well.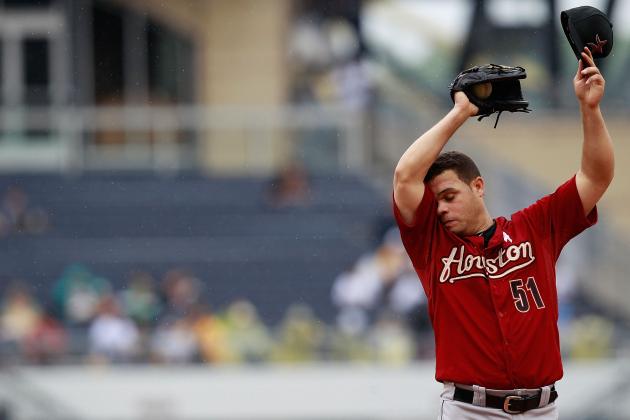 Jared Wickerham/Getty Images

J.A. Happ
Lucas Harrell
Jordan Lyles
Bud Norris
Wandy Rodriguez
Compiling a staff rotation of 4.69 and a 22-25 record, the Houston Astros starters are a big reason why they're second-to-last in the NL Central.
Lucas Harrell has won six games for the 'Stros but has an ERA of 4.83, while free agent bait Wandy Rodriguez has arguably been the best starter in Houston, going 6-4 with a 3.35 ERA.
Opposing hitters are averaging .277 against Houston starters, which ranks No. 28 in the Bigs.
On top of that, Astros starters have surrendered the sixth-most earned runs in the MLB.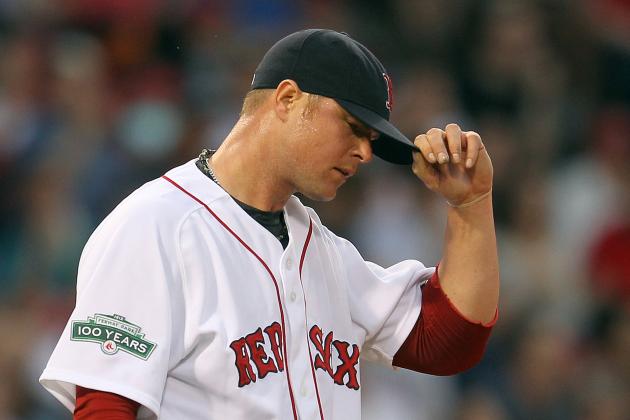 Jim Rogash/Getty Images

Josh Beckett
Clay Buchholz
Felix Doubront
Jon Lester
Daisuke Matsuzaka
Jon Lester is certainly not pitching like the ace of the Boston Red Sox staff here in 2012.
Personally, Lester's 3-4 record and 4.57 ERA are not helping my fantasy team and have added to Boston's 4.82 ERA as a starting staff.
Buchholz and Doubront each have seven wins but have plus four ERAs. The staff has surrendered the third-most earned runs (204) this season.
Perhaps the return of Daisuke will spark the staff, but it's doubtful.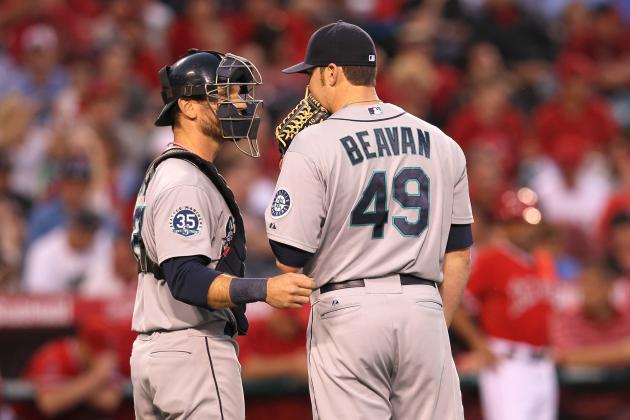 Stephen Dunn/Getty Images

Blake Beavan
Felix Hernandez
Kevin Millwood
Hector Noesi
Jason Vargas
The Seattle Mariners have gotten just 19 wins from their starters, with seven of those coming from Jason Vargas, not Felix Hernandez.
Still, the rotation's cumulative 4.50 ERA and 30 losses make them an unfavorable group of starters.
Kevin Millwood has pitched well, posting a 3.57 ERA, but Hector Noesi and Blake Beavan each feature ERAs higher than 5.00.
Seattle starters have given up the fourth-most earned runs in the MLB and still have a long way to go before they can keep pace with squads like the Rangers and Angels in the AL West.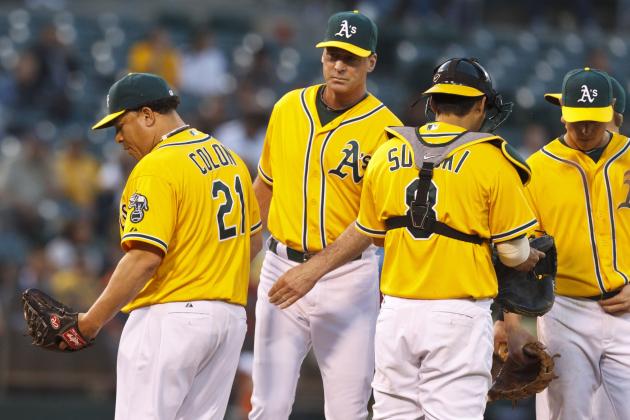 Jason O. Watson/Getty Images

Travis Blackley
Bartolo Colon
Brandon McCarthy
Tommy Milone
Jarrod Parker
No disrespect to Bartolo Colon, but it's sad when he's the leader in wins on your pitching staff, and that's exactly the situation for the Oakland Athletics.
Tommy Milone and Colon each have six wins, but Colon has the lower ERA, but not by much.
As a whole, Oakland starters sport a 4.20 ERA and are allowing hitters to bat .274 against them.
Brandon McCarthy has easily been the best hurler in Oakland, going 5-3 with a 2.79 ERA, but the A's 23-29 starting record as a whole isn't very pretty.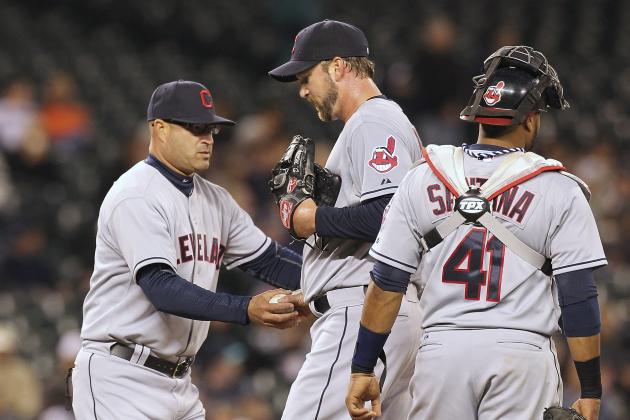 Otto Greule Jr/Getty Images

Jeanmar Gomez
Ubaldo Jimenez
Derek Lowe
Justin Masterson
Josh Tomlin
Despite posting a high rotation ERA of 4.53, the Cleveland Indians rotation hasn't been that bad.
Derek Lowe leads the staff with seven wins and a 3.78 ERA while Ubaldo Jimenez has added six victories but a high ERA of 4.91.
Opposing batters are hitting .271 against Indians starters and Cleveland ranks No. 29 in the MLB in strikeouts by starters.
With a 24-25 record for the starting rotation, I guess it could be worse for the tribe. Right?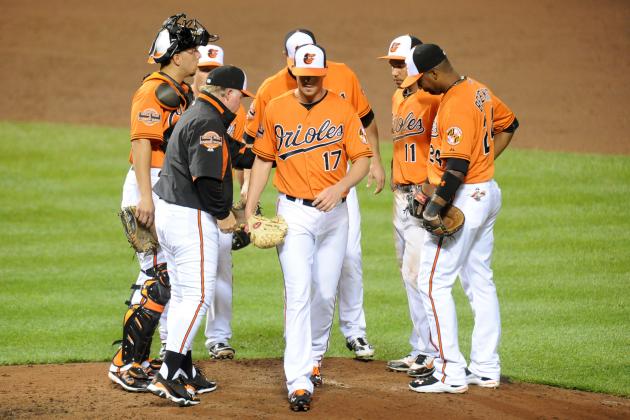 Mitchell Layton/Getty Images

Jake Arrieta
Wei-Yin Chen
Jason Hammel
Tommy Hunter
Brian Matusz
Wei-Yin Chen and Jason Hammel have each been solid for the Baltimore Orioles so far in 2012—earning six wins each and sporting ERAs under 3.25—but the rest of the rotation has struggled.
Arrieta, Hunter and Matusz have combined for 11 wins but have an average ERA of 5.47 to contribute to a starting rotation ERA of 4.68, which ranks No. 25 in the league.
Baltimore starters also rank No. 5 in the most ER surrendered and have yet to receive a complete game from the rotation. (Update: Jason Hammel threw a shutout on Saturday, June 16.)
If the Orioles are going to keep pace in the AL East, they'll need more than 23 wins from their starters.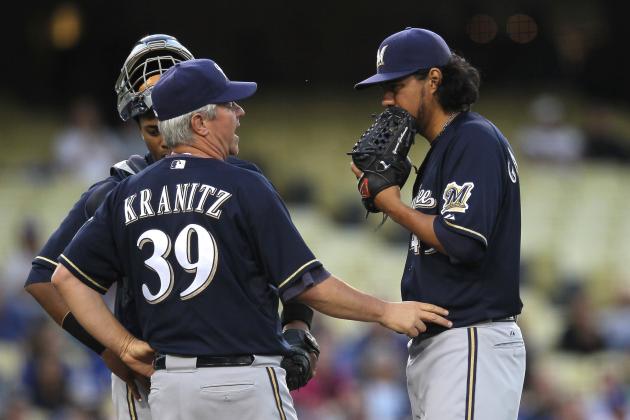 Stephen Dunn/Getty Images

Michael Fiers
Yovani Gallardo
Zack Greinke
Shaun Marcum
Randy Wolf
Leading the staff in wins (7) , ERA (2.96) and strikeouts (89), Zack Greinke has been the anchor of the Milwaukee Brewers rotation.
Shaun Marcum has contributed as well, adding five wins and a 3.39 ERA, but the Brewers starters still sport a combined 4.07 ERA and 21-21 record.
They do rank No. 7 in the MLB in strikeouts, but have yet to see a starter complete a game.
It's a lack of pitching and offense that's bogging the reigning NL Central champs down.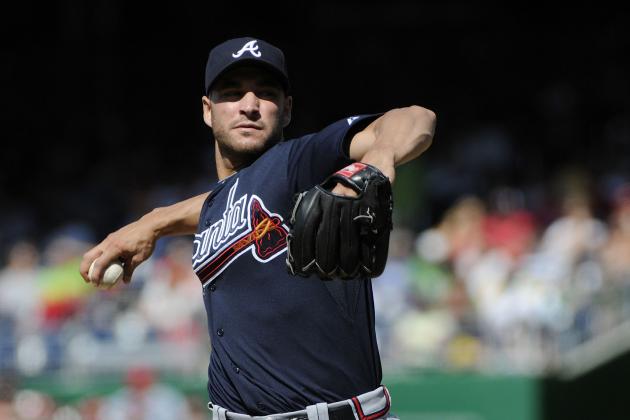 Jonathan Ernst/Getty Images

Brandon Beachy
Randall Delgado
Tommy Hanson
Tim Hudson
Mike Minor
Tommy Hanson and Brandon Beachy deserve a lot of credit for the Atlanta Braves' second place start in the NL East.
Hanson and Beachy have combined for 12 wins and a 2.65 ERA, with Beachy still leading the entire MLB in ERA.
As a whole, the Atlanta staff has been average, going 23-23 with a 4.14 ERA. However, they have allowed opposing lineups to hit just .247 against them, which ranks No. 10 in the league.
Luckily for Atlanta starters, they have flamethrower Craig Kimbrel closing for them.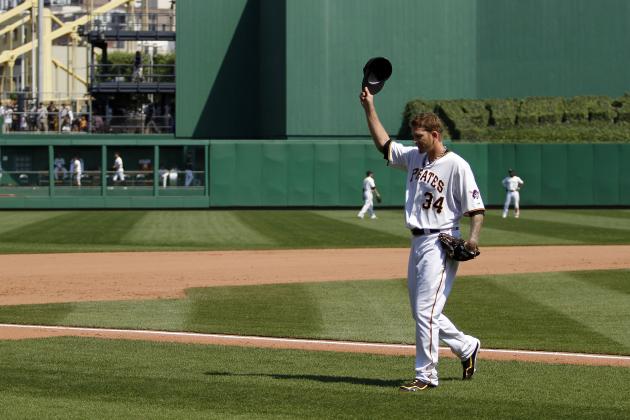 Justin K. Aller/Getty Images

Erik Bedard
A.J. Burnett
Kevin Correia
Brad Lincoln
James McDonald

Since leaving New York, A.J. Burnett has been a solid starter for the Pittsburgh Pirates.
He currently leads the staff with six wins and has a 3.61 ERA, something Yankees fans are wishing he could have pulled off in the Bronx.
James McDonald has also pitched well, with five wins and a 2.32 ERA, for a Pirates rotation that collectively sports a 3.93 ERA.
Still, the Pirates 20-27 record from their starters and lack of complete games is unfavorable but decent for Pittsburgh.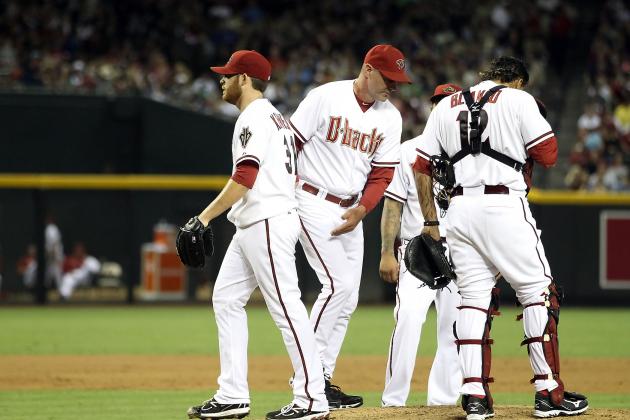 Christian Petersen/Getty Images

Trevor Cahill
Daniel Hudson
Ian Kennedy
Wade Miley
Joe Saunders
Where is the Ian Kennedy from last year? You know, the guy who went 21-4.
2012 has seen Kennedy struggle with his 5-6 record and 4.32 ERA, while Wade Miley has stepped up to lead the Arizona Diamondbacks staff in wins (7) and ERA (2.39).
Trevor Cahill and Joe Saunders have each pitched respectably as well, but Arizona starters post a 4.01 ERA and 25-24 record.
If Kennedy can fix his issues, the D-Backs will be a much stronger staff as the season gets deeper.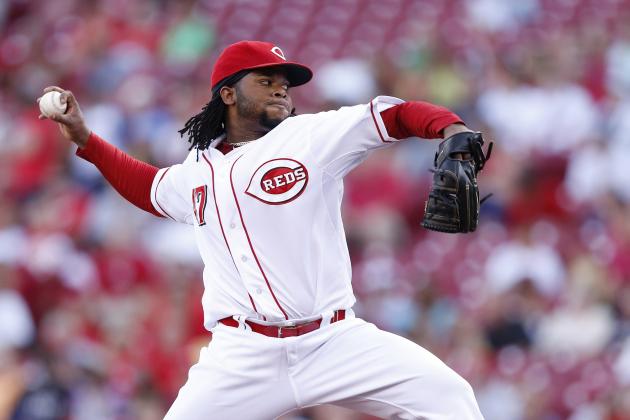 Joe Robbins/Getty Images

Bronson Arroyo
Homer Bailey
Johnny Cueto
Mat Latos
Mike Leake
Johnny Cueto has been the brightest spot for the Cincinnati Reds' starting rotation, posting a 7-3 record to go along with a 2.46 ERA.
But the supporting cast hasn't been great, as Mat Latos is the only other starter with a winning record at 5-2. He does feature a 4.64 ERA though.
As a group, Reds' starters post a decent ERA of 3.99 and have surrendered just 99 walks, which ranks No. 2 in the MLB.
Cueto has been good, but Cincinnati needs some more production from its starting rotation, who have a 21-18 record.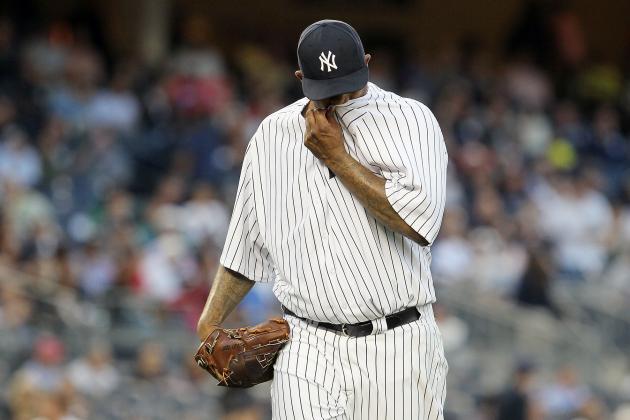 Jim McIsaac/Getty Images

Phil Hughes
Huroki Kuroda
Ivan Nova
Andy Pettitte
CC Sabathia
The New York Yankees' pitching has been better of late, but Bomber fans know that CC Sabathia hasn't looked like himself this season.
Still, New York's staff has the most wins in the MLB with 32.
Phil Hughes and Huroki Kuroda have improved lately, but New York starters still post an ERA of 4.16 and are allowing hitters to average .268 against them.
Of course, the argument will always be that the Yankees offense will bail their starters out of bad pitching performances, but the same can be said for a team like Texas.
I expect the Yankees rotation, with the addition of veteran Andy Pettitte, to only get better as the season rolls along.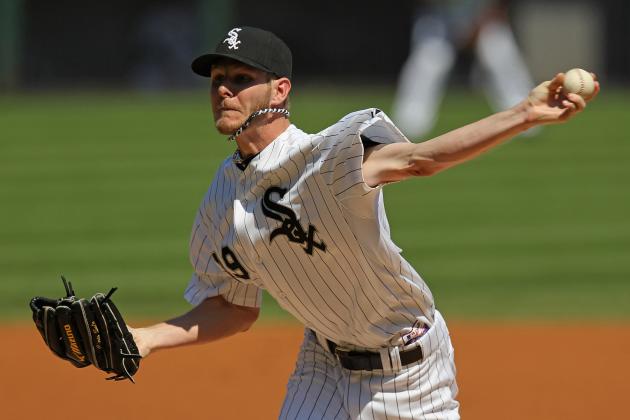 Jonathan Daniel/Getty Images

Gavin Floyd
Philip Humber
Jake Peavy
Jose Quintana
Chris Sale
Chris Sale (8-2, 2.46) and Jake Peavy (6-2, 2.91) have been brilliant for the Chicago White Sox.
The supporting cast, however, has been sub par.
Philip Humber has been poor since his perfect game and Gavin Floyd has an inflated ERA of 5.63.
Jose Quintana has impressed in his four starts, going 2-1 with a minuscule 1.98 ERA.
But if Peavy and Sale are unable to continue their dominance, Chicago is going to lose their AL Central lead.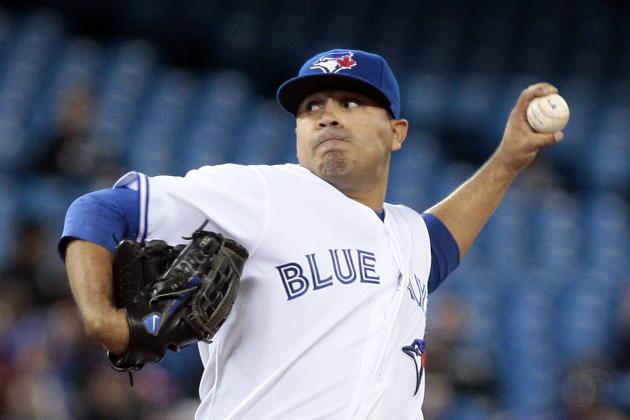 Abelimages/Getty Images

Henderson Alvarez
Kyle Drabek
Drew Hutchison
Brandon Morrow
Ricky Romero
Brandon Morrow's injury will undoubtedly effect the Toronto Blue Jays rotation, as he leads the staff in wins (7), ERA (3.01) and strikeouts (67).
With him, Toronto has been a better-than-average rotation, posting a 26-22 record, 4.05 ERA, four complete games and six shutouts.
These starters have limited opposing lineups to a .241 average, but have also surrendered the most walks in the league, with 154 in 382 innings of work.
Look for Ricky Romero to continue pitching well during Morrow's time on the DL.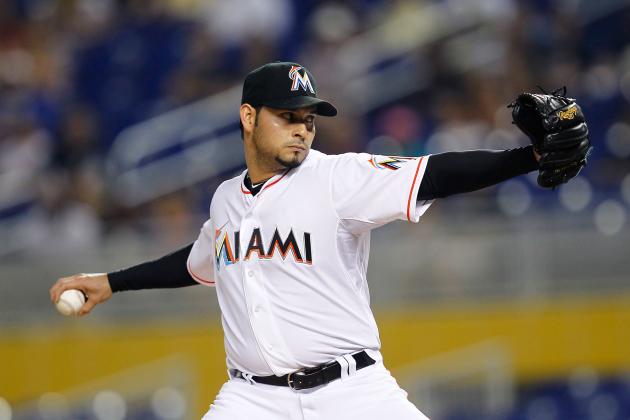 Sarah Glenn/Getty Images

Mark Buehrle
Josh Johnson
Ricky Nolasco
Anibal Sanchez
Carlos Zambrano
The Miami Marlins' pitching has been surprisingly decent here in 2012.
Four out of Miami's five starters have at least four wins and the staff has pitched itself to a 3.87 ERA.
With their 22-26 record, the Marlin's offense has been much to blame for the lack of wins for a decent pitching staff in Miami.
And so far, the Carlos Zambrano project is working out in Miami.
If the Marlins could obtain a sure No. 1 starter, they'd easily move up in the rankings.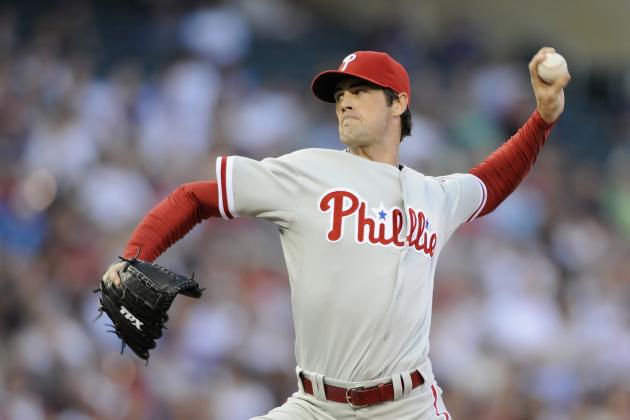 Hannah Foslien/Getty Images

Joe Blanton
Cole Hamels
Kyle Kendrick
Cliff Lee
Vance Worley
It's been a lack of run support for the Philadelphia Phillies' starters that has effected their statistics.
For instance, Cliff Lee has yet to earn a victory this season, yet he sports a 3.18 ERA.
Cole Hamels has been great for Philly, posting a 9-3 record and 3.34 ERA with 92 strikeouts in 89 innings pitched.
Even before his injury, Roy Halladay was struggling by his standards, with an ERA close to 4.00.
For a staff that has battled injuries and thrown the most innings in baseball, they still have the eighth-lowest ERA (3.79) in the MLB.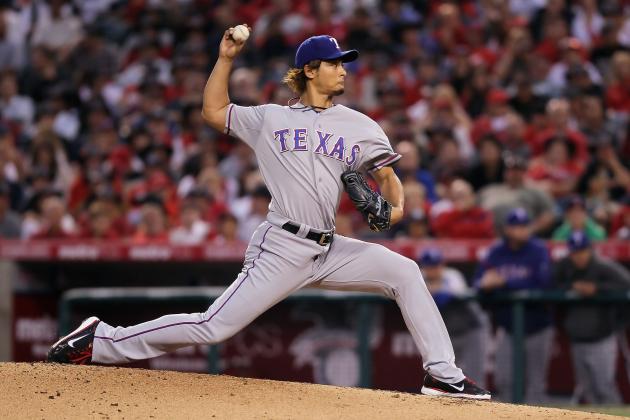 Jeff Gross/Getty Images

Yu Darvish
Neftali Feliz
Derek Holland
Colby Lewis
Matt Harrison
The Texas Rangers' starters began the 2012 campaign on fire, but have slowed down a little since.
Still, they're a top-10 rotation thanks to the addition of Yu Darvish, who has gone 8-4 with a 3.57 ERA in 13 starts.
Matt Harrison has also earned eight wins for the Rangers' rotation. They collectively post a 29-23 record with a 3.91 ERA.
Rangers hurlers rank tied for second in the MLB with six shutouts and also rank in the top 10 in strikeouts.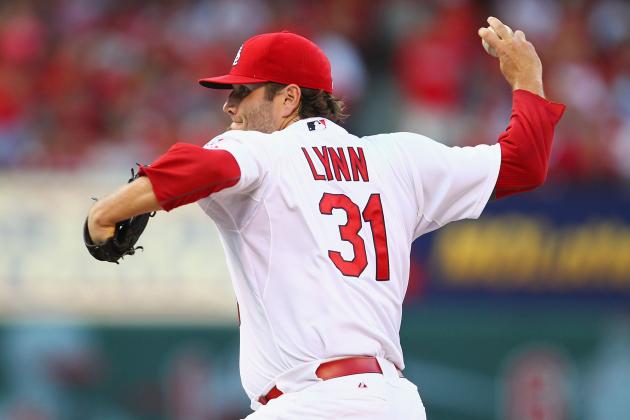 Dilip Vishwanat/Getty Images

Joe Kelly
Kyle Lohse
Lance Lynn
Adam Wainwright
Jake Westbrook
Thanks in large part to Lance Lynn (10-2, 2.42 ERA) and Kyle Lohse (6-2, 2.98 ERA), the St. Louis Cardinals pitching staff has excelled.
A 29-21 record in 65 games, Cards starters have combined for a 3.70 ERA, one complete game and three shutouts.
Batters are hitting .263 against starters, but they have countered that mark by allowing just 106 walks, which is fourth-lowest in the MLB.
If Adam Wainwright can get it going, this staff will be dangerous.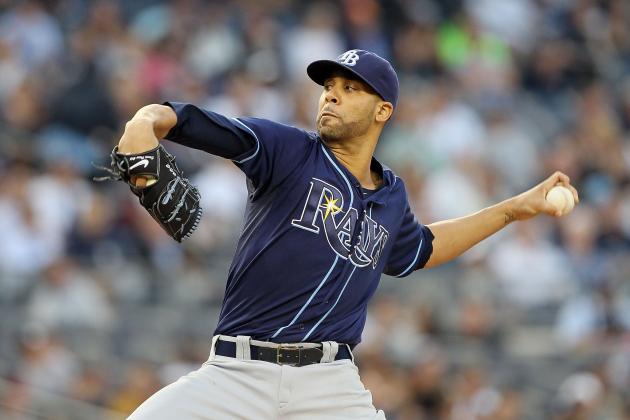 Jim McIsaac/Getty Images

Alex Cobb
Jeremy Hellickson
Matt Moore
David Price
James Shields
With David Price (8-4, 3.01) and James Shields (7-4, 4.06) leading the way, the Tampa Bay Rays boast the best pitching staff in the AL East.
Rookie Matt Moore has been better of late, earning victories in his past three starts, while Jeremy Hellickson is following up his 2011 ROY campaign nicely.
The Rays have received 27 wins from their staff, as well as only letting opposing lineups hit .246 against them.
With one complete game and five shutouts, look for the Tampa staff to keep rolling in 2012.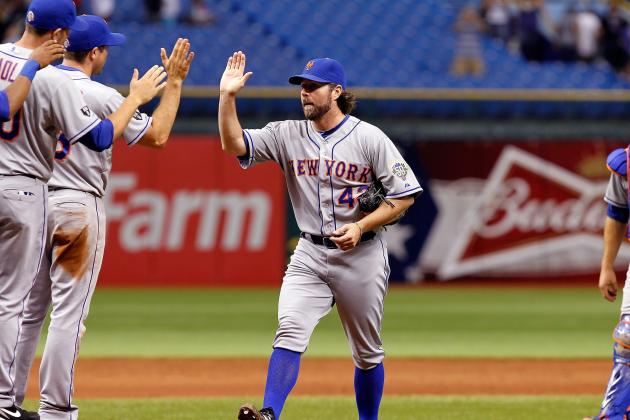 J. Meric/Getty Images

R.A. Dickey
Dillon Gee
Jon Niese
Johan Santana
Chris Young
All I really need to say is R.A. Dickey.
At 10-1, 2.20 ERA and 0.94 WHIP, Dickey has been one of the best in the MLB in 2012.
Though no other starter in his supporting cast has more than four wins, they've managed to keep their ERA down and keep the Mets in the race for the NL East crown.
As a staff, they have earned a 3.63 ERA, which ranks No. 4 in the MLB, as well as a 25-15 record.
With four complete games and six shutouts—one of them being Santana's no-hitter—the Mets' pitching has been impressive so far in 2012.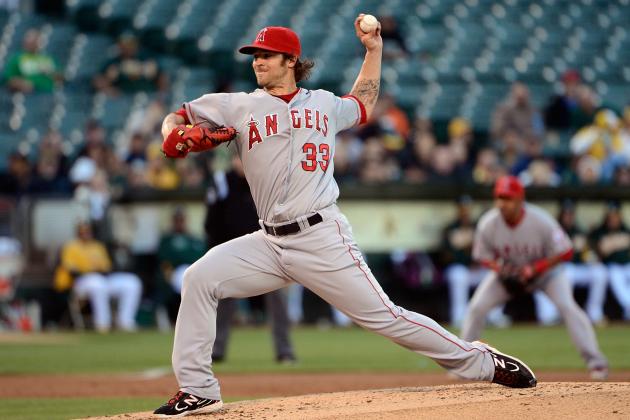 Thearon W. Henderson/Getty Images

Dan Haren
Garrett Richards
Ervin Santana
Jerome Williams
C.J. Wilson
The Los Angeles Angels have gotten four complete games and seven shutouts from their starters, while boasting a 3.64 ERA and 27-23 record.
Wilson, WIlliams and Weaver have each recorded at least six wins, and without his injury, Weaver would presumably be leading the halos in victories.
Wilson has looked sharp in 2012, leading LA with seven wins and a 2.30 ERA.
Had the offense not gotten off to such a slow start, we could have seen some real gaudy numbers from this staff.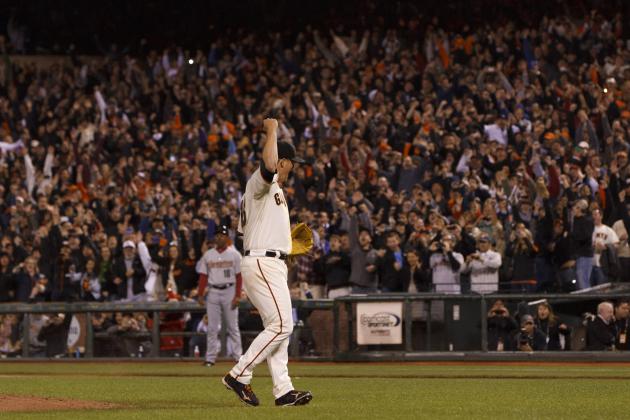 Jason O. Watson/Getty Images

Madison Bumgarner
Matt Cain
Tim Lincecum
Ryan Vogelsong
Barry Zito
After tossing a perfect game the other night, Matt Cain has helped to further solidify the San Francisco Giants starting rotation as one of the best.
Despite immense struggles from former Cy Young winner Tim Lincecum (2-7, 6.00 ERA), Cain, Madison Bumgarner and Ryan Vogelsong have been great.
Even Barry Zito has been solid for a Giants staff that posts a cumulative 3.34 ERA, which ranks No. 3 in the MLB.
They sport a 29-20 record as a rotation and are allowing opposing offenses to hit just .230 against them.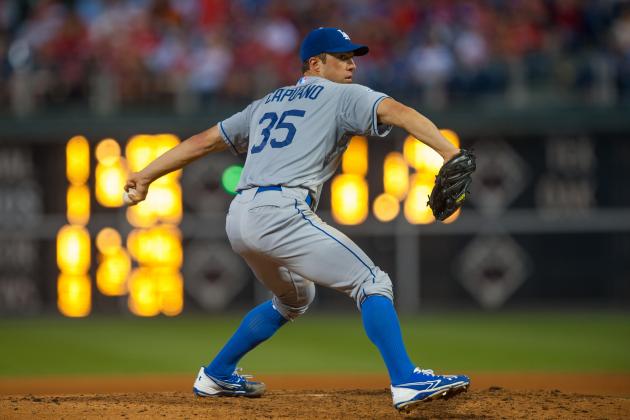 Rob Tringali/Getty Images

Chad Billingsley
Chris Capuano
Nathan Eovaldi
Aaron Harang
Clayton Kershaw
Ted Lilly was a big part of the success of the Los Angeles Dodgers rotation before catching the injury bug.
Boasting the second-lowest ERA from a starting rotation—3.11—the Dodgers, and more importantly Chris Capuano and Clayton Kershaw, have been brilliant.
They've also received help from Chad Billingsley (4-4, 3.57 ERA) and Aaron Harang (5-3, 3.59 ERA) to make up one of the best rotations in the MLB.
Opposing hitters are hitting just .231 against LA starters, which ranks No. 3 in the MLB, while the staff also ranks within the top 10 in strikeouts.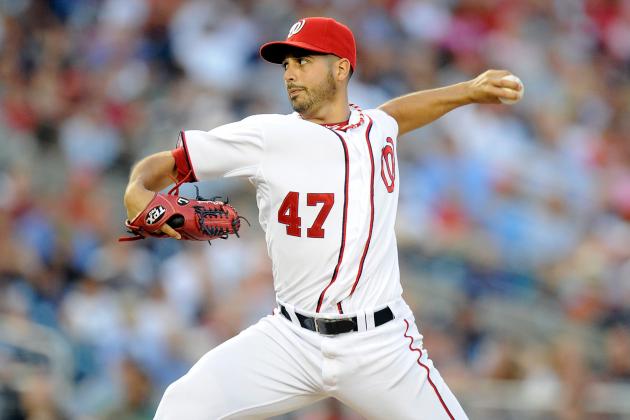 Greg Fiume/Getty Images

Gio Gonzalez
Edwin Jackson
Stephen Strasburg
Chien-Ming Wang
Jordan Zimmermann
Led by 23-year-old phenom Stephen Strasburg and four-year man Gio Gonzalez, the Washington Nationals rotation has easily been the best so far in 2012.
The Nats' rotation leads the entire MLB in ERA and opponent batting average, thanks in large part to Strasburg, Gonzalez and Edwin Jackson all sporting ERAs under 3.00.
Strasburg and Gonzalez have combined for close to 200 strikeouts alone, with Strasburg becoming the first starter of 2012 to reach the 100 K mark.
Sitting atop the NL East, the Nationals have shown no signs of slowing down.
Follow me on Twitter @Pete_Schauer