The 10 Biggest MLB Stars To Use Steroids (Allegedly)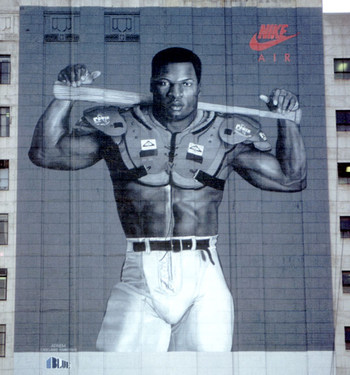 Now that it has come out that Alex Rodriguez took steroids from 2001-'03, people want to know, who were the others that have not been named yet that helped to pollute America's pastime eternally.
Besides A-Rod, 103 other players tested positive for taking banned substances during a "survey" conducted by the MLB. The test results were supposed to never be released, a clause that was likely instrumental in many players' decisions to take the test.
However, A-Rod's test has leaked, and eventually others will be also.
These results will forever officially taint the league, and how players will be voted for by writers for chances at Hall of Fame bids.
These players, if any of their results are leaked, will have an extremely difficult time reaching the doors of Cooperstown, New York. Not once since Mark McGuire declared, "I'm not here to talk about the past", have writers voted more than 25% in favor of him being a Hall-of-Famer.
Rafael Palmiero vehemently denied ever using steroids. So did Barry Bonds, and now he has a court date on Federal perjury charges. Roger Clemens allegedly lied to Congress and may have his day in court as well.
What those men had in common though, is that they declined and denied, where A-Rod came out and admitted to the use. Rodriguez said he was "under an enormous amount of pressure" in an interview with ESPN's Peter Gammons.
A-Fraud said he took the performance-enhancing substances starting in 2001, the year after he signed his record-setting 10 year $252 million contract.
Writers have said they would be more likely to vote for players that admit to taking substances versus ones that deny and very likely did so. So, in this case A-Rod may be the test guinea pig for all steroids users in the MLB.
If he gets in, do all others? If he does not get in, does that mean no steroids users get in? All will be seen in due time. The Major League Baseball players in this list are ones that have yet to be identified, but did take steroids at some point in their careers.
Let me clear up here that these are players I believe took steroids, though no evidence has come out to be true for any, yet.
Because this is a modern-day Salem-style witch hunt, and I have no real evidence any of these athletes were cheaters, there is a humorous undertone to this slide show.
We, as fans of the game, deserve to know who else took banned substances and dishonored the game of baseball. The 'roid hunt is on!
10. Bo Jackson
I know what you're thinking.
Bo knew baseball and football, but did Bo know the "Juice"? Of course the guy was ripped, he had to take and deliver hits as a running back for the Oakland Raiders.
So ripped he could be seen breaking bats like toothpicks over his leg.
This may be true, and you also may be thinking, this means another NFL player took steroids. Well we are not going to get into that right now, and decide that Bo took steroids, but only after quitting football and only playing baseball.
He had to "juice up" to keep the magnificent physique he acquired through the rigorous workouts in the NFL. Especially after he learned there was much less time to work out during 162 games in 180 days.
Bo Jackson took steroids, and even though he was not in the 2003 "survey" with A-Rod, he gets the nod and is on the list.
9. Manny Ramirez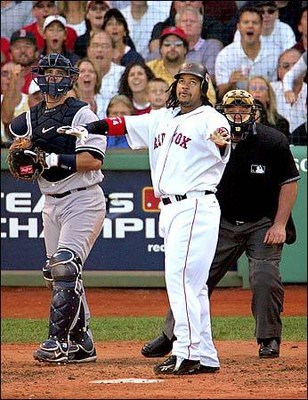 Manny Ramirez.
Who celebrates more while watching a home run? Wait is he celebrating, or does Manny just have narcolepsy and fall asleep after bashing the ball so far?
Manny wears the baggiest uniform in all of baseball. Why? To hide those massive guns of his.
A tell tale sign of his steroid use is when Ramirez flies of the handle and does his "Manny being Manny" shtick.
Remember in 2005 when he ran into the Green monster? It was actually to get away from teammates before raging at one of them on camera.
8. David Wells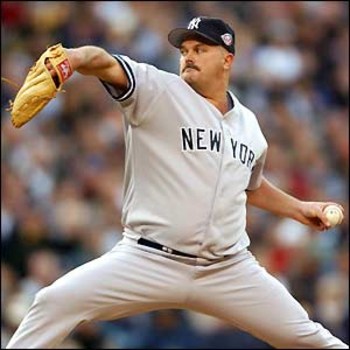 Ok, I know, this one might be a reach but what else could have driven the man to pitch a no-hitter as he put it, "half in the bag?"
Either Wells was 'roided up and covered it with a beer gut, or he was taking "greenies", amphetamines that were legal for the players to take until 2005, and were apparently common place in the league.
If not, I wouldn't want to be the one to challenge this guy to a game of darts down at the local pub.
7. Frank Thomas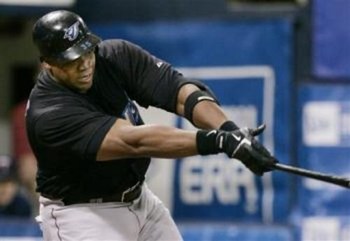 Even at his old age in this photo, Thomas has bazookas for arms!
He's 18th on the all-time list with 521 career home runs and a slugging percentage in the .600's and even .700's for a year.
Thomas was on the juice.
6. Matt Holliday
As a Colorado Rockies fan, it's hard for me to admit it, but Matt Holliday had to have been taking some kind of performance-enhancing substance.
His arms are massive and have the definition of a professional bodybuilder, not baseball slugger.
There were many reports when he played in Colorado about how Holliday spent an enormous amount of time in the weight room. No doubt he did, to get that big, but what did he shoot up to help him?
Or did he take the cream and clear like others?
No one can say for sure that Holliday did take anything, and it would break my heart if it came out that he did. He was a great player for the Rockies, and it was a shame they are too cheap to pay the man what he deserves.
Hopefully he can finish out his career with greatness, however, of his 128 career homers, 84 were in the thin air of the Mile High city, only 44 away from Coors.
5. Jim Thome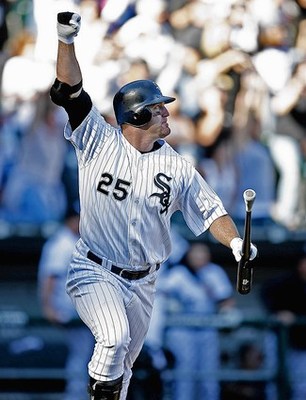 Jim Thome has some of the biggest numbers of any currently active MLB player. His 540 home runs makes him 14th all-time in the category.
Thome is one of the good guys in the MLB, which is why I feel sad outing him on his steroid use.
4. David Ortiz
David "Big Poppie" Ortiz.
Great nickname, isn't it? It's great because it fits him so perfectly. The guy is freakin' huge! At 6'4" 230 pounds, Ortiz boarders on the size of a power forward in basketball.
If anyone on this list was to take HGH, Ortiz would be it. Also, HGH could have been for him because his smiling and light demeanor points to him not using steroids.
3. Ryan Howard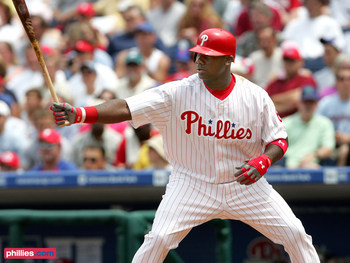 Howard makes the list, like Ortiz, because he is a giant.
His numbers are likewise gigantic, with almost 200 home runs (177 to be exact) in only a five-year career.
Also, his career slugging average flirts with .600 at .590.
2. Sammy Sosa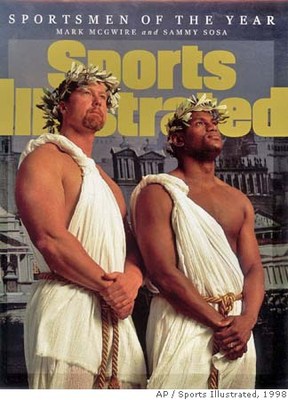 Say it ain't so, Sammy!
Sosa was huge(literally and figuratively) in bringing the game back in 1998 with Mark McGuire.
Sosa's numbers are great, but were they inflated with steroid injections? The answer is; likely.
In total, Sosa had 609 career home runs, which puts him at all time and an MLB-record three years at 60 or more home runs.
We know that Sosa was good friends with one of the most likely, and famous, steroid users, Mark McGuire. What we also know is that Sammy cheated by corking a bat, or twenty, and was caught in the act.
If he cheated then, why not steroids?
1. Albert Pujols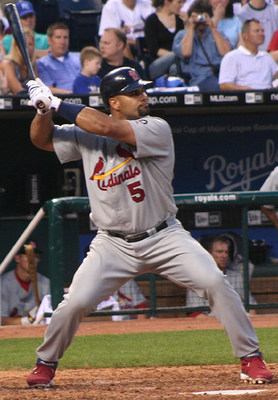 Albert Pujols.
Probably the biggest name, outside of "A-Fraud", that is currently playing, and would be hurt the most if it came out he used a banned substance.
Pujols is now colossal and weighs much more than his posted "210 pounds." He resembles a Greek statue more than a first-baseman.
The only one of the group that might be more defined is Holliday, however Pujols is a much bigger name, one of the biggest stars in all of baseball today.
His career includes 319 home runs in only eight seasons. Five hundred should be a reachable number for the young star.
The only question is, where the numbers magnified by the use of steroids or HGH?
Hopefully, none of these names will be leaked as it would hurt the game more if they were.
The league would be forced to make a decision on either throwing every dirty player out, or not letting anyone in from this "Steroid-Era".
Keep Reading