L.A. Dodgers: Why They Cannot Afford to Keep Playing Dee Gordon 2.0
June 14, 2012

Stephen Dunn/Getty Images
Why should the Dodgers move on (or try to) from Gordon?
Let's take a look at him a bit more closely.
THE GOOD
Over the last seven days, Gordon has been incredibly effective on the basepaths. He has swiped six bases, which ties him with cross-town rival Mike Trout for the most in Major League Baseball. 
Gordon owns 20 total stolen bases, which ties him for second in all of MLB.
Nobody has ever questioned his ability on the basepaths—the kid can flat-out fly.
What more would you expect from the son of "Flash" Gordon?
His bat has also seen some life. He is batting a respectable .276, which is a vast improvement from his otherwise .236 season average. He projects to be a solid top-of-the-order batter with potential for 50-plus stolen bases per season.
THE BAD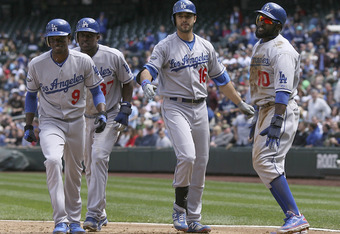 Otto Greule Jr/Getty Images
Obviously, Gordon's bat is suspect and inconsistent. With runners in scoring position, he only hits .220. More so, his OBP with RISP is just .240 (.299 with men on in general.)
In 56 games for the Dodgers last season, he put up a .304 BA with a .325 OBP and 24 stolen bases. So far in 2012, he has played 58 games with a .236 BA and .284 OBP with 20 steals.
Naturally, one looks at those figures and notes the high stolen base count.
I zone in on the low OBP. Even with his impressive 2011, his OBP was just OK and not quite mind-blowing.
However, in his defense, that .324 OBP is above the NL median of .319. My issue is, if he is supposed to be the leadoff hitter of the future, his OBP has to increase. If that happens, you can rest assured knowing his stolen base numbers would be through the roof.
Pedro Alvarez and Brandon Crawford share the honor with Gordon of most errors committed in all of baseball (11). That's something that cannot be overlooked, either.
While Gordon may make some dazzling plays in the field, he is still extremely rough around the edges when it comes to anticipating a play.
SO WHAT?
In my last article, I mentioned how the Cubs were looking to trade Starlin Castro, and the Dodgers should be interested if that is true. I was ridiculed and told I didn't know my facts.
Well, on June 2, the Los Angeles Times ran an article discussing this fact; Castro is being shopped because of his attitude and lack of ability to mesh with manager Dale Sveum.
Yes, the odds are slim, but the possibility is out there, especially looking at how Theo Epstein and Jed Hoyer are building up their franchise right now.
Is Dee Gordon a bad player? No—I never said he was.
Could the Dodgers upgrade at the shortstop position? Absolutely they could.
If suggesting a move to better the team is perceived as a bad thing, I guess I don't want to be right.