Cam Newton: Reasons Carolina Panther Star Can Be 2012 MVP
June 14, 2012

Streeter Lecka/Getty Images
Lights, Cam, Action!
We all know Cam and his signature ear to ear smile. Well in 2011, there was a lot to be smiling about.
Cam Newton's rookie campaign set the benchmark for the league. He captivated fans by a firestorm, quieting all of his haters in the process. Newton set the new precedent for the league's new quarterback identity. Hello RGIII.
To say Newton had a sensational year wouldn't do justice. Do yourself a favor and check the history books. Cam will be there.
The guy helped resurrect Carolina's lifeless offense into a perennial threat in 2011. He took the 32nd ranked Carolina Panthers offense, and marched them up the power rankings to the seventh position.
Another determining factor that will influence his MVP candidacy will be the ground and pound backfield of "Smash and Dash" along with the newly acquired bowling ball, Mike Tolbert. Carolina will switch to a run-heavy lineup this year, but that will only open up more opportunities to catch the defense sleeping. Sound familiar? Tebow anyone?
Secondly, the Panthers success in 2012 will fall on his voting. The Panthers have slowly begun to claw back into the thick of the division. Last season they finished off at 6-10—escaping from the cellar of the division and improving by four victories from 2010.
Sophomore slump? I think not.
Like Hannah Montana, Newton embodies the best of both worlds. By air or by ground, Newton will make sure he gets the delivery on time. The bottom line, he is a playmaker. He makes plays that only Cam can make.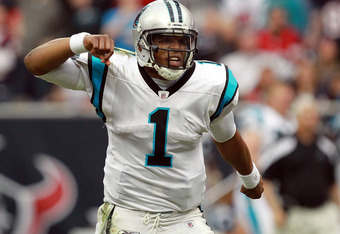 Ronald Martinez/Getty Images
What Cam will need to improve on is his accuracy and turnover ratio. Newton's 60.0 completion percentage was good for 18th in the league. Insult to injury, Newton's flashy ESPN Top 10 worthy plays cost him to cough up the ball three times, and toss 17 interceptions.
If Newton can keep his turnover ratio down to single digits, and lift his completion percentage to at or near 70 percent, there's no telling what this guy can't do.
In time, his career will be salvaged when he learns the benefits of taking a sack or chucking it out of bounds, rather than forcing the ill-advised throws to empty windows.
Although the odds don't stack up in his favor, I am saying that there is a chance. "So you're telling me there's a chance!" -Lloyd Christmas, Dumb and Dumber
A lot has to go right, but if they can rack together a solid 11 win season, and earn a playoff birth, the possibilities are endless.