Colorado Avalanche Likely to Part Ways with Jay McClement
June 14, 2012

Bruce Bennett/Getty Images
Just moments ago, Avalanche beat writer Adrian Dater reported that Jay McClement is likely to test the free agent market on July 1st and that the Avalanche are not likely to make him an offer to keep him off said market:
"While the Avs won't say anything publicly of course, reasons likely center on his age, contract status and belief that others can fill his role."
Jay McClement is set to become an unrestricted free agent on July 1st. Meaning he can sign anywhere he wants.
This is a horrible move by the Colorado Avalanche for several reasons. First off is that McClement was perhaps the best penalty killer on the Avalanche this past season.
McClement was the centerpiece of a penalty kill that improved from 30th in the league (2010 - 2011 season) to 12th after the 2011 - 2012 year.
His faceoff percentage was a strong 51.3% and McClement was one of the best defensive forwards on the team.
McClement has been the picture of consistency since joining the league, playing in 80 or more games every year except for his rookie season.
While the Avalanche do have a lot of centers on their roster, to expect one of these guys to pick up the kind of role that McClement played doesn't seem to be very realistic.
Paul Stastny is solid in faceoffs, but his primary role is to be a first line set-up guy for the big scorers on the team. He is usually solid in his own end, but Stastny will not be the one going head-to-head with the other team's best lines.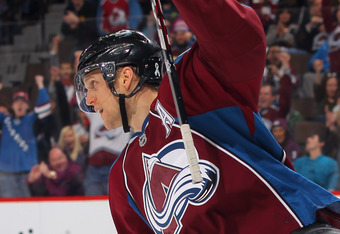 Doug Pensinger/Getty Images
Matt Duchene has shown some improvement in his defensive abilities but, again, his primary role is to be a scorer and energy guy in the offensive zone. You don't want Duchene against the opponent's best players. Not to mention that Duchene was moved to wing this past season in order to get his offense going.
Ryan O'Reilly has the defensive abilities to shut down opposing teams and that was his primary role in his first two years as a member of the Avalanche. However, O'Reilly's breakout season that saw him lead the Avalanche in scoring should lead to his role with the team changing.
The other players that Dater mentions in his article are Marc Olver, Brad Malone and Joey Hishon.  
Malone was called up for a brief portion of last season and didn't last very long. He needs time to develop and should not be counted on as a shut-down center, yet. Joey Hishon is just beginning to skate after being sidelined for over a year with concussion symptoms and has not played a minute of NHL hockey. Plus, there is no guarantee Hishon will be ready for contact by the time training camp roles around.
Marc Olver saw a decent amount of time with the Avalanche last year and is a good third-line player, but not in the sense of being a shut-down center.
Olver is a pest who works hard on the forecheck and creates offensive depth for his team. Plus, he's not very good on faceoffs, he was 36.3% on faceoffs this season.
Do the Avalanche expect to ignore the offensive production O'Reilly gave them and just toss him back into the defense only style he showed in his first two seasons with the team?
Do they plan to move Paul Stastny down to the third line? Do they expect Matt Duchene to be a third-line center? 
None of those plans make too much sense.
Last of all, they are losing a great deal of leadership if the Avalanche does indeed allow McClement to walk.
McClement was one of the three players on the roster that held the second rotating alternate captaincy. Since McClement had only been with the team since the previous February, that should speak volumes about the type of leadership he displays.
Dater also brings up McClement's age as a factor for the Avalanche wanting to part ways with him, which sets me off.
If the Avalanche are against re-signing a player that is as effective in his role as Jay McClement is because the guy is 29 years old that is absolutely insane.
The only message that sends to the fan base is that the only thing the Avalanche is actually committed to is staying in the rebuild.
30 years old is by no means young in the NHL, but it is also far from the age where players are left out to pasture.
Jay McClement doesn't just fill a role for this team, he is perhaps the best player available to fill that specific role.
When you have a guy like that on your roster, you don't just let him go unless you are not looking to move forward as a team.
Letting Jay McClement go would be a terrible move for this franchise to make.