2012 NHL Mock Draft: Defensemen Who Will Contend for the Norris Trophy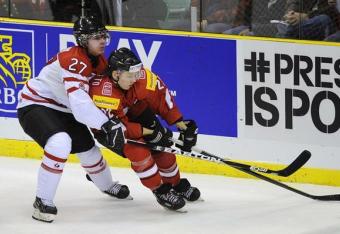 Todd Korol , REUTERS

The Los Angeles Kings won the Stanley Cup title due to their incredible defense. Other teams will look to add talented defensemen in this year's NHL draft and do the same.
There are plenty of talented options available, and the top defensemen will be coveted prizes.
Here are my predictions for every first-round pick, highlighting the players who have the chance to be one of the top defenseman in the league.
Note: These players are in italics.
1. Edmonton Oilers: Nail Yakupov, RW, Sarnia
This talented winger is the consensus top pick. He simply has too much talent as a scorer and a creator for the Oilers to pass up on him.
2. Columbus Blue Jackets: Filip Forsberg, C, Leksands
Forsberg is not related to former NHL surperstar Peter Forsberg, but he is a nightmare for opposing defenses, just like the retired center who shares his name. He is the second-most talented player in the draft, and the Blue Jackets will be pleased with the chance to grab him.
3. Montreal Canadiens: Mikhail Grigorenko, C, Quebec
The Canadiens need to add offensive firepower, and they would be smart to pick a local product. Grigorenko is a powerful presence at 6'3", and he will fit nicely with the Habs.
4. New York Islanders: Mathew Dumba, D, Red Deer
The Islanders were the fourth-worst defensive team in hockey last year, and they need help.
Dumba is the best defenseman in the draft and at 17 years old, he has a huge upside.
He scored 20 goals and dished out 37 assists in 69 games for Red Deer, who play at the highest junior level in Canada.
Dumba is not an imposing force at 5'11" and 183 pounds, but his offensive contribution makes him an exciting prospect.
5. Toronto Maple Leafs: Alex Galchenyuk, C, Sarnia
When a team is unsure of what to do in the draft, it should draft a center. There are several talented players available, but Galchenyuk is a terrific talent with great upside. The Maple Leafs could do much worse.
6. Anaheim Ducks: Ryan Murray, D, Everett
Murray is another smaller defender at just over 6'0", but he is extremely skilled.
He made the Team Canada roster for the World Championships and became the second youngest player to do so, behind Paul Kariya, according to TSN.
Murray is remarkably talented and has a huge upside. Even though he is slightly small, his size does not reflect his strength.
He processes the game as well as players much older. His talent and mental makeup will turn him into an excellent player.
7. Minnesota Wild: Morgan Rielly, D, Moose Jaw
With Murray and Dumba gone, the run on defenseman will start. Rielly is the best one left, despite having a red flag on him due to an ACL injury.
Rielly, like the two defenseman taken before him, is not in the giant, bruising mold. Rather, he is a crafty, skilled player who always gives maximum effort.
His finesse and drive will ensure that he has success at the next level.
Even though Minnesota might be reaching with this pick, they will still end up with a quality defenseman.
8. Carolina Hurricanes: Cody Ceci, D, Ottawa
Ceci does not have the same upside that the previous three defensemen have, but that is because he is already extremely good.
He has great size for his position at 6'2" and 207 pounds. He also has an excellent all-around game.
He is alert on defense and has a wicked shot from the point.
The Hurricanes finished towards the bottom of the league in goals-against average, and Ceci can contribute to the team quickly. He is a perfect fit for Carolina.
9. Winnipeg Jets: Teuvo Teravainen, LW, Jokerit
The run on defenseman will leave some talented forwards still on the board. None of them have more potential than Teravainen, who is the second-ranked European skater behind Forsberg, according to NHL.com.
10. Tampa Bay Lightning: Griffin Reinhart, D, Edmonton
Tampa Bay had the worst goals-against average in hockey last year, and luckily for them, there is one more elite prospect left that plays the blue line.
Reinhart is a big prospect at just under 6'4" and just over 200 pounds. He is still nimble on the ice and can make an impact both ways.
He comes from good hockey stock and his dad, Paul Reinhart, was a defenseman in the NHL for 11 seasons.
Reinhart's game is slightly rougher than the other players at his position, but he is still a fantastic prospect with unlimited potential. He, along with the other players in italics, has the talent to be among the top defensemen in the league one day.
11. Washington Capitals (from COL): Radek Faksa, C, Kitchener
As Alvin Chang of ESPN.com notes, centers are usually the least risky picks. Faksa is the best center still available, and Washington would do well to avoid taking a chance and simply add depth among their forwards.
Which defenseman projected to go in the top 10 will have the best NHL career?
12. Buffalo Sabres: Sebastian Collberg, RW, Frolunda
Collberg, despite being just 18 years old, played in the highest professional league in Sweden, but he did not perform all that well. However, he has shown at the international youth level that he is supremely talented and worth of being drafted this high.
13. Dallas Stars: Zemgus Girgensons, C, Dubuque
Girgensons is a physical center who plays the game with a complete lack of fear. He is always willing to stick his nose in to get a desired result and his tenacity will be attractive to Dallas.
14. Calgary Flames: Olli Maatta, D, London
The Flames will want to add a young forward, but the players at those positions are a reach here, and Maatta's two-way talents are too attractive. His shooting abilities will help the team's scoring, even if they cannot draft a center or a winger here.
15. Ottawa Senators: Hampus Lindholm, D, Rogle
Lindholm has been shooting up draft boards recently and while he is not as polished as other first-round defensemen, he has the talent to improve rapidly.
16. Washington Capitals: Ludvik Bystrom, D, Modo
The Caps already grabbed a forward earlier in the round, so they will be hoping for an opportunity to get a talented defenseman with their second first-round pick. They will be lucky to see Bystrom here, as he is a solid prospect at the position.
17. San Jose Sharks: Thomas Hertl, C, Slavia
He may not be the fastest player in the draft, but he is big and physical. His aggressive play can help the Sharks establish an edge in crossing their opponents' blue line.
18. Chicago Blackhawks: Brendan Gaunce, F, Belleville
At this point in the draft, the smartest policy is to take the best player available. Gaunce is a hard worker and plays center, so he is a safe pick.
19. Tampa Bay Lightning (from DET): Jacob Trouba, D, USNTDP
The Lightning are not done bolstering their blue line, and Trouba is a 6'2" prospect with a wicked shot. He has plenty to learn about his position, but the raw skills are there.
20. Philadelphia Flyers: Pontus Aberg, RW, Djurgardens
Aberg has dropped on many boards due to injury problems over the past year, but he still has loads of talent and if he stays healthy, he will be one of biggest bargains in the first round.
21. Buffalo Sabres (from NSH): Brady Skjei, D, USNTDP
Skjei is one of the better athletes at his position in this draft and at 6'3" and 200 pounds, he is a physically gifted player. The Sabres already grabbed a forward, so this is an ideal pick.
22. Pittsburgh Penguins: Derrick Pouliot, D, Portland
Pouliot is another defenseman who lacks size but makes up for it with skill and savvy. He is one notch below the prospects at this position who are projected at the top of the draft, but he will give Pittsburgh great value here.
23. Florida Panthers: Andrei Vasilevski, G, Russia
Goaltenders are always risky picks, but if there is one goalie worthy of a first-round pick, it is Vasilevski. The Panthers will take a gamble on him.
24. Boston Bruins: Stefan Matteau, USNTDP
Boston could use a talented attacker, and Matteau's effort and drive will make him an attractive option late in the round for the Bruins.
25. St. Louis Blues: Colton Sissions, C, Kelowna
It is difficult not to root for a player who puts in so much effort. The Blues will reward his incredible work ethic by taking him in the first round, and since he is a center, this pick is relatively low risk.
26. Vancouver Canucks: Matthew Finn, D, Guelph
The Canucks do not need help scoring, and Finn is a defenseman with a strong enough character to play for a team that expects to compete for the Stanley Cup every season.
27. Phoenix Coyotes: Thomas Wilson, RW, Plymouth
His overall skills may be lacking, but he is 6'4" and plays with a fiery passion and elite toughness. His leadership skills will be make sure he goes in the first round.
28. New York Rangers: Michael Matheson, D, Dubuque
The Rangers will be asking themselves who the best player left on the board is, and Matheson's upside will provide them with the correct answer.
29. New Jersey Devils: Malcolm Subban, G, Belleville
The Devils surprisingly decided to hold on to this pick, despite having to forfeit a first-rounder sometime before 2014 due to a punishment regarding Ilya Kovulchuk's contract. The brother of P.K. Subban has plenty of talent and could eventually replace Martin Brodeur.
30. Los Angeles Kings: Scott Laughton, C, Oshawa
The Kings proved conclusively that they are set with their defensemen, and Laughton is the best forward available here.
This article is
What is the duplicate article?
Why is this article offensive?
Where is this article plagiarized from?
Why is this article poorly edited?