Are Tim Lincecum's Violent Mechanics Finally Catching Up with Him?
June 13, 2012

Thearon W. Henderson/Getty Images
Entering the season, there were a number of questions surrounding the San Francisco Giants.
Would Buster Posey come back at full strength? Would anyone step up at the middle infield spots? Would Ryan Vogelsong be able to repeat his breakout season?
One area that appeared to be sure thing was the performance of ace Tim Lincecum, who entered 2012 with a career record of 69-41, 2.98 ERA and two NL Cy Young Awards under his belt.
He struggled this spring with a 5.70 ERA through six starts, but few worried, as he has struggled in spring throughout his career and always turned things around once the season started.
However, through 13 starts this season, Lincecum is in the midst of the worst season of his career with a 2-7 record and 6.00 ERA.
His struggles have been such a detriment to the team, that the Giants are, in fact, the best team in baseball in games when Lincecum does not pitch.
After another rough outing on Sunday in which the Rangers tagged him for five runs on nine hits and four walks through 5.2 innings for his fifth straight loss, there was talk of Lincecum either skipping a start or spending some time in the bullpen to try to figure things out.
The Giants inevitably decided to keep him in the rotation, but how much longer can a team in contention run out a starter who has been giving them no chance to win?
And that leads us to the inevitable bigger question that some have been asking for years now: How long can Lincecum sustain success with his max-effort delivery without something going wrong?
Coming out of college, Lincecum was a workhorse, but many still viewed him as a future reliever due to his dominant fastball-curveball combination and a maximum effort pitching style that appeared as though it would play better in a short role.
Last week was the 2012 MLB draft, and the term "max-effort delivery" was thrown around constantly as a knock against pitching prospects.
Essentially, it refers to a pitcher having to really put everything they have behind their every pitch due to a lack of smooth and strong mechanics.
While there have certainly been successful pitchers who don't have a conventional, smooth delivery, it is generally something that is considered a negative. Not only does it make it harder for a pitcher to repeat their form, but it is often a precursor arm problems down the line.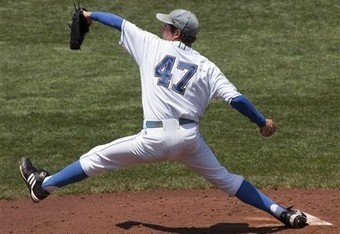 Even looking back at last season's draft, UCLA starter Trevor Bauer fell to third overall despite having a legitimate four-pitch repertoire and being considered the most MLB-ready pitcher by most in the draft.
His upside is just as high as that of 2011 No. 1 pick Gerrit Cole, but his delivery is a bit reminiscent of Lincecum, so immediately that raised a red flag, albeit a small one, for teams.
In the case of Lincecum, he has not had any health issues in making at least 32 starts and throwing at least 212 innings in each of the past four seasons. It is simply a matter of his stuff no longer being at the dominant level it was in years past as his H/9 (7.4 to 9.4) and BB/9 (3.3 to 4.9) are well over his career averages entering the season.
His fastball velocity is down and his off-speed stuff has been flat most of the season.
Whether or not that is a matter of the 28-year-old's arm having worn down as a result of his delivery and workload, or is something else, remains to be seen.
Until he pinpoints what is wrong and rights the ship though, the Giants will continue to be on the outside looking in when it comes to seriously contending, as they need their ace to be on top of his game to have a legitimate chance.
The 5'11" right-hander will continue to look for answers and tinker with his mechanics as a member of the Giants rotation. He made himself one of the best pitchers in baseball with some unconventional mechanics, and now that could be the very reason for his struggles, as he will look to turn things around in his next start on Saturday against the light-hitting Mariners.