Euro 2012 Results: Teams That Will Advance to Knockout Stages in Group B
June 13, 2012

Martin Rose/Getty Images
Group B or the "Group of Death" hasn't turned out like it was supposed to. Or has it?
Heading into the final day (Sunday, June 17) the top spot is still up for grabs and all four teams can make it to the knockout stages. It's been highly unpredictable. 
Here is how I see Group B playing out on Sunday. 
Germany
Despite winning its first two games at Euro 2012, Germany is still looking for a result to guarantee themselves the top spot for Group B.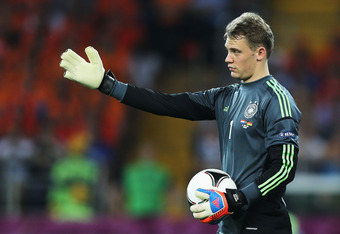 Ian Walton/Getty Images
Don't worry, it's coming.
Germany has proved to be the most consistent side in this group through two games. Mario Gomez has proved to be up to the challenge with his goal-scoring ability. He has buried his opportunities and he's making it look simple.
His touches are spot-on, his shots are accurate and he's not making too many mistakes in the final third. Gomez's form is on-point right now.
Germany's defense has proved to be strong through two games with one slip-up to the Netherlands. They gave Robin van Persie too much room in Wednesday's game. He took a few touches, realized nobody was pushing towards him and he buried it with his right foot.
Aside from that goal, the defense has been strong. They didn't concede against Portugal, a side that recorded three goals against Denmark on Wednesday.
Up next: Denmark
Denmark sneaked a victory over the Netherlands in the opener. It was the shocker of the tournament. 
Its defense let them down in the second game, however, allowing three goals to Portugal and it could have easily been five if Cristiano Ronaldo was in top form.
Prediction: Germany 2, Denmark 0
Germany will be in for a tough challenge against Denmark, but the overall talent of Germany will rule out. Gomez will continue to add to his goal-scoring total. 
Portugal
Portugal is a side that is accustomed to making it to the knockout stages at European Championships. 
It will continue at Euro 2012.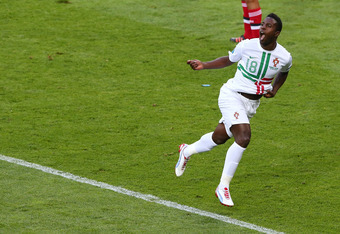 Alex Livesey/Getty Images
Portugal received three goals Wednesday against Denmark and not one of them was from Ronaldo. He had two point-blank opportunities to finish plays but failed on each one. 
If he plays up to his potential, Portugal receives quality efforts from others and the chemistry remains a constant, this is a scary club heading into the final game of the Group Stages. 
Up next: Netherlands 
You couldn't pick the Netherlands out of a lineup of average teams right now. Despite all the talent, the Netherlands are lacking form.
But they still have Robin van Persie, Arjen Robben and several other potent offensive weapons. They can't be taken lightly.
Clearly however, something is missing this tournament. Whether it's age, chemistry or just two poor games, the Netherlands isn't what they were two years ago at the 2010 World Cup. 
Prediction: Portugal 1, Netherlands 1
Portugal's best way to make it to the knockout stages would be to defeat Netherlands. But that isn't the only way.
Assuming Denmark loses to Germany like I have them doing, all Portugal would need is a tie. A tie would give Portugal four points and a second-place finish in Group B.
That's how it will play out. 
Final Prediction
1. Germany
2. Portugal
3. Denmark
4. Netherlands