LeBron James: Why Cleveland Cavalier Fans Should Respect the NBA MVP
June 17, 2012

Ronald Martinez/Getty Images
Quick! Name the top three television markets watching the 2012 NBA finals.
Alright, times up. Here are the answers:
1. Oklahoma City
2. Miami
3. Cleveland
That's right, Cleveland, Ohio. Cleveland comes in at number three largely because fans there want to watch LeBron. Whether or not they are watching him to lose, they are watching out of jealously.
From a fan's perspective, LeBron is easy to hate when he's not on your team, but he's your favorite player if he is on your team. Most Cleveland fans outwardly cheer against LeBron now, but they also remember the great seven years they had worshiping King James as their favorite player.
Those memories helped spark their current jealously and desire to still watch LeBron. It's why a recent Cleveland Plan Dealer survey stated that nearly 50 percent of Clevelanders wanted him back in a Cavs Jersey.   
During his Cleveland career LeBron said, "I got a goal, and it's a huge goal, and that's to bring an NBA championship here to Cleveland, and I won't stop until I get it." (via USAToday.com).
Most Cleveland fans have used this quote to classify LeBron as not being a man of his word and rightfully so.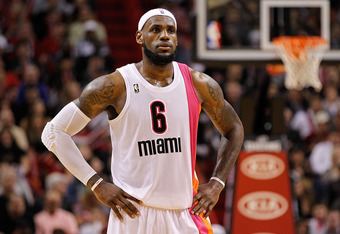 Mike Ehrmann/Getty Images
But remember, winning an NBA championship was the goal for not just LeBron but also the entire Cavalier organization. LeBron did more than his part on the court towards bringing Cleveland a ring but no player can win a championship on his own.
It takes a collective effort from all players, coaches and ownership to win a title. The Cavalier organization made a valiant attempt of surrounding James with talent but never gave him a championship-caliber supporting cast.
Once LeBron left, Cleveland's 'supporting cast' only won 19 games during the 2010-11 season. Remove Kevin Durant from Oklahoma City, take away Kobe Bryant from the Lakers and strip the Bulls of Derek Rose, and all three teams still have talented-enough supporting casts to reach the playoffs.
Cleveland never gave that to LeBron.
Look at it this way. Say you are a young lawyer working at a subpar law firm in Detroit. The firm lacks the resources for you to reach peak performance, so after seven frustrating years you leave when a bigger, more successful law firm offers a better gig. The new job pays better and is in a great place for a fresh start—Tampa, Florida.
Naturally, you take the job because you want to put yourself in a position to succeed. It's called upward career mobility, and LeBron considered that very thing when he left Cleveland for Miami.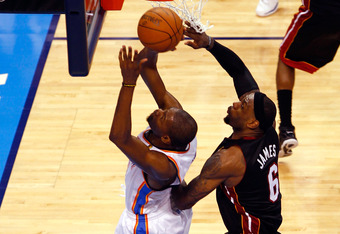 Mike Ehrmann/Getty Images
Looking at the NBA from a business standpoint, LeBron is a businessman who views basketball as his full-time job. His decision to play for Miami was a career advancement, a sign of success that should be celebrated.
LeBron did just that—and he celebrated in style. Remember when LeBron said, "Not 2, not 3, not 4, not 5, not 6, not 7..."?
LeBron probably won't get those seven rings, but he has half his career left to rack up a few titles. He is the best player in the NBA; confidence is what he is supposed to have and winning championships is what he is expected to do.
If any NBA player has the power to say such a statement publicly, it's LeBron James.
Cavalier fans need to get over how he left, too. Let's not forget that Kobe Bryant held a press conference issuing the statement (via sportsillustrated.cnn.com), "I'm taking my talents to the NBA" years before LeBron said, "I'm taking my talents to South Beach."
Televising "The Decision" obviously was not necessary, but it did show how nervous LeBron was about making such a tough decision. You could see the heartfelt emotion he had towards leaving Cleveland and sense that he understood Cleveland would rightfully no longer have his back.
The two-year anniversary of the "The Decision" is right around the corner, and it's time to get off LeBron's back.
Going to Miami may have made LeBron the villain of the NBA. But does every bad fourth quarter, every missed shot and every Heat loss really have to lead to an extreme dissection of LeBron's game by the national media and basketball fans everywhere? 
Just let the guy play. Whether you root for or against LeBron in the 2012 NBA Finals is your decision, but take a chance and try to respect his decision.