2012 NBA Finals: Rapid Reaction to Thunder's Game 1 Victory
June 13, 2012

Ronald Martinez/Getty Images
After a slow start and double-digit deficit in the first half, the Thunder stormed back with the leadership of Russell Westbrook and Kevin Durant, taking a 1-0 Finals lead.
Russell Westbrook and Kevin Durant. 
The Thunder tandem was outstanding in Game 1, combining for 63 points on 50 percent shooting. Even more impressive was the way in which Russell Westbrook and Kevin Durant outscored the entire Heat roster 41-40 in the second half. 
It's almost unimaginable to think what this team will do once James Harden gets involved. But, on the flip side, it's reassuring for the Heat that they only lost by 11 when their Big Three included Shane Battier and not Chris Bosh. 
Chris Bosh Three-Pointers. 
Very simply, what is Bosh doing standing on the three-point line in the fourth quarter?
I'm not against him taking in rhythm threes—preferably from the corner—but to set up shop beyond the arc is unwarranted and doesn't even pose a threat to the Thunder defense.
Bosh's work area should start at 18-feet where the Thunder are forced to account for and play him.
Where is Wade?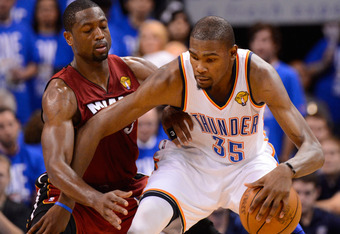 Ronald Martinez/Getty Images
Wade was nonexistent on both ends of the court throughout Game 1, and has been for almost the entire playoffs (with the exception of Game 6 of the Pacers series). The man who has made a name for himself dominating the big stage in both 2005 and 2010 has officially vanished. 
Wade's production was overlooked in the regular season because, well, a) it's the regular season and b) he was hampered by injuries. In the postseason, though, his performances are magnified, especially on a team that's dissected as much as the Heat.  
Wade's numbers are down in nearly every statistical category when comparing them to his previous playoff averages. His field goal percentage (46.5) and free throw attempts per game (6.9) are down slightly, primarly because he is settling for jump shots more than usual.
He has shot ten or more free throws in only five games this postseason, as opposed to eight such games last postseason (he also had two games with nine attempts at the line). 
In short, Wade is being less aggressive than usual. He resorts to the 15 to 18-foot pull up, pump fake shot far too often, and needs to get back to slashing and attacking the paint off the dribble. 
This season's disappearing act can be accredited to Wade's acceptance of LeBron James as the ruler of South Beach, as evidenced by Wade's pre-Finals interview in which he gave credence to that idea when he spoke about James as being the best player in the world, and the leader of the Miami Heat.
I thought we'd see a reemergence of Flash once the Heat reached the Finals, but he never rose to the occasion last night. Granted, there are still three to six games left in this series, but if Game 1 is going to be indicative of the rest of Wade's series then you can count the Heat out. 
There is no way LeBron can win it all on his own, regardless of what kind of numbers he's putting up. Isn't that why he left Cleveland?
Check Out: The Bench Review & Lakers Ledger