2012 NBA Mock Draft: Full First Round Complete with Team Needs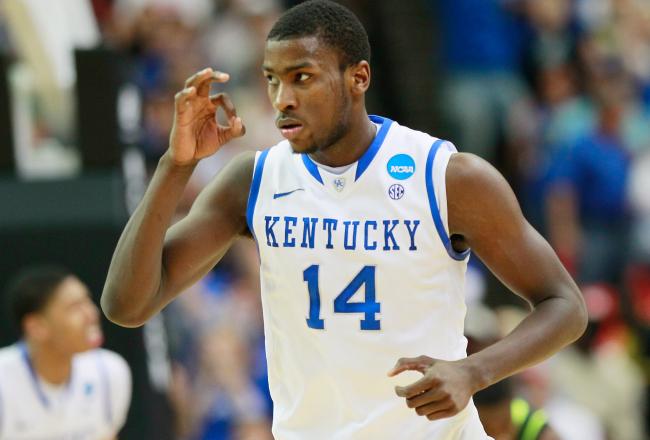 Kevin C. Cox/Getty Images
Value and need are the two things teams attempt to address in the NBA draft.
While finding the former is occasionally a nice surprise, most franchises would prefer to fill the latter when it is their turn to go to the podium and select a player.
Let's take a look at the latest first-round mock with a focus on what each team needs.
1. New Orleans Hornets (21-45): Anthony Davis, PF, Kentucky
Davis fills everything the Hornets need: a young, athletic big man that plays incredible defense and has superstar potential. He's clearly going to be the No. 1 pick and a cornerstone of their franchise.
Who Should the Bobcats Select?
2. Charlotte Bobcats (7-59): Bradley Beal, SG, Florida
The Bobcats apparently aren't high on Beal, but they should be. He's got unlimited range, moves well with and without the ball and can make any shot that the team that struggles with scoring needs.
3. Washington Wizards (20-46): Michael Kidd-Gilchrist, SF, Kentucky
MKG is a perfect partner for John Wall. He's one of the best finishers at the rim, has immense athleticism and has great size to guard three or four positions. The Wizards need someone like this on their roster to facilitate their star PG's development.
4. Cleveland Cavaliers (21-45): Harrison Barnes, SF, North Carolina
Barnes is another elite basket maker that would fill a perfect need on a team that lacks scorers. Kyrie Irving can't do everything and he needs someone he feels comfortable passing to that will knock down shots.
5. Sacramento Kings (22-44): Thomas Robinson, PF, Kansas
Robinson is a steal at No. 5. He made a strong case to be the No. 1 overall pick, but his defensive skills and upside are a bit below Davis'. The other teams below the Hornets do not need him as much, but the Kings shouldn't hesitate to snap up the big man.
6. Portland Trail Blazers (via 22-44 New Jersey Nets): Andre Drummond, C, UConn
After the Greg Oden debacle, it's going to be tough for Portland to take a chance on Drummond. However, if he pans out, they will have a legit star on their hands with a huge ceiling at a position they sorely need it from.
7. Golden State Warriors (23-43): Perry Jones III, PF, Baylor
PJ3 is another boom-or-bust prospect that could either become a great player or be out of the league in a few years. He's got so much skill, but lacks a motor and often fails to display it, especially against elite opponents.
8. Toronto Raptors (23-43): Austin Rivers, SG, Duke
Rivers has a ton of confidence and isn't afraid to take any shot at any time. He's got to get better at moving without the ball if he wants to become a great SG in the NBA. He can definitely handle the rock, but he needs to figure out how to use screens and get open for easy looks.
9. Detroit Pistons (25-41): Jared Sullinger, PF, Ohio State
Sullinger is a below-the-rim player that isn't going to blow anyone away with his athleticism. However, he's smart, has a knack for rebounding and knows how to post his man up to get a bucket.
10. New Orleans Hornets (via 26-40 Minnesota Timberwolves): Kendall Marshall, PG, North Carolina
Marshall is a sizable point guard that is the best passer in the draft class. He's not going to be an elite scorer or the most athletic player, but he'll facilitate the new-look Hornets offense and get Anthony Davis involved.
11. Portland Trail Blazers (28-38): Terrence Jones, F, Kentucky
Jones is a bit of a tweener and it's unknown which forward position he's primarily suited for in the NBA. What is known is that he is a highly skilled player at times and has to get more consistent. If he ends up developing, No. 11 is a steal for Portland to pick him.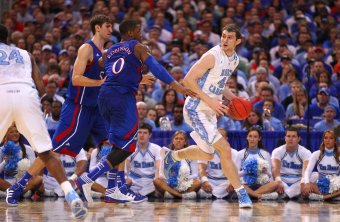 Dilip Vishwanat/Getty Images
12. Milwaukee Bucks (31-35): Tyler Zeller, C, North Carolina
Zeller is a low-upside big that immediate fills the need for size along the Bucks thin frontline. They have to add someone who can play almost immediately and the senior is a solid option.
13. Phoenix Suns (33-33): Damian Lillard, G, Weber State
Lillard is a gunner that hasn't learned how to play point guard at a high level. He's got to prove he can facilitate, otherwise he's going to be nothing more than an undersized energy guy off the bench.
14. Houston Rockets (34-32): Terrence Ross, G, Washington
Ross is an all-around solid 2 that can do everything the Rockets ask in their backcourt. He's slowly been rising as he proves his skills in workouts and interviews during the draft process.
15. Philadelphia 76ers (35-31): John Henson, PF, North Carolina
Henson is one of the better PFs in this draft. He's got the length and athleticism to push Elton Brand for playing time immediately if the 76ers draft him.
16. Houston Rockets (via 36-20 New York Knicks): Meyers Leonard, C, Illinois
Leonard is a big body that looks like he can contribute immediately on defense. He's got a lot of work to go to see big minutes or become a starter, but the size is certainly there.
17. Dallas Mavericks (36-30): Quincy Miller, SF, Baylor
Miller is a high-upside prospect that did not have the best freshman season with the Bears. He was still clearly feeling the effects of a high school ACL injury, but he has a good chance to go earlier if he shows he is healthy.
18. Minnesota Timberwolves (via 36-30 Utah Jazz): Jeremy Lamb, SG, UConn
Lamb could go in the lottery or fall this late. The Timberwolves are hoping that the latter happens. He's got to show more assertiveness if he's going to be a truly elite player, but the T-Wolves would be happy to attempt to develop the UConn star.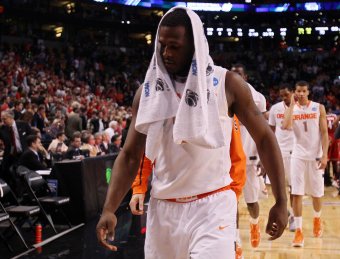 Elsa/Getty Images
19. Orlando Magic (37-29): Dion Waiters, SG, Syracuse
Waiters is another prospect that could go in the lottery or fall. The Magic are eventually going to need a franchise player to replace Dwight Howard and the Orange product might be the best option.
20. Denver Nuggets (38-28): Moe Harkless, SF, St. John's
Harkless is a young and raw prospect with insane athleticism. He's got to put some work into his jumper.
21. Boston Celtics (39-27): Royce White, PF, Iowa State
White has an anxiety disorder and a fear of flying that may keep him out of the first round. If he interviews well and proves he can overcome these things, it's a no-brainer for Boston to select him. He's one of the most skilled bigs in the class.
22. Boston Celtics (via 40-26 Los Angeles Clippers): Andrew Nicholson, PF, St. Bonaventure
Nicholson can play defense, shoot the mid-range J, rebound and has solid size. Sounds like a perfect replacement for Kevin Garnett.
23. Atlanta Hawks (40-26): Arnett Moultrie, PF, Mississippi State
Moultrie is a super athletic forward that makes Josh Smith a bit more expendable. The Hawks have been exploring trades for their unhappy F for some time now.
24. Cleveland Cavaliers (via 41-25 Los Angeles Lakers): Doron Lamb, SG, Kentucky
Lamb was a star during the 2012 NCAA tournament and earned the right to be one of the SGs selected in the first round. He's definitely got the stones to hit the big shots.
25. Memphis Grizzlies (41-25): Tony Wroten, PG/SG, Washington
Wroten has incredible court vision and passing ability, but he's got the absolute worst jumper in the draft. He's also not a great teammate, and that is going to hurt his stock.
26. Indiana Pacers (42-24): Marquis Teague, PG, Kentucky
Teague is a solid passer that looks suited to provide energy and facilitate a second-unit offense. Indiana would be a good spot for him to land, as they have great athletes on their bench, and he is from the area.
27. Miami Heat (46-20): Fab Melo, C, Syracuse
Melo is a high-upside big man that never displayed enough talent during his time with 'Cuse to go any earlier than this. The Heat will take a chance, as they have some terrible centers on their roster.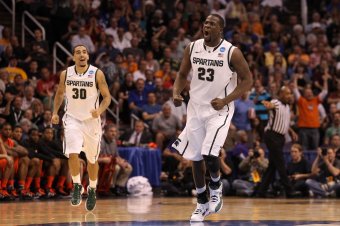 Christian Petersen/Getty Images
28. Oklahoma City Thunder (47-19): Draymond Green, SF, Michigan State
Green can rebound, hit the 3, play defense and get teammates involved. He is a perfect prospect for a team in the NBA Finals that doesn't need much.
29. Chicago Bulls (50-16): John Jenkins, SG, Vanderbilt
Jenkins could push Rip Hamilton for time because of his sweet stroke and all-around solid play.
30. Golden State Warriors (via 50-16 San Antonio Spurs): Jeffery Taylor, SF, Vanderbilt
Taylor is a great athlete that can shoot and defend. There is nothing more the W's could ask for at No. 30.
This article is
What is the duplicate article?
Why is this article offensive?
Where is this article plagiarized from?
Why is this article poorly edited?