WWE No Way out 2012: 5 Matches That Should Be Added to the Card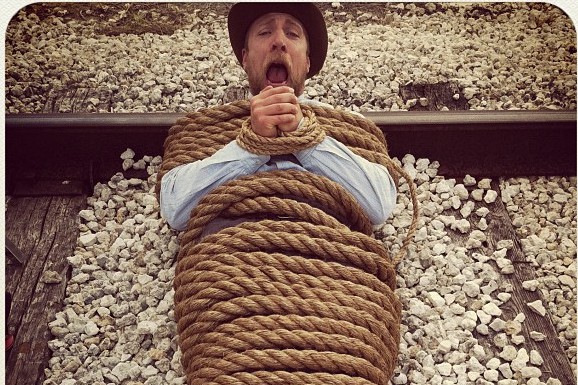 Photo from the Tubler account of WWE Media
For the WWE No Way Out pay-per-view, there are currently five scheduled matches, a YouTube preshow match and an appearance by Triple H to address the current Brock Lesnar lawsuit storyline.
The main card consists of four championship matches and a Steel Cage match, which will likely close the show.
It's a very light card with either rematches from the previous PPV or matches that have been played out already. Therefore, there is plenty of room for the WWE to add one or two matches and they likely will.
It seems to be a growing trend that the company holds unannounced matches on the night. This leaves the opportunity for several other superstars to make an appearance to help the card, or lower the overall rating for the show.
Here are five matches that should be added to WWE No Way Out 2012 PPV.
Begin Slideshow

»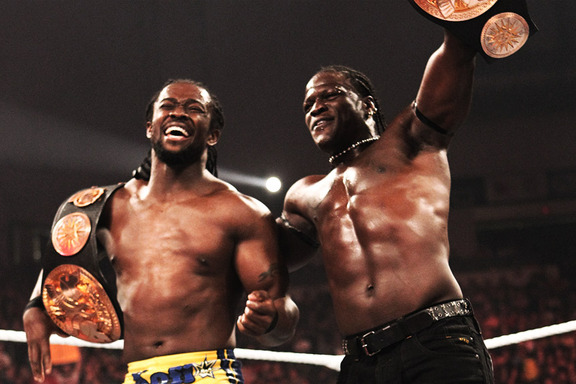 Photo from WWE.com
As little attention that the WWE has given the tag team division over recent years, there are currently several teams on the roster that could challenge for the titles.
The problem is that none of them have a feud going with the current tag champions. For that reason, the WWE should place them in a Tag Team Turmoil match and see how it plays out with the audience.
The other problem is that R-Truth is injured with a broken foot. The WWE ran an angle on Raw in which The Big Show knocked him out with a punch. This writes Truth off television and makes The Big Show look more dominant.
The question is, who now takes Truth's place?
Make it Zack Ryder.
He's already over with the fans and he deserves another run with some sort of championship.
The other teams in the match should include Curt Hawkins and Tyler Reks, Darren Young and Titus O'Neil, Primo and Epico and The Usos.
All four of these challengers have had some success as a team, with Primo and Epico the most as former champions.
By putting all of these different tag teams in one match, it brings some attention to the division. It also helps to see which of these teams, if any, most deserve to be in the title picture and who the fans react to the best.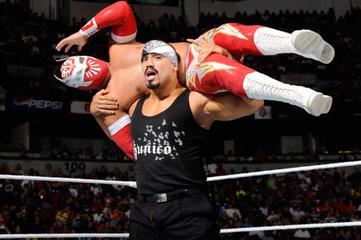 Photo from WWE.com
Since returning to action from an injury, Sin Cara has improved in the ring. The few matches he has been in have been smoother with no botches. The WWE seems to be building him up again as a possible future star.
They may not have a choice, with Rey Mysterio and Alberto Del Rio out of action.
Mysterio has been plagued with injuries and is one strike away from being fired due to his Wellness Policy violations. Meanwhile, Del Rio has had a rough year himself as he's struggled to stay healthy.
The WWE likes to have a wrestling star from or with links to Mexico to help generate fans from that area, so Sin Cara is lucky that he is the only choice right now.
During his first run in the company, he was in a feud with Hunico. However, the two were never able to finish it because of the injury Sin Cara suffered back in November.
Since then, Hunico hasn't done much of anything, so these two should pick up their feud from where it left off.
Having the match will help make Sin Cara look like a top name. Therefore, when Mysterio comes back, they can have a feud.
While that would be match worth paying for, first Sin Cara needs to defeat Hunico to reestablish himself as a star and to at least finish the feud.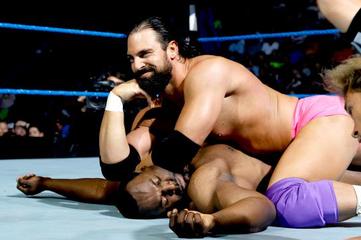 Photo from WWE.com
The WWE seems to see something special in Damien Sandow. After a month of taped promos and his wrestling debuting last month, Sandow has looked impressive. He seems to have that natural wrestling talent and charisma. What he needs is a win on a PPV to help solidify that he is a threat.
Alex Riley seems like a perfect candidate for the job. Riley has proven he can wrestle, but his quick push up the roster was halted randomly. He has basically become a jobber, and if the WWE is going to have him put someone over, it should be Sandow.
While it would likely be a short match, that's what should be expected. A little offense from Riley is the most he'll likely get, but this match should be more about Sandow going to town on his opponent.
The point of the match is to enhance Sandow as he continues to create a name for himself on the SmackDown roster.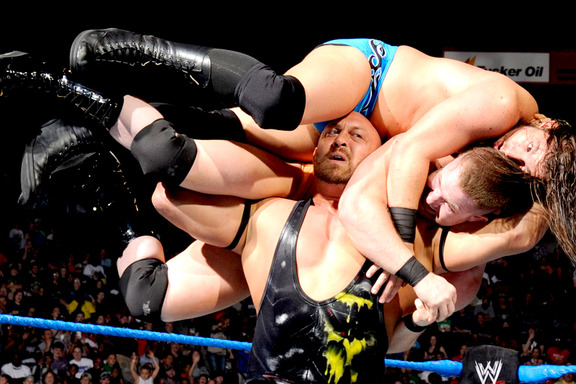 Photo from WWE.com
Another SmackDown wrestler who has been on a path of destruction is Ryback.
His matches have been short, with almost all the offense coming from Ryback himself. However, he needs to defeat someone from the main roster who can help better convey the message that he is a monster.
If the WWE really wants to make him look unstoppable, he should fight Ezekiel Jackson. The two are huge when it pertains to muscle size and a win against Jackson would help make Ryback look impressive.
The WWE doesn't seem to have any plans for Jackson currently, so let him lose to Ryback here.
A quick and decisive win on a PPV against a former Intercontinental champion could really benefit Ryback. To defeat jobbers left and right is one thing, but to do it against a former champion is something else.
A loss here doesn't hurt Jackson, especially if the WWE wants to groom Ryback as a world title contender in the future.
Photo from WWE.com
Tensai lost for the second week in a row on Raw, and afterwards took out his frustration on his manager Sakamoto.
This gimmick hasn't worked with fans because they remember him as Albert or the A-Train.
Tensai needs to come out and basically drop the gimmick on the PPV. He should rant about how all his training in Japan hasn't amounted to anything in America.
He issues an open challenge and Tyson Kidd accepts. Kidd is a great worker and someone that is small enough for Tensai to throw around with ease and look like unstoppable heel, which is what the WWE originally had planned.
The crowd seems to enjoy Kidd because of his in ring ability. To get crushed would help make Tensai's transition into a different or previous gimmick a simple one.