Grading Westbrook, LeBron and Durant's Game 1 Press Conference Wardrobes
June 13, 2012

Mike Ehrmann/Getty Images
Some may call it a shame, but we've reached the point where what certain stars wear to the postgame presser has nearly overshadowed anything the superstars do on the court.
I mean whatever happened to dropping 40 on someone and representing yourself and the organization in a professional manner by wearing a suit. 
Apparently that's so 90's these days and the stars must take the wardrobe to another level.
I've already graded the players performances on the court, now it's time to grade them off of it as we take a look at their Game 1 postgame wardrobes.
Russell Westbrook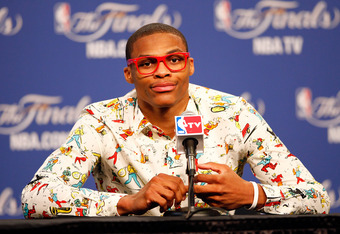 Mike Ehrmann/Getty Images
Boy would he have struggled back in the early 2000's when David Stern first implemented the dress code (whatever happened to that by the way?).
Westbrook didn't disappoint after Game 1, breaking out what looks like a pajama shirt to go along with the ever popular red frames.The print alone on the shirt is disturbing and I'm having trouble trying to figure out what statement he's trying to make.
The statement should be "Look at what I'm wearing. I need to hire a fashion consultant."
i never thought wearing thick Urkel glasses would ever be considered cool in my lifetime, but that has been the growing trend. However, that shirt has to go.
However, if he's out to pull off the hip look, I will give him an A for effort and an F for performance. We average that out to a solid C.
Grade: C
Kevin Durant
KD looks sharp with the suit and glasses to match. While Westbrook elected to go for the hip look, Durant dons the suit and tie, looking both hip with the glasses and professional as he's supposed to.
I like this look a lot.
Durant wasn't only the MVP of Game 1 but also the MVP of the presser as well.
Grade: A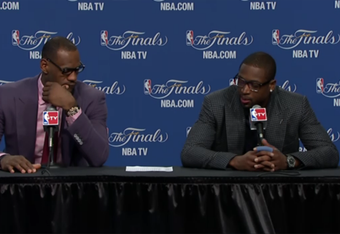 I lump them together because they sport a similar look
The fact that they are wearing suits is nice but I hate the pink shirt LeBron is wearing. Truth be told, I'm not much of a fan of the plaid Wade has on, but the glasses add some spice to their look.
Wade is the only player that graded better on his look then he did on his play. While he was the worst superstar on the floor Tuesday night, at least Wade can take some solace in the fact that he's not the worst dressed.
Grade: B for both guys.
Follow Matt Shetler on Twitter for news, reaction and analysis from around the NBA.