With Chris Paul's contract with the Los Angeles Clippers set to expire in the summer of 2013, there's no question the resurgent franchise will do everything possible to keep him in town for a good while longer.
The organization's plans to lock up Blake Griffin for the foreseeable future are an important first step. The Los Angeles Times' Broderick Turner reports that one option to replace general manager Neil Olshey could help make that happen:
But if the Clippers decide to stay in-house, Gary Sacks, their director of player personnel, could be considered for the job.

Sacks finished his second season in his current role and has been with the Clippers for 18 years. One NBA front-office executive said Sacks is looked as a bright basketball mind and he is also good friends with Blake Griffin's agent, Sam Goldfeder. The Clippers plan on signing Griffin to a five-year, $95-million extension July 1, the day free agency starts.
It almost goes without saying that any risk of losing Griffin would give his backcourt partner serious pause about remaining a Clipper for the long haul. Paul is a superstar in his prime and hardly interested in returning to the kind of uncertainty that characterized his career with the New Orleans Hornets.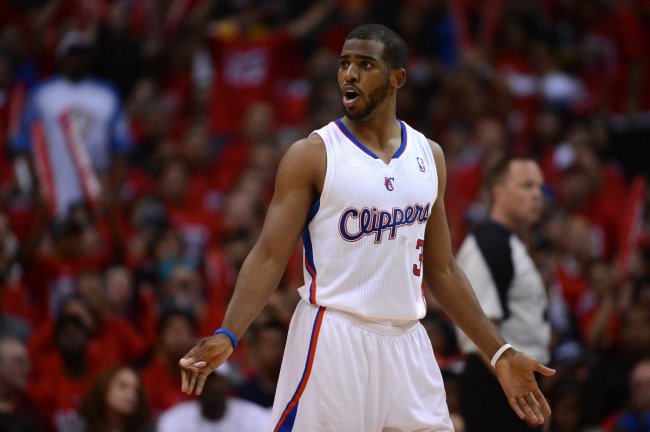 Harry How/Getty Images
Assuming Paul waits until next summer to make a commitment, he could ink a five-year contract with Los Angeles that would pay him almost $90 million.
Money won't be a problem, but whether the Clippers are still in a position to contender certainly could be.
Already, there are at least some reasons to be hopeful (via ESPN's Kevin Arnovitz):
But he was also talking like a man who saw a long-term future for himself with the organization on Monday.

Asked directly if that was the case, Paul said, "I hope so. We'll see. Right now I'm talking about right now and that's all I can control."

A source close to the situation told ESPNLosAngeles.com on Sunday night that Paul, who purchased a house in Los Angeles shortly after he was traded, has given the team some initial indications that he intends to stay long term as well.
Holding on to Griffin could make all these hopes a welcome reality.
The 23-year-old power forward is one of the most explosive players in the game, and his best years are almost certainly ahead of him. He still has plenty of work to do on his post game and mid-range jumper, but he's made progress on both fronts since his first season in 2010-11.
Griffin has experienced such a meteoric rise that it's easy to forget he just finished his second year, at least for all intents and purposes. With his rookie season wiped out by knee-surgery, the 2009 first-overall draft pick was forced to learn the pro game from the sidelines.
Me made an instant impact soon thereafter, averaging 22.5 points and 12.1 rebounds in his Rookie of the Year campaign.
His production slipped a bit this season thanks to a much-improved roster, but his efficiency improved markedly with his 51 percent shooting from a year prior improving to 55 percent.
There's no reason to believe Griffin won't continue his growth and round out into the kind of superstar that Chris Paul deserves.
As long as he's on the team, Paul will have a target in the paint who can leap to virtually any lob pass and finish the job in unmatched style. He also gives his top-shelf point guard the kind of decoy who will keep help defenders at bay and open the lane for Paul's impressive arsenal of layups and floaters.
The longer that kind of asset is in the fold, the longer Paul will be with the Los Angeles Clippers.