Winnipeg Jets: What Type of Raise Can Evander Kane Expect to Receive?
June 13, 2012

Bruce Bennett/Getty Images
The Winnipeg Jets' most precious piece is due for a new contract this summer. Twenty-year-old budding superstar Evander Kane is a restricted free agent with his eyes set on a new contract with Winnipeg.
Kane has finished his three-year entry level deal which he signed back in the 2009-10 season with the Atlanta Thrashers. The former fourth-overall pick completed his third season in the NHL and set career-highs in his first-ever season playing in Winnipeg which included 30 goals.
The expectations for Kane are high. The potential that he has to exceed those expectations is real. There's no hiding that the Jets will do what it takes to make Kane happy, and GM Kevin Cheveldayoff won't be hesitant when it comes to re-signing him.
But this is the first standard contract Kane will receive at the NHL level, the first contract that comes after the entry-level deal. And fans want to know what kind of contract he'll receive, both money-wise and length-wise.
Let's take a look at one of Kane's colleagues, a player that he can be compared to at this point in his career, to see what type of deal he may end up with.
Bobby Ryan of the Anaheim Ducks finished his three-year entry level contract and signed a five-year, $25.5-million contract with an annual cap hit of $5.1 million per year. This is a fitting contract for a superstar-like player and something I wouldn't mind seeing Kane with—a mid-term contract with a good-looking dollar amount.
It'll be interesting to see if one signing dictates the rest, because some of the other players that come to mind are also looking for a new contract—Colorado Avalanche forward Matt Duchene and Dallas Stars forward Jamie Benn.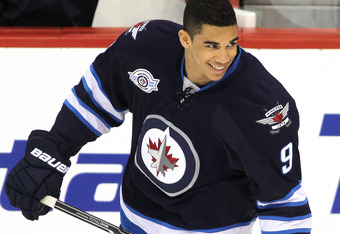 Marianne Helm/Getty Images
Let's compare him to one of his own teammates now for an even better idea on what Kane may seek (sometimes players use their own teammate's contracts as a starting point).
Jets captain Andrew Ladd was re-signed to a five-year, $22-million contract in the previous offseason after coming off of a 29-goal season. His annual cap hit is $4.4 million per year. This is another great contract for a player who can do it all.
I mention these players because I expect Kane's contract to fall somewhere in between. Kane is on the verge of being as good as Ryan—or better—at the same point in their careers, and looking at Ladd's contract will give an estimate on what we might see Kane get.
There's no secret that Kane is due for a raise, and maybe he's still too young for the Jets to sign him to an outrageously lengthy contract. But Kane will get paid and deservedly so. As far as the dollar amount goes, we should expect to see Kane make close to $4 to $5 million per year. In terms of length, expect to see a three- or four-year contract, nothing too long or too short.
Ideally, we'll likely see a three- to four-year contract worth around $13 to $17 million. Four to five million per year seems about right for Kane at this early stage in his career. Usually young players in Kane's situation sign short-term to prove their worth for their next contract which would usually involve the big money and franchise-player length.
Kane will turn 21 in August, which means he's still a young kid who's just starting to develop into one of the premiere players of this league. But what he's done and how he's progressed already in three years' time and the potential that lies ahead makes Kane extremely valuable to the Jets organization. He's expected to be the leader of this team for years and years to come.