Stanley Cup Final 2012: This Unfamiliar Feeling
June 13, 2012

Harry How/Getty Images
If you had told me two months ago that the Kings would hold a 3-2 game advantage in the Stanley Cup Final, I would have asked what mental hospital you escaped from.
But if you continued to insist that this would be the case, and you proceeded to ask me to predict how I would feel before Game 6, I doubt very highly that I would say I was nervous and impatient.
I was the embodiment of nervous and impatient on Monday.
I woke up to that "might win the Stanley Cup today" feeling—which is a fantastic feeling, don't get me wrong. But it is one of those things you'd rather have only once, like dysentery.
This was the third time. 
I glanced at my computer wondering if I should subject myself to more opinion articles fawning over the Devils and the 1942 Maple Leafs, and how they would soon be the only two teams to overcome a 3-0 series deficit.
I wondered if I should venture onto Facebook, weary of finding jeers and jokes from my so-called friends.
I wondered if I should even log onto to Bleacher Report or ESPN, as I always do automatically.
I decided against all of them—I had had enough. I knew everyone was skeptical. I knew everyone was slowly assembling at the Devils bandwagon. I knew it would all just make me feel worse.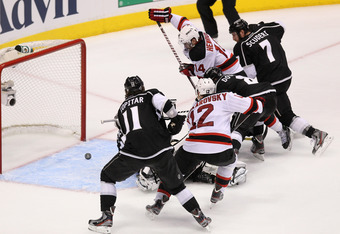 Jeff Gross/Getty Images
I went to class, which is perhaps the last place you want to be when your brain is consumed with other things. It is hard to focus on sociological market relations and the history of technological advancements when you are worried about blowing a lead that once seemed untouchable.
I returned home less than an hour before game time, and I just waited. I don't even know what I was watching. It didn't matter. Nothing else did.
The skaters came out on the ice. My stomach twisted itself into knots. My heart beat slowly crept upwards. 
The game started, slowly. The puck dribbled back and forth down the ice. The goalies had little to do.
About halfway though the period, Steve Bernier lined up Rob Scuderi from behind and drove him face-first into the boards. Bernier received a five-minute major penalty for busting Scuderi open and was ejected from the game.
Some excitement growled to life in my chest. "Good," I thought. "An assured five-minute-long advantage." We needed a few calls to go our way, no one could argue that. I was just glad to have a few minutes to relax, where I wouldn't be worried about another goal bouncing in off Slava Voynov's shoulder.
Play resumed, and we scored.
Then we scored again.
And again.
By the time the penalty ended and the Devils finally got five guys back on the ice, it was over. We all knew Quick wasn't giving up three goals. Darryl Sutter knew it. Peter Deboer knew it. The Staples Center knew it. The entire Los Angeles Kings fan base knew it.
The next two hours were a total reversal of what the previous five days had been. I was freed from all those nerves. I was loose. I was cooking, literally cooking dinner during the game. The Devils scored late in the second period to make it 4-1, and no one even cared. Not even a little. We hadn't yet won the Cup, but we had won the Cup.
I sat down and watched as the last five minutes ticked off the NHL season, and I felt strangely calm. I was not jumping up and down. I wasn't screaming victory cheers into the sky. I was just sitting there, with an assuredly stupid smile on my face. Feeling a feeling that I had never felt before.
It's unexplainable, really. Every end of season had brought me only the sadness of another year lost and the faraway gleam of the next season on the horizon. Every single one. But not this one. Not the Kings. I was filled up with pride. Maybe that's the best way to put it.
I was fulfilled.
I started following the Kings on March 11, 2012. After that point, the Kings went 25-9 en route to the Cup. My support was instantly rewarded by one of the greatest championship runs in the history of sport.
That kind of thing just doesn't happen. Not to me anyways.
I sent three texts that night, right as the game was ending. They went to three different people but they all carried the same message—something that didn't say much outright. But I knew they would know what I meant and how I felt.
"This is what a championship feels like..."
Best feeling in the world.
Go Kings Go.