Pacquiao vs Bradley Results: Desert Storm's Injuries Make Win More Impressive
June 13, 2012

Jeff Bottari/Getty Images
There is no doubt that Timothy Bradley's controversial win over Manny Pacquiao will be discussed for years. But you can't debate this: Desert Storm is one tough dude.
On Wednesday, Bradley's manager, Cameron Dunkin, told ESPN's Dan Rafael that Bradley strained and pulled ligaments in his left foot and will be in a cast for eight weeks. He also had a severely swollen right ankle that was "like a grapefruit," according to Dunkin.
No wonder he showed up to the post-fight presser in a wheelchair.
Bradley looked to have suffered the injury in the second or third round, and it severely hampered him in the middle part of the fight from a mobility stand point. Then, in the sixth round, he caught his second wind (and the adrenaline kick to mask the pain), and the rest is history. He only got stronger as the fight went on.
Imagine going toe-to-toe with the boxer of the decade with serve damage to your feet—the part of your body that is essential to generate real power into your punches. It's an unbelievable achievement that should not be ignored.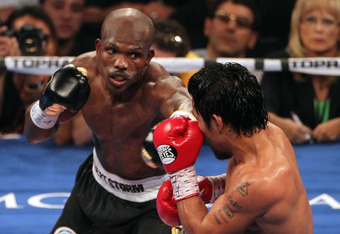 Jeff Bottari/Getty Images
While you may be upset with the decision, this is in no way Bradley's fault. He refused to give up and battled through extreme pain, and it was apparently enough to convince the judges he won.
The controversy surrounding the decision has yet to subside. Now, WBO President Francisco "Paco" Valcarcel has made a statement announcing that a committee of five "recognized international judges" will review the video and make a recommendation, according to the USA Today.
When they watch the tape, they will see a fighter in Bradley who refused to give in and left everything in the ring. They will see a fighter who was relentless and fearless.
The outcome of the fight will never change, and the whispers of corruption aren't going away. But give Bradley a ton of credit for gutting it out after suffering serious injuries early on in the bout.
Desert Storm is one tough cookie.