Oakland Raiders: Why Terrelle Pryor Must Be Given a Shot at Training Camp
June 14, 2012

Otto Greule Jr/Getty Images
The Oakland Raiders still haven't given Terrelle Pryor the shot his resume deserves, but rather, treated him as the third-round Supplemental Draft pick he is. As the Raiders enter the 2012 season, though, it's imperative Pryor gets a shot at starting—if not for the present, then at least for the future.
After dealing with the lockout-shortened 2011 offseason, and a five-game suspension to start the season, now seems the ideal time to evaluate Pryor against incumbent starter Carson Palmer.
Pryor, who was a two-sport, all-state athlete in high school, was heavily recruited for both basketball and football before deciding on quarterback at Ohio State University. Back in the glory days for the Buckeyes, Pryor contributed right away, even earning starts during his freshman year. His second year, Pryor led the Buckeyes to a Big Ten championship and Rose Bowl victory, throwing for 18 touchdowns and running for seven more on the year. 
His sophomore-year performance meant it was Pryor who received much attention heading into the 2010 college football season and not eventual Heisman Trophy winner and first overall draft pick Cam Newton.
Pryor, finished his junior year with 28 touchdown passes and ran for another four but learned he was going to be suspended for the first five games of his senior season in late December for selling memorabilia. As the scandal grew, Pryor withdrew from school and declared his entry to the Supplemental Draft, where the Raiders selected him in the third round.
Fast forward one year, and the question is still being asked: when will Pryor get his shot?
The answer should be now.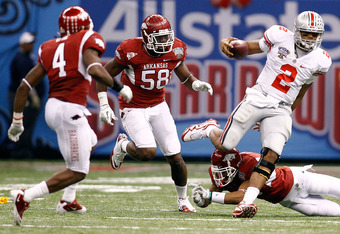 Chris Graythen/Getty Images
After seeing no action in his rookie season with the Raiders, Pryor can start fresh with new head coach Dennis Allen. He should be given serious consideration for the starting role even if it means him ending up backup. The fierce competition that could ensue in camp will yield a confident quarterback as either Palmer resets the clock, or Pryor regenerates his swagger. And if Palmer does win out with experience, Pryor is a strong backup candidate as he is younger and more athletic than alternative Matt Leinart.
Who knows what Pryor has left in the tank after an unexpected turn from star to scandal in the past 18 months, but if it is anything similar to his last performance (the 2011 Sugar Bowl), the Raiders should stop wasting him on the bench.
All hypothetical here, but if Pryor had stayed for his senior season, his draft pick likely would have been higher than the third-round selection the Raiders forfeited to acquire him in the 2011 Supplemental Draft. Maybe, he wouldn't have sparked debate against Andrew Luck, but had Pryor worked on his throwing ability, he could have potentially been the third or fourth quarterback taken last draft.
Similar to Newton, when Pryor steps on the field he often is the biggest and fastest guy playing. Also, he has a knack for stepping up in big games—he was the MVP of the 2010 Rose Bowl and 2011 Sugar Bowl.
Pryor has been a star athlete his entire life. Hopefully, after spending last season suspended and holding a clipboard, he will reach his potential in the NFL. If he does, he has the skills to compete for the starting job.