5 Possible Fights Still Left for Gilbert Melendez Outside the UFC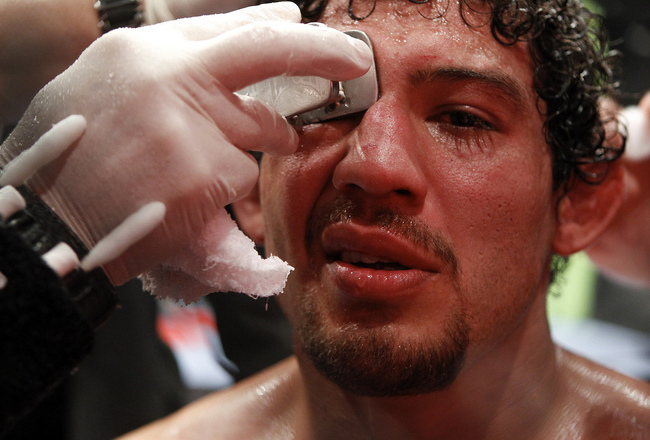 Photo by: Esther Lin / SHOWTIME

Strikeforce Lightweight Champion Gilbert Melendez is running out of options following his decision victory over nemesis Josh Thomson.
After a close decision that some thought Thomson won, another bout with "The Punk" is feasible but highly unlikely.
Everyone wants him to join the ranks of the deep UFC Lightweight division so that he can challenge for the championship and fight the best the sport has to offer. Unfortunately, he is hamstrung by his Showtime contract.
While he has dispatched of top fighters such as Shinya Aoki and Tatsuya Kawajiri, and while other top lightweights such as Michael Chandler are under contract to other organizations, there are still fights for him outside of the UFC that are possible to achieve.
Here is a look at five fights the Strikeforce champion can still take that do not involve Josh Thomson.
5. Ryan Couture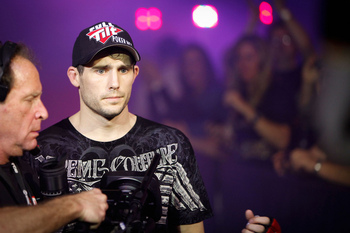 Photo by: Esther Lin/STRIKEFORCE
Josh Thomson makes much more sense from a competitive and rankings perspective, but fans simply do not want a fourth installment.
If Couture gets past Joe Duarte in July, he will have a three-fight winning streak in Strikeforce. At least the fight makes sense in regards to the organization.
The fight does more for the career of Couture than anything else. It places him in the night's co-main event at worst and against one of the top five lightweights in the world. He will have nothing to lose against Melendez.
I will agree that this does nothing for the champion. But when looking at potential lightweights he has not defeated that are able to compete in Strikeforce, Couture's name shoots toward the top. That says a lot about the opportunities at 155.
Melendez vs. Couture is not that appealing, but it will give the challenger a chance to throw caution to the wind and make for an exciting fight—for however long it should last. And maybe the billing can confuse some fans to tune in.
4. Pat Healy
Photo by: Esther Lin/STRIKEFORCE
A fight with Healy makes the most sense in regards to Strikeforce's Lightweight division.
Healy is on a four-fight win streak that will push to five if he is victorious against Mizuto Hirota in July. His lone loss in Strikeforce was in 2010 to Josh Thomson in a competitive and close fight. As it stands now, he is the top contender to the Strikeforce Lightweight Championship. If that is the fight to be made, it makes sense.
Healy likes to grind and make fights ugly. A five-round battle against Melendez could be one of the grittiest battles of the year.
It is an underrated option that many forget to look at when wondering what's next for Melendez. Much like Healy's style, it is not the prettiest option, but it makes sense and could be fun to watch.
3. Jason High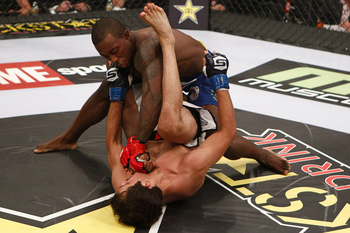 Photo by: Esther Lin/SHOWTIME
Since the lightweight talent pool outside of the UFC is quite dry, Melendez may have to move up to fight at 170 for a fight or two.
If that option appeals to the champion, then Jason High is a good fight for his first foray into the Welterweight division. Granted, High must get past Nate Moore in July first.
While many may want Melendez to challenge for the title at 170 if he moves up, it is not prudent to thrust him to that plateau immediately. Have his first fight in the division be against a contender.
High is on a six-fight win streak—seven with a victory over Moore—since his departure from the UFC. The fight with Melendez could serve as a No. 1 contender's fight for the Strikeforce Welterweight crown.
Melendez is not coming to the UFC any time soon. With limited options at 155, a move up in weight to continue pushing the champion at least has some redeeming value. He can continue to dominate the lackluster lightweight roster or move up and test himself.
A fight with High does that and sets the winner up for a championship bout against the winner of Woodley vs. Marquardt.
2. Kazuo Misaki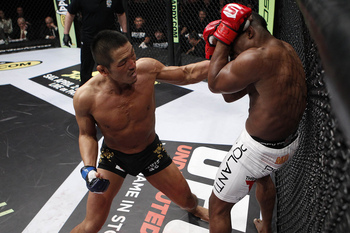 Photo by: Esther Lin/SHOWTIME
Take what I said in the previous slide about a potential No. 1 contender's bout for the Strikeforce Welterweight title and substitute Misaki for High.
Another fight against a credible opponent at Welterweight that would suffice for Melendez. And one that may be more stylistically appealing to the fans.
Misaki is on a three-fight win streak after defeating former title contender Paul Daley by split decision in March. The former PRIDE Welterweight Grand Prix champion would be an exciting test for Melendez.
And unlike the previous fighters, Misaki is not booked for July. So there is no worry about a potential upset that could derail those plans. At least there is that.
The fight is a definite step up for Melendez. He would not be able to be complacent in his training for the match, and it would go a long way in proving his skills for when he makes the transition to the UFC in the future.
While he remains in Strikeforce, he must look for new ways to challenge himself. A fight with Misaki does that.
1. Eddie Alvarez
Photo by: Bellator FC
Alvarez is on the brink of signing with the UFC. He was even cageside by UFC president Dana White at UFC on FOX 3.
However, technically, Alvarez is not signed yet. And if Zuffa wants to give Melendez a top lightweight, this is the only remaining option left.
If Alvarez signed to the UFC, he would not challenge for a title right away. In fact, he would probably be at least two fights away from a title shot. If he is placed in Strikeforce and immediately pitted against Gilbert Melendez, it will be the best fight for both men.
Yes, the argument for what comes after that fight is valid, but it is a better option than having Melendez rot in the stagnant waters of the division. With Thomson and Healy there is at least a couple other fighters in the division to compete with.
It goes without saying that Alvarez vs. Melendez would be one of the biggest lightweight fights of the year. If Strikeforce could make that fight happen this winter, it would be a major get for the organization.
If Alvarez wants to immediately fight one of the best, then entering Strikeforce for a fight against Melendez makes a lot of sense. Instead of fighting his way to the top of UFC's crowded Lightweight division, he can instantly challenge for the Strikeforce belt.
It is all about remaining relevant in the division. For Gilbert Melendez, the fight with Eddie Alvarez is the only one that will keep him in the discussion of being one of the division's elite.
Keep Reading