NFC EAST: Tony Romo Poised to Beat Michael Vick in 2012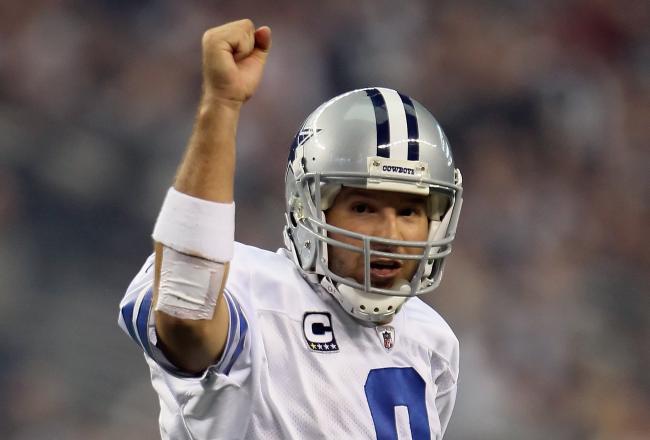 Tony Romo
Jeff Gross/Getty Images
Tony Romo has a solid chance of finally defeating the Michael Vick-led Philadelphia Eagles in 2012. This is something he has yet to do since Vick took over in 2010.
On the surface, the numbers from last year wouldn't seem to support such a claim.
Tony Romo's worst passing performance of 2011 came against the Philadelphia Eagles in week nine. Michael Vick's best passing performance of the year came on that same day.
Romo finished with a 66.7 passer rating, and Vick finished with a 129.9. The Eagles won 34-7.
The Cowboys also lost the second matchup, although they were resting their starters for the final showdown with the Giants. Even if they had played their full team, it's unlikely they would have won, due to a terribly outmatched secondary.
And yet, a look deeper inside the numbers and the offseason moves by these two teams indicates that future matchups will look dramatically different. Tony Romo is poised for a successful 2012, while Vick may encounter more challenges to his health and productivity than he faced in 2011.
When seeking to predict which QB will fare better in 2012, there are a few key factors that must be assessed. Each of these factors plays a vital role in the success of any QB.
1) Offensive line
2) Ability to stay healthy and stay on the field
3) Ability to avoid turnovers
4) QB accuracy under pressure and accuracy in deep passes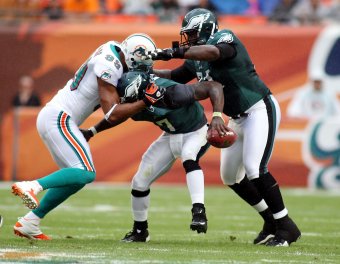 Michael Vick's Offensive Line Struggles
Marc Serota/Getty Images
5) Strength of running game
6) Defenses ability to hold leads
7) Fourth quarter scoring
Offensive Line
The Eagles lost Jason Peters, their Pro Bowl left tackle for the season, a few weeks ago. They have responded by signing Demetress Bell. Despite a brave face put on by the Eagles coaching staff, losing Peters is a devastating blow to an already subpar offensive line.
The Bills did not re-sign Bell because Andrew Levitre performed far better during 2011. Bell is a former seventh round pick who has been injury prone since he came into the league. He is ranked by Pro Football Focus as 25 in pass-blocking. Jason Peters was fourth.
The Eagles other tackle, Todd Herreman, is ranked second-worst in the NFL in hits allowed and is ranked 53 out of 58 in hurries allowed.
Now, here is where that number really hurts Vick. With Peters in the lineup, Vick had a Pro Bowl, blue chip tackle protecting him from one side. That gave him some time and some room to escape when things broke down from Herreman's side or from up the middle.
Why would it break down up the middle? Center Jason Kelce was ranked last among all starting centers in pass-blocking efficiency. The Eagles have no plans to replace the 285-lb center. They are convinced he is what they need for their blocking scheme.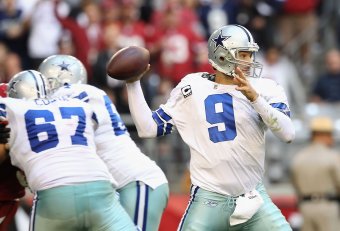 Tony Romo
Christian Petersen/Getty Images
Dallas, meanwhile, is upgrading left tackle by moving Tyron Smith to that spot and putting Doug Free at right tackle. All other spots on the line are an open competition.
Kevin Kowalski was rated number one in the league in pass-blocking efficiency for his 53 snaps at center. That isn't a huge sample size, but it's large enough to indicate his potential at that position. Especially considering those snaps came against San Francisco, Philadelphia, New York and Buffalo.
Dallas has also brought in several free agent linemen to compete in camp. They bring back several players who gained experience in 2011 and gained strength in the weight room during this offseason.
This isn't to say that Dallas is preparing to field a top-five offensive line. I seriously doubt they will be much better than slightly above average in 2012, but I think average will be better than the rest of the O-lines in the NFC East this year. The Eagles line may be the worst in the division, now that Peters is gone.
The edge here goes to Romo.
Staying Healthy and Staying on the Field

Tony Romo missed ten games in 2010 due to injury. Other than that, he has only missed three other games his entire career.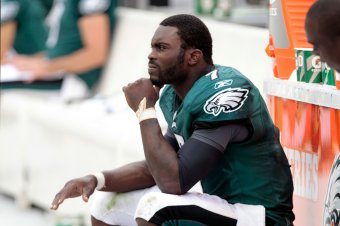 Michael Vick
Chris Trotman/Getty Images
In 10 seasons, Vick has only played a full season one time. Just once. He missed three games last year and four games the year before.
Vick will turn 32 this summer. With his astonishing speed and quickness, it's unlikely anyone will notice a drop-off in speed this year. But 32 feels much different than 22 on Monday morning. The ability to bounce back from injury begins to diminish at 30.
This is evidenced by this stat: In the three years prior to his prison sentence, Vick missed a combined two games. His age range: 24-26 years. In the two years of starting full time after his sentence, he has missed seven games. His age range: 30-31 years.
Given that much of Vick's game is built around running with the ball into dangerous territory and given that his line's ability to protect him has been diminished, a reduction in the capacity to heal quickly from injury isn't helpful.
Romo, on the other hand, is getting an upgraded offensive line, and he almost never attempts to gain yardage with his feet. Instead, he scrambles around and throws the ball downfield. When he has to run for it, he slides before he takes a big hit.
When Romo does get injured, he has shown exceptional toughness and a will to stay in games and compete. He led his team from behind to defeat the 49ers, despite a fractured rib and punctured lung. It doesn't get much tougher than that. Romo missed zero games while recovering from his injury. Vick sustained a similar injury and missed three games.
The edge here goes to Romo.
Ability to Avoid Turnovers
Despite Romo's well publicized, disastrous turnovers over the years, he actually throws relatively few interceptions and seldom fumbles. In the past two seasons, Romo has thrown a total of 17 picks and 42 touchdowns. He has fumbled six times and lost three.
Over the same time, Vick has thrown 20 picks and 39 touchdowns. And he has fumbled 21 times and lost seven.
So in just two seasons, Vick has turned the ball over 27 times, while Romo has turned it over 20 times.
Fourteen of those picks and ten of those fumbles for Vick came last year, however, which may indicate a worsening trend. In fact, when you add lost fumbles to picks in 2011, Vick had 18 turnovers against his 18 TD's. Not an encouraging ratio.
Again, the edge here goes to Romo.
Accuracy with Deep Passes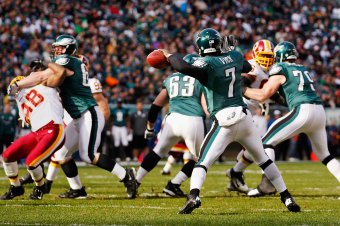 Michael Vick
Rob Carr/Getty Images
One place where Vick has consistently shone is in his ability to throw the deep ball. Vick has a very strong arm and is not shy about letting it fly when he has a receiver deep.
In fact, Vick is ranked fourth in the NFL in accuracy percentage on deep balls, at 51.7 percent. That is an outstanding number.
But Romo is better. Romo ranks second only to Aaron Rodgers in this stat, with 54.1 percent. Furthermore, Romo threw 13 touchdowns against only two interceptions on deep passes.
Vick meanwhile, was more likely to throw a pick than a touchdown on deep passes in 2011. He threw only three touchdowns and four picks, which is the same ratio as Tavaris Jackson's.
So clearly, a substantial edge goes to Romo

Accuracy Under Pressure
Tony Romo was ranked by PFF as fifth best in the NFL under pressure, according to their accuracy percentage statistic. But in terms of completion percentage under pressure, he was ranked second only to Drew Brees. Romo threw seven TD's and only four picks while under pressure.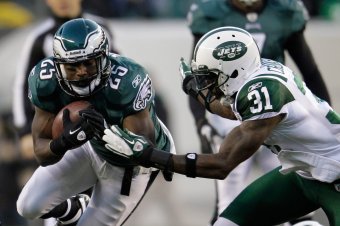 Rob Carr/Getty Images
Michael Vick was ranked 25 in the NFL in accuracy percentage under pressure and 24 in completion percentage under pressure. He threw seven TD's and seven picks under pressure.
Once again, a substantial edge goes to Romo.
Strength of Running Game
The 2011 Eagles were one of the best running teams in the NFL. They finished fifth in yards per game, third in average per attempt and third in runs of plus 20 yards.
Dallas meanwhile, finished a paltry 18 in yards per game, ninth in yards per rush and 15 in runs of 20 plus yards.
When you factor in that Vick actually did much of that running, it adds to the importance of this element.
Typically we think of the strength of the running game as helpful to the QB because it takes pressure off of him and puts him into more manageable down and distance situations. But Vick actually is the running game on many occasions.
The other important aspect is that the threat of the run keeps the safeties closer to the line, making it easier to get one-on-one coverage with receivers.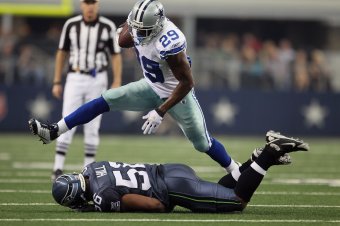 Jeff Gross/Getty Images
The Eagles will no doubt have a strong running game once again in 2012. LeSean McCoy is an amazing running back, and Vick is also extremely dangerous as a runner.
One caveat here for the Eagles, though: Jason Peters was ranked second in the league in run-blocking by PFF. His replacement, Bell was ranked 21 in 2011 and 66 in 2010.
The Eagles may not be as dominant running the ball in 2012, but they will still be one of the top teams.
Dallas is likely to improve significantly, though. DeMarco Murray was the most productive back in the NFL last season while healthy. He averaged 5.5 yards per carry and had seven runs over 20 yards.
He did that despite averaging fewer than 13 attempts a game.
Dallas has stolen Houston's starting fullback, Lawrence Vickers, who will be lead-blocking for Murray and Jones this season.
The edge here goes to the Eagles, but the Cowboys are poised for a substantial improvement in their running game.
Defenses Ability to Hold Leads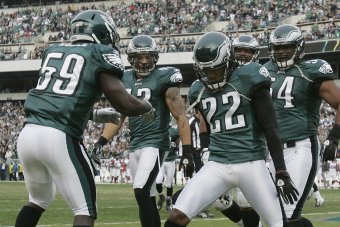 Rich Schultz/Getty Images
When you think of what it takes for a defense to hold on to a lead, the secondary is the first thing that comes to mind. If you have a lead and the other team is running out of time, obviously they are passing. You can't put it all on your defensive line to hold on to the lead. You have to have corners and safeties that can cover and pick off the desperate passes that will be coming.
So naturally, anyone who followed the Cowboys in 2011 would pick just about anyone else's secondary over what Dallas rolled out there last year.
This is why I was astonished to find that PFF's ratings of corners and safeties was not very kind at all to the Eagles.
Furthermore, when you subtract the players who are no longer with the respective teams and you plug in those who are there now, Dallas actually has a stronger secondary even without considering the addition of Morris Claiborne, the top corner in the draft.
Here is why: Asante Samuel was by far the highest ranked corner for the Eagles. He was ranked 12. But he is no longer with the Eagles. What remains is Nnamdi Asomugha, who ranked 90 and Dominique Rodgers Cromartie (ranked 84) and Joselio Hanson, ranked 61.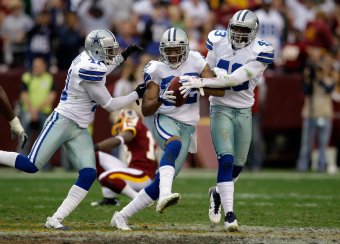 Rob Carr/Getty Images
The average rating for Eagles cornerbacks that are returning in 2012: 78.3.
Dallas, meanwhile, fielded Scandric (ranked 83) and Jenkins (ranked 40) and added Carr from the Cardinals who was ranked 29. Average rank: 50.6
(The other corners, Alan Ball and Terrance Newman, are gone.)
At safety, Philadelphia had Nate Allen (ranked 15) and Jarrad Page (ranked 58). Average ranking: 36.5
Dallas had Sensabaugh (ranked 29) and added Poole (ranked 30). Average ranking: 29.5
To sum up: Dallas corners: 50.6, Philadelphia corners: 78.3; Dallas safeties: 29.5, Philadelphia safeties: 36.5
Edge in secondary goes to Dallas and therefore Romo.
Fourth Quarter Scoring
Having an offense that puts points on the board at the end of games is critical to winning in the NFL.
As much as teams want to have a dominant lead heading into the fourth and just pound the rock to run out the clock, the reality is that teams almost always need to keep scoring to win. So, while it is important to have a defense that holds onto leads, it's equally important to have an offense that keeps scoring, to maintain that margin.
Who will have a better year--Romo or Vick?
In 2011, Dallas was ranked sixth in the NFL in fourth-quarter scoring.
Philadelphia was ranked 25.
Romo had a fourth-quarter QB rating of 104.4, an overtime ranking of 116.7 and a "behind by 1-8 points" ranking of 102.4.
Vick had a fourth-quarter ranking of only 77.7—by far his worst quarter. He had no overtimes in 2011, and he had a "behind by 1-8 points" rating of 67.9.
Once again, the edge goes to Romo.
Summing it Up
It would be hard to make a case for Vick having a better year in 2012 than Romo, based upon the numbers we have examined. It doesn't appear as though his offensive line will be as good as it was last year, and his ratings on a number of factors in 2011 don't leave much reason for optimism for his 2012 performance, especially if he is going to have less protection.
Romo on the other hand, appears to be getting all the help he needs to be successful in 2012. His offensive line is being re-tooled; all of his favorite weapons are healthy once again; his defense has been drastically overhauled in a manner that should enable it to hold onto leads.
Romo has shown a propensity to play his best ball at the end of games when his team needs it most.
Further, he has shown the ability to play well when he is behind, enabling his team to win games even when they haven't played their best in the first three quarters.
Taken altogether, these factors seem to favor another strong year for Romo and another challenging year for Vick. Whether or not that translates to an NFC East title for the Cowboys remains to be seen.
For more in-depth articles about the Cowboys, check out Cowboysblast.com
This article is
What is the duplicate article?
Why is this article offensive?
Where is this article plagiarized from?
Why is this article poorly edited?

Dallas Cowboys: Like this team?