NBA Finals 2012: 5 Adjustments Needed for Miami Heat to Win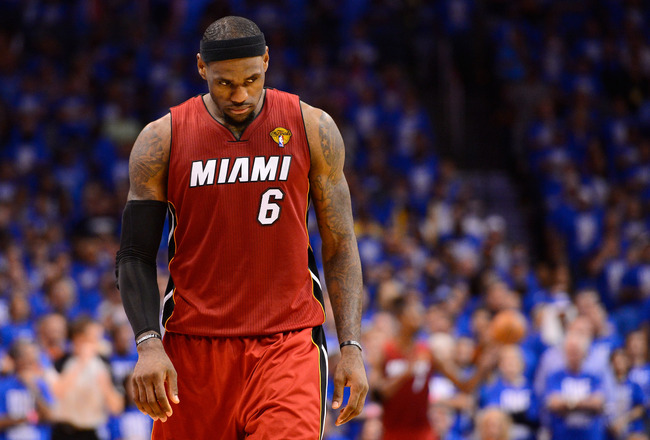 Ronald Martinez/Getty Images
The Miami Heat played well in the first half of Game 1, but turnovers and an excess of jump shots led to huge transition opportunities for the Oklahoma City Thunder to blow the game open.
The series is far from over for the Heat, but there are obvious changes that need to be made in order to prevent Kevin Durant from having multiple wide-open shots and Russell Westbrook from getting into the paint easily.
Miami is undefeated when scoring over 100 points this postseason, so they should look to have more defensive intensity so they can have more than four points in transition compared to the 24 from OKC.
Take away the wide-open shots and easy buckets for the Thunder, and Miami can win every game in this series by double digits. Here are five adjustments that need to be made for Miami to win this series.
1. Start Chris Bosh for the Rest of the Series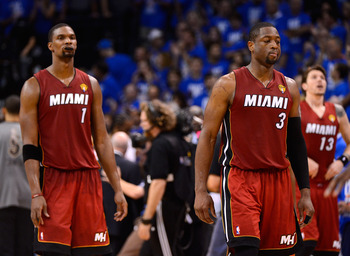 Chris Bosh is among the Big 3, so why not start him?
Ronald Martinez/Getty Images
Yes, Shane Battier has provided great defense, much needed perimeter shooting and a veteran presence.
However, Bosh is a consistent All-Star, hasn't come off the bench since 2003 until this postseason and opens everything up for LeBron James and Dwayne Wade. Matchup-wise, he can force Serge Ibaka out of the paint or post him up in the paint.
Without Bosh, the Heat might as well be playing four on five at best. Battier may make a few three-pointers, but he can't make five or six in every game. Battier's presence is a bench luxury for Miami in a best-case scenario, and it will take Miami's best effort to beat the Oklahoma City Thunder.
Since Bosh, Wade and James will be part of the fourth quarter lineup in each game of this series, it only makes sense for them to have the first quarter and the beginning of the third quarter to develop some chemistry and confidence together. Though Bosh has started at Center some times this season, he matches up well with Ibaka, so he should start at power forward, his normal position.
As for who should start at center...
2. Start Joel Anthony for the Rest of the Series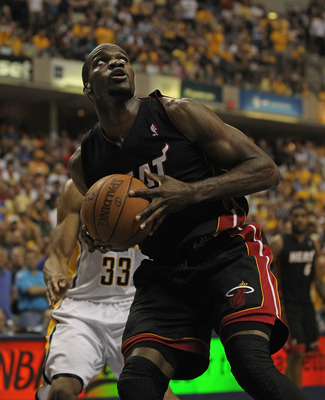 Joel Anthony won't score a lot, but neither will Kendrick Perkins
Jonathan Daniel/Getty Images
Udonis Haslem has been a rebounding machine since Chris Bosh went out with an injury, but he is a much better bench player at this point of his career.
Joel Anthony has no offensive game whatsoever, but neither does his counterpart, Kendrick Perkins. Haslem's 6' 8'' frame combined with little to no jump hurts him when trying to defend or rebound against longer players, whereas Anthony is athletic enough to both pound the boards and be a shot-blocking presence in the paint.
If the Heat want to even up their starting lineup with the Thunder's, then they should limit the minutes of Battier, Haslem, Mike Miller and Ronny Turiaf to the point where they can use these bench players the way the Mavericks used theirs against the Heat.
Plus, putting Anthony on Perkins will allow LeBron James to play at his position on defense.
3. Put LeBron James on Kevin Durant for the Rest of the Series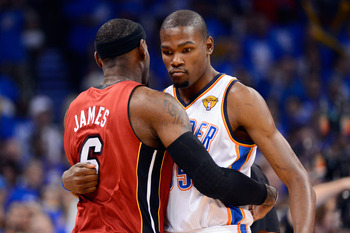 These are the two top players in the NBA, so why not have them match up on both ends?
Ronald Martinez/Getty Images
LeBron James had some success driving on Kevin Durant in Game 1, but that didn't compare to Durant's four three-pointers and great looks at the basket.
While it may be optimistic to say that Durant wouldn't get those looks with James defending him consistently, LeBron is an All-NBA Defensive First Team selection and is the tallest perimeter defender for Miami. With his size and skill, James is the only one who can truly defend Durant.
Durant may have looked unstoppable in the fourth quarter, but that was only because he was reacting to what the defense gave him. Sure, there may be times you can put Battier on Durant to change up the defense, but Wade's 6' 4'' frame should never try to stop Durant, who is 6'10''.
Miami needs to force Oklahoma City to make errors because the Thunder are faster and more athletic but turned the ball over more than any team in the regular season. Don't give OKC easy looks, and they will start falling apart. That starts with putting LeBron on KD.
4. Play More Small Ball with LeBron at the 4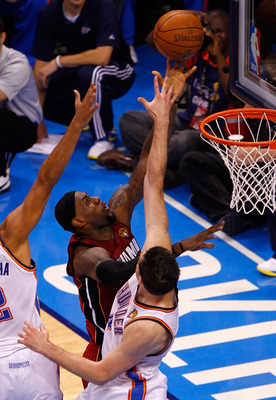 LeBron owns teams in the post, so when small-ball play arrives, just put him as the 4 to force Durant into foul trouble.
Mike Ehrmann/Getty Images
Oklahoma City loves to play small ball with Derek Fisher at point guard, Russell Westbrook at the 2, James Harden at the 3, and Kevin Durant at power forward.
The difference in this series could be how Miami adjusts to that lineup. If they play small with Battier defending Harden and LeBron playing in the post, they could put Durant in a tough spot defensively by forcing him to either foul or give up dunks and post-up moves to James. Whether Bosh or Anthony is at center, Miami will not have an athleticism or length disadvantage in the post against Ibaka or Collison.
Wade was covering Westbrook a lot in Game 1, so he can play Westbrook at the 2. Mario Chalmers matches up well on both ends with Fisher. The Miami Heat have to put their best lineups on the floor versus OKC, so it is time to put LeBron at whatever position KD plays, no matter what the set up is.
5. Stop Switching Too Much and Play Zone Defense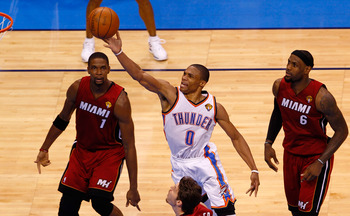 Miami's base defense is getting killed by penetration, so forcing Oklahoma City to take jump shots is the best way to win.
Mike Ehrmann/Getty Images
The switches on defense for Miami caused nothing but mismatches and confusion in Game 1.
Though many of Miami's opponents play zone defense, the Heat have never taken that approach. Because the Thunder are even better than Miami at penetrating the defense, however, the Heat should force Oklahoma City to take more jump shots. To do so, Chris Bosh and Joel Anthony should defend the paint in a zone defense.
Miami's perimeter players are great at getting steals not by forcing opponents to make an ill-advised pass and capitalizing on their mistake. Getting beat in fast-break points by 20 should not and probably will not happen to the Heat in this series again.
The zone defense should only be used when little else is working. However, if Miami can either close a deficit down or put a game into double digits late, they should use the zone to make the young Thunder players think on their feet.
In late-game situations, OKC just wants to put the ball in the hands of one of their playmakers to penetrate. The zone will force the Thunder to instead pass the ball along the perimeter, which may cause them to allow Miami's defenders to get steals.
Keep Reading

Miami Heat: Like this team?