Euro 2012: Cristiano Ronaldo's Embarrassing Miss Overshadows Portugal's Epic Win
June 13, 2012

Laurence Griffiths/Getty Images
Cristiano Ronaldo's embarrassing miss against Denmark was the biggest story of the match.
Leading 2-1, Portugal thought the game was over as Ronaldo had a clear shot on goal. Instead, he slotted the ball wide and stared in disbelief. Shortly after, Nicklas Bendtner leveled the score with a bruising header.
Portugal fans watched their tournament slowly slip away.
Luckily, super-duper sub Silvestre Varela scored a great goal (after a bad whiff) to give Portugal a realistic chance of advancing. And Ronaldo was standing there watching.
Look, Portugal won the match. It was a great match to watch, and Portugal found a way to get the job done even though they looked lost. Ronaldo is a notoriously selfish player, but he has to be focused on the win. And that should be that.
However, when a player of Ronaldo's stature finds a way to fail for his country time and again, it means something. At Manchester United, he was incredible. At Real Madrid, he is (somehow) more incredible.
Yet, for Portugal, he's slightly above average.
Sure, Ronaldo's expectations are high, but shouldn't they be? He is one of the best two players in the world, but he can't seem to prove it at the international level.
While Lionel Messi is scoring hat tricks against Brazil, Ronaldo is missing tap-ins against Denmark. Picking a favorite is very subjective, but the two seem to be moving in opposite directions at the international level. Ronaldo can't find his rhythm. Messi is looking as good as ever.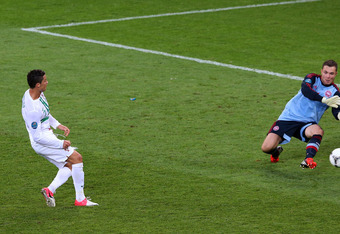 Alex Livesey/Getty Images
And that's the biggest issue with Ronaldo: He just doesn't have confidence.
For whatever reason, Ronaldo looks lost for Portugal. He screams for the ball and whines when he doesn't get it. He's out of sync with his teammates, and his play suffers because of it.
He's undoubtedly one of the most skilled players of all time. He's won just about every major trophy at the club level, and he will continue to dominate there.
But what about internationally? Will he just continue to disappoint and leave unanswered questions?
It's tough to predict anything with Ronaldo, but one would hope he figures it out. Portugal is trying to advance out of the group of death, and Ronaldo will play an intricate role in that.
However, if his lack of confidence continues to haunt him, Ronaldo will cost Portugal a chance at glory.