NBA Finals 2012: How LeBron James Should Defend Kevin Durant
June 13, 2012

Ronald Martinez/Getty Images
There was no doubting that LeBron James impacted the offensive end in Game 1 of the NBA Finals.
But he'll almost certainly be asked to take on a far greater responsibility for the duration of this series: somehow putting a stop to Kevin Durant's brilliance.
That's not such a bad thing.
For all the attention LeBron's scoring and passing abilities accrue him, he's every bit as good a defender. Those skills just don't show up quite so prominently.
James has the size and athleticism to guard the best scorers the NBA has to offer. He also has the versatility to check anyone from Russell Westbrook to Kevin Durant to Serge Ibaka.
For much of Game 1, he simply hung out around Kendrick Perkins—presumably avoiding fouls and saving some energy for the other end of the floor.
There are plenty of good reasons to avoid defending Durant, but the 36 points the NBA's three-time scoring champion put up on Tuesday night are a pretty compelling case to the contrary.
LeBron will need to do a few things to put a stop to his new rival's prolific offense.
1. Demand the Assignment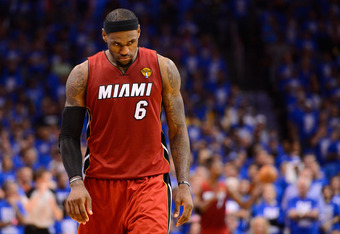 Ronald Martinez/Getty Images
Whether concerned about fouls, fatigue or a wounded psyche, head coach Erik Spoelstra was obviously reluctant to stick James on Durant for more than a few late possessions. 
When you're a three-time MVP, though, you make it happen.
It's not like James would be making the request of Jerry Sloan or Gregg Popovich. Spoelstra is a fine coach, but it's hard to imagine him telling his all-world superstar "no."
By the sound of it, LeBron is prepared to do what's needed (via Sports Illustrated's Ian Thomsen): 
"KD got a couple looks that we don't like," James said. "He had two transition threes that we gave up where he had nobody on him, and he had a couple jumpers that we didn't like either, with nobody on him. We need to make adjustments. We will make adjustments."

Yes, they will. James will guard him.

"No, it wasn't my choice," James said of his defensive assignment. "It was a suggestion that Spo [coach Erik Spoelstra] brought up, and I thought it was good early on for us. It gave us an opportunity to switch a lot of pick-and-rolls. ... Whatever the case may be, we had a good game plan to start the game."
In an online Q&A with readers, the Sun Sentinel's Ira Winderman addressed the notion that Spoelstra failed to sufficiently utilize James defensively against Durant:
No, LeBron had him late, but by then Durant had it going. It's just odd, how it was Wade who said the defensive challenge against Durant would keep LeBron engaged on both ends of the court. Yet the Miami Heat allowed Durant to almost singlehandedly keep the Oklahoma City Thunder afloat until Russell Westbrook got going, something that never happened with Wade. LeBron should have insisted on more of the defensive challenge against Durant. And should insist so in Game 2.
Even Dwyane Wade is on board with the adjustment. Of course, it isn't ideal to run your best player ragged against such an elite scorer, but this is the NBA Finals. There aren't going to be very many easy decisions.
2. Smother Durant 
James is strong and physical enough to make life at least somewhat difficult for Durant.
Sure, he can shoot from anywhere. It's not easy to move a guy off of his preferred spots when he's so adept at cashing in from just about any area on the floor.
But, this has more to do with making him uncomfortable, disrupting his footing and shooting motion and bullying him without picking up fouls. Fortunately, it's the NBA Finals, and it's hard to believe these officials would saddle James, the league MVP, with enough fouls that no one gets to see him play.
Maybe they won't be so kind, but James should test his limits and see what he can get away with.
3. Force Durant to Drive
Ordinarily, conventional wisdom holds that a defense is better off forcing the other team to take jump shots.
That might be true in the cases of Russell Westbrook and James Harden, but Durant is different. He's almost certainly at his best as a shooter.
This will put some pressure on the rest of the Heat to help out and rotate to the paint, but the Heat are better off forcing Durant to make contested floaters and layups than letting him continue to stick one of the smoothest jumpers in memory.
It would be even better if Miami could force him to be a passer, but let's not get too greedy.