NFC East Offensive Line Power Rankings, Offseason Edition: Eagles Still on Top
June 13, 2012

Rob Carr/Getty Images
Last week, we ranked the NFC East's four quarterback insurance policies. This week, we rank their security systems. Here's how we view the division's four offensive lines at this stage of the offseason.
This offensive line is good enough to still lead these rankings despite losing the league's best tackle to a ruptured Achilles tendon in the offseason. Without Jason Peters, there isn't much point in rhyming off how well the Eagles fared statistically in pass-blocking last season.
That said, current tackles Demetress Bell and Todd Herremans still graded out positively by Pro Football Focus. The line should still be superb, especially when it comes to finding holes for LeSean McCoy. Michael Vick requires a special degree of protection, but it's hard to blame the line for his brain farts.
The interior is where things are really exciting. Considering the circumstances, rookies Jason Kelce and Danny Watkins fared pretty well in 2011. Neither graded well by PFF's standards, but they were learning on the run and still managed to help the line boast stellar numbers through the air and on the ground. Kelce has to get better as a pass-blocker, and both need to be more consistent, but few teams have that much upside at center and right guard.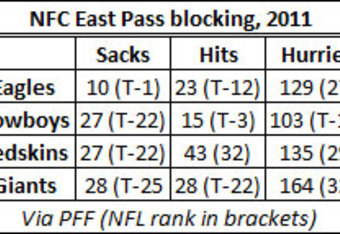 It doesn't hurt, of course, that they had arguably the game's best left guard last year. Evan Mathis was phenomenal in every facet of the game, not even once drawing a negative rating from PFF. Unreal free-agent find.
Considering that all three members of the interior offensive line didn't have an offseason to get acclimated last year, look for them to really come together and reach the next level in 2012. It's just a shame they won't be joined by Peters.
With Peters down and question marks in Washington and New York, the Cowboys have the best tackle duo in the division. Former top-10 pick Tyron Smith continued to emerge last year and is expected to become a star as he shifts to the left side, while veteran Doug Free is only a year removed from a superb season.
Free might actually strive again on the right side after he seemed to regress a bit manning Tony Romo's blind side in 2011, so I'm pretty excited about a line that gave up only 15 hits on the quarterback last season, according to Pro Football Focus.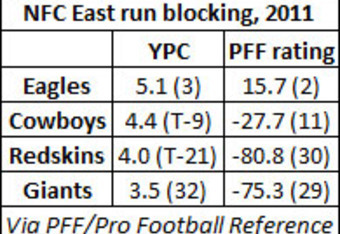 The 'Boys also averaged a respectable 4.4 yards per carry despite some question marks on the inside. Kyle Kosier and Phil Costa had terrible years, and Billy Nagy and Montrae Holland weren't much better. 
Nagy and Costa are still in the mix to start, but Dallas went out in the offseason and did its best to upgrade the middle part of the line by bringing in free agents Nate Livings and Mackenzy Bernadeau, neither of whom are highly-touted but both of whom will at least create healthy competition with Nagy, Costa and Kevin Kowalski. 
If one or more of those guards/centers can emerge, the Cowboys could have the division's best offensive line by season's end.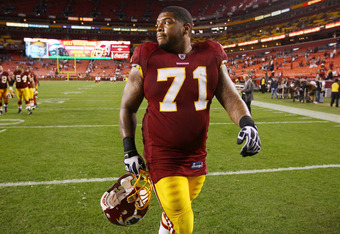 Win McNamee/Getty Images
They might have been ranked 26th in pass blocking and 30th in run blocking by Pro Football Focus, but they looked a lot better than that in most of their games. Plus, they seemed to get better as the season wore on, even earning positive PFF pass-blocking ratings in four of their last six games despite not having blossoming left tackle Trent Williams for the final month of the season.
That said, they still have to make some major improvements in front of a rookie quarterback this season.
It concerns me that they surrendered a league-high 43 hits on the quarterback in 2011. Will that number increase or decrease with an elusive yet inexperienced and run-happy quarterback taking the snaps this year? 
Williams really came into his own in his sophomore season and began to look like a true top-10 draft pick. The problem was that right tackle Jamaal Brown continued to struggle in every facet of the game. Brown gave up nine sacks on just 785 snaps, which was Levi Brown-bad.
At guard, Chris Chester was solid last year, and they could benefit greatly from the return of Kory Lichtensteiger, who was having a stellar year before tearing his ACL in Week 6. They only averaged 4.0 yards per carry, but that number will increase with a healthier interior and more consistency from their backs. 
Plus, rookie Josh LeRibeus is at least on board now to provide some depth if or when someone goes down. 
The Giants had the worst pass-blocking line in the league last year, according to Pro Football Focus. Not only that, but the running game also averaged a league-low 3.5 yards per carry. 
It's sort of amazing that Eli Manning was sacked and hit only 28 times and was able to take every single snap in the regular season and playoffs, because the Giants allowed more pressure than any team in football (per PFF).
David Diehl was ranked dead last among 76 tackles and dead last among 76 guards in PFF pass-blocking efficiency stats, while Chris Snee, David Baas, Kevin Boothe and Kareem McKenzie also rated negatively right across the board. 
Left tackle Will Beatty showed some ability at left tackle, but he missed much of the season with an eye injury and is already being hampered by back issues this year. 
McKenzie is gone now, but New York is still going to have to rely heavily on Diehl, Boothe and Baas because there's no indication that youngsters like James Brewer, Mitch Petrus, Brandon Mosley or Matt McCants are ready to step up. Teams like the Rams, Jaguars, Cardinals, Broncos, Bears and Colts have a lot of work to do in this area, but it's still hard to argue against the notion that New York's line is one of the very worst in football. 
That's why I was shocked to see them take four players before selecting an offensive lineman in this year's draft.