Where the 2012 US Olympics Team Will Rank Among Every Dream Team Since 1992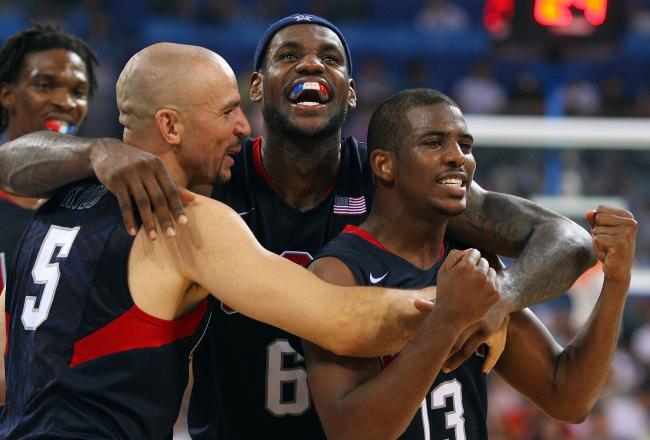 Phil Walter/Getty Images
The original Dream Team that won gold at the 1992 Summer Olympics will always stand alone at the top of the pile, but how do the rest of the U.S. Olympic basketball squads stack up?
Even without Derrick Rose and Dwight Howard traveling to London and instead sitting out thanks to their respective knee and back injuries, the team is shaping up to be quite impressive this year.
Let's see how this one ranks among the past four squads.
No. 5: The Nightmare Team (2004)
Roster: Carmelo Anthony, Carlos Boozer, Tim Duncan, Allen Iverson, LeBron James, Richard Jefferson, Stephon Marbury, Shawn Marion, Lamar Odom, Emeka Okafor, Amar'e Stoudemire, Dwyane Wade
Finish: Bronze medal
In Athens, Greece, the Americans were in for a shock. After falling by 19 points to Puerto Rico in the opening game of group play, the U.S. struggled its way to a 3-2 record in the first stage of the competition.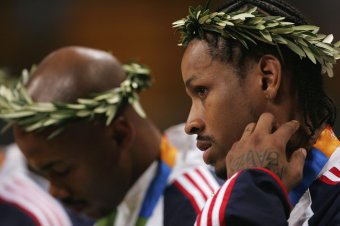 Jamie Squire/Getty Images
The fact that Allen Iverson was playing with a fractured thumb on his shooting hand wasn't making matters any easier.
After losing to Argentina, the team that would be later dubbed "The Nightmare Team" lost its grip on the gold medal, only the third time ever that an American team was not able to win gold.
Despite his injury, Iverson led the team in scoring with 13.8 points per game, but it was Duncan who emerged as the best player behind 12.9 points and 9.1 rebounds per contest.
No. 4: 2000 National Squad
Roster: Shareef Abdur-Rahim, Ray Allen, Vin Baker, Vince Carter, Kevin Garnett, Tim Hardaway, Allan Houston, Jason Kidd, Antonio McDyess, Alonzo Mourning, Gary Payton, Steve Smith
Finish: Gold medal
After beating Lithuania 85-76 and becoming the first American team comprised of professionals to record a single-digit margin of victory, this team proceeded to struggle through the competition of the 2000 Summer Olympics in Sydney, Australia, even though they did win every game.
No moment will remain more memorable than Vince Carter's "dunk de la mort" over Frederic Weis—which came just two games after beating Lithuania in the aforementioned game—not even the close, hard-fought victory over France to win the gold medal.
The closest that the Americans came to losing was in the semifinals, when Sarunas Jasikevicius failed to connect for Lithuania on a potential game-winner at the buzzer.
Carter not only provided the biggest highlight for the team, but he also led the squad in scoring with 14.8 points per game.
No. 3: 2012's Unknown Squad
Roster: Will be determined from the following pool: LaMarcus Aldridge, Carmelo Anthony, Chauncey Billups, Chris Bosh, Kobe Bryant, Tyson Chandler, Anthony Davis, Kevin Durant, Rudy Gay, Eric Gordon, Blake Griffin, James Harden, Andre Iguodala, LeBron James, Kevin Love, Lamar Odom, Chris Paul, Dwyane Wade, Russell Westbrook and Deron Williams
Finish: Unknown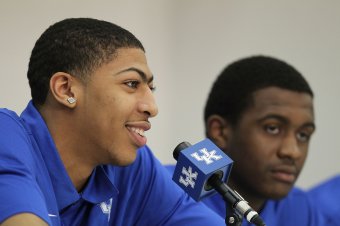 Andy Lyons/Getty Images
Although the official 12-man roster has yet to be determined and remains quite intriguing, particularly whether an incoming rookie like Anthony Davis can make the squad, this American team should be able to dominate most of the other teams in the Olympic field.
Although the injuries to Dwight Howard and Derrick Rose will hurt the chances at posting a ridiculous margin of victory, an undefeated run through the field is not out of the realm of possibilities.
The Gasol brothers and Serge Ibaka will be waiting with the rest of the Spanish national team, but this roster is absolutely stacked.
No. 2: The Redeem Team (2008)
Roster: Carmelo Anthony, Carlos Boozer, Chris Bosh, Kobe Bryant, Dwight Howard, LeBron James, Jason Kidd, Chris Paul, Tayshaun Prince, Michael Redd, Dwyane Wade, Deron Williams
Finish: Gold medal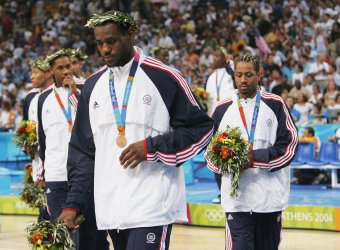 Jamie Squire/Getty Images
After a number of superstars had failed to participate in the 2004 Summer Olympics, the best squad possible made the trip to Beijing, China, in an effort to redeem the failure from four years prior.
The team had practiced together for three years, and the resulting chemistry proved invaluable when the games started up. Led by Dwyane Wade, LeBron James and Kobe Bryant's combined 46.5 points per game—almost equally distributed among the three—the team went a perfect 8-0, including an impressive 20-point win over a hobbled Manu Ginobili and the Argentine squad that had eliminated them in 2004.
As Kobe said afterwards, "We all jelled together as a team. These are relationships and bonds that we shared and will never forget. It lasts forever."
No. 1: The Dream Team III (1996)
Roster: Charles Barkley, Penny Hardaway, Grant Hill, Karl Malone, Reggie Miller, Hakeem Olajuwon, Shaquille O'Neal, Gary Payton, Scottie Pippen, Mitch Richmond, David Robinson, John Stockton
Finish: Gold medal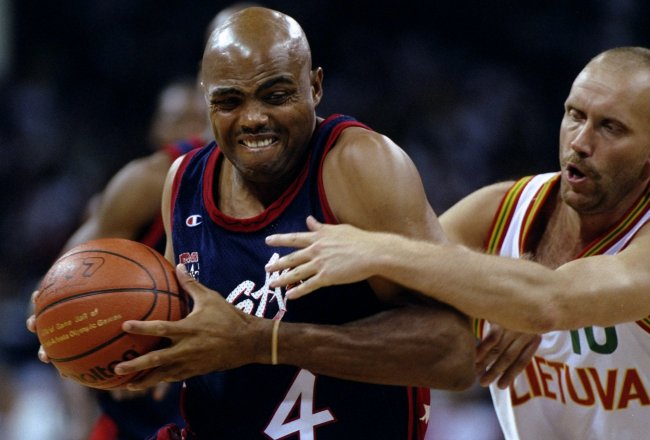 Doug Pensinger/Getty Images
Fresh off the dominance of the original Dream Team in 1992 and the Dream Team II in 1994 at the FIBA World Championship, this team of superstars returned home and destroyed the competition in front of a highly partisan crowd in Atlanta, Georgia.
After beating Yugoslavia by 26 points in the final game to win gold, the team had put together a ridiculous run through the competition to the tune of a 31.8-point margin of victory and an 8-0 record.
In front of an average crowd of 32,263 spectators, they steamrolled every team they faced, winning each game by at least 20 points.
Charles Barkley's 12.4 points per game led the team, while David Robinson, Reggie Miller and Scottie Pippen weren't far behind.
This article is
What is the duplicate article?
Why is this article offensive?
Where is this article plagiarized from?
Why is this article poorly edited?