Euro 2012: Cristiano Ronaldo Must Show Up for Portugal Against Netherlands
June 13, 2012

Martin Rose/Getty Images
Today, Portugal registered a 3-2 win over Denmark in what was the most entertaining match of Euro 2012 to date. The match itself was filled with tons of chances (25 altogether), and the five goals that were scored tied for the most in a single match during the championship.
Much can be made from the results of this fixture. We could say that Denmark's defense is lucky that they have only conceded three goals so far, considering they have given up more shots (41) than any other side through two matches in Euro 2012.
We could also say the same thing for Portugal, mainly because they appeared vulnerable after they nearly failed to finish the job when they had a 2-0 lead.
But the most lasting impression that we had came from Cristiano Ronaldo. This past season, the most expensive player in the world scored 60 goals in all competitions for Real Madrid. But he has been a shell of the star that he has created. With no goals or assists and only four total chances created, Ronaldo has again underperformed for Portugal.
But that isn't to say that Ronaldo had a chance to star in this fixture, because in the 78th minute Ronaldo missed a sitter. No, he missed what would have been the easiest goal scored in the entire tournament by any of the 16 nations participating.
With no defenders within 20 yards of him and a goalkeeper that was out of position, Ronaldo decided to not move around the keeper and deposit home an easy chance. Instead, the striker rushed his opportunity and shot the ball about three yards wide to the right of the post.
Fortunately for Os Navegadores, they got a winner from substitute Silvestre Varela, which puts them in a prime position to advance into the quarterfinals.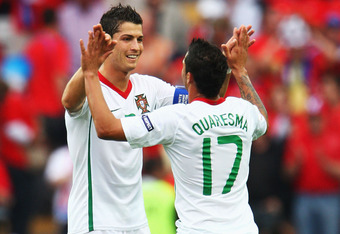 Phil Cole/Getty Images
But the spotlight from this match has to shine on Ronaldo. The best player in the world going into Euro 2012, Ronaldo has kept his poor scoring record in international competitions intact. In his past three competitions before Euro 2012 (2006 World Cup, Euro 2008 and 2010 World Cup), Ronaldo has only three goals, one of which was on a penalty against Iran, while another goal against North Korea was during a 7-0 blowout.
In fact, Ronaldo has now scored on just one of his last 30 shots between Euros 2008 and 2012.
Considering the sky-high expectations that Ronaldo has, he needs to deliver soon. This past season was highlighted by a penalty miss he had against Bayern Munich with a Champions League final berth on the line.
Today was the biggest game of Euro 2012 for Ronaldo, mainly because if Portugal failed to at least earn a point, they would probably fail to advance to the quarterfinals.
Ronaldo's teammates decided to defer to their biggest star, but he wasn't at his best early on, scoffing a free kick well over the bar and taking another chance which went well wide, which caused Ronaldo to yell at the ground in agony.
The second half didn't prove to go much better. He saw two of his three shots saved, with his other miss being that sitter. Ronaldo closed out the match with a needless yellow card.
Ronaldo attempted 26 passes and only completed 16 of them. Although Ronaldo did complete 10 of 13 passes inside of the attacking third, Portugal's attack was not boosted by their biggest star.
Now Ronaldo will go into a must-win match against the Netherlands. Though their match against Germany is still not complete, the Oranje will need a victory to ensure that they will go into the quarterfinals. They, of course, are the runners-up from the World Cup and have been in impressive form over the past four years.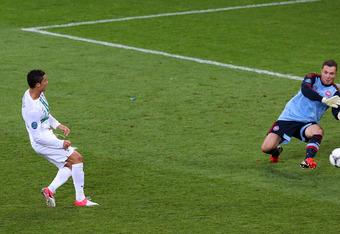 Alex Livesey/Getty Images
Great players have a knack for showing up for these matches, but Ronaldo has constantly deferred or shied away from the big stage on the biggest stage. Portugal did not win Euro 2004 on their home turf, lost the 2006 World Cup semifinal, failed in Euro 2009 when they were a favorite to win the tournament and they bowed out early in the 2010 World Cup after a disappointing 1-0 loss to Spain in which Ronaldo spat at a cameraman.
Ronaldo's 2008 Champions League triumph is marred by a miss during the penalty shootout. Though he did score Manchester United's only goal, that miss nearly cost United a chance for the double. And then there was the miss against Bayern during this year's semifinal, which still not has escaped the public eye.
After that miss, I said that the miss would be a temporary roadblock on what could be a great season. This is Ronaldo's moment. Let's see what he can do.