US Open Golf 2012: Final Updates on Rory McIlroy and Bubba Watson
June 13, 2012

Andrew Redington/Getty Images
The 112th U.S. Open, famously coined as "Golf's Toughest Test," is just around the corner.  With coverage beginning at 12:00 PM ET Thursday on ESPN, dozens of aspiring players will be teeing off with a dream of taking home one of golf's greatest prizes in mind.
Last year's winner Rory McIlroy has his eyes set on a repeat performance. In 2011, McIlroy dominated the U.S. Open competition posting a 16 under par total for the weekend.  The next closest contender was Jason Day at minus-eight.
If the 23-year-old wants to claim his second U.S. Open in only his third appearance, McIlroy will need a nearly flawless performance, as this year's course, the Olympic Club in San Francisco, is supposed to be a much harder course than Congressional.
McIlroy plans on using an assertive approach to this year's Open.
"I'm coming in with the mindset that I'm going to attack the golf course and play aggressively when I can," McIlroy told The Telegraph this morning. "Obviously you have to be smart, but you have to take your chances around here.  It gives you a few opportunities when you can make birdies."
McIlroy had no trouble shooting birdies in 2011. The youngster capitalized on 19 birdie opportunities and an eagle opportunity in last year's Open.
McIlroy believes that the course may be more forgiving than it has been in years past. 
"The rough is not as bad as maybe in previous years. You can get away with some tee shots." McIlroy told reporters from The Telegraph. "Really you just need to know your way around and know where you can miss it.  People say it's fiddly, but I'm going to try to take the course on.  If you make some bogeys you can hide them with a few red numbers (birdies)."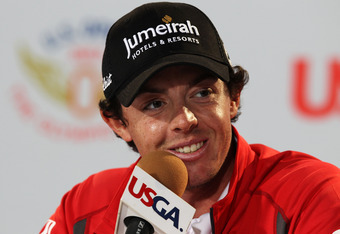 Scott Halleran/Getty Images
We will see this weekend if McIlroy's confidence will carry him to a second straight U.S. Open title.
Looking to usurp the defending champ is Bubba Watson. Watson is fresh off a 2012 Masters Tournament win, which was his first major championship. 
Since turning pro in 2003, Watson has only appeared in three U.S. Open tournaments, finishing in the top ten only once (2007). In 2011, Watson finished tied for 63rd place.
In contrast to McIlroy's analysis of the course, Watson provided a harsh critique of Olympic.  According to the Boston Herald, Watson is unhappy with a couple of this year's holes.
Regarding the 13th hole: "They shaved all the grass on the left side of the hole, so you could actually hit the ball on the green and end up in the hazard," Watson told Teddy Greenstein of the Boston Herald. 
Regarding the 14th: "I hit it in the middle of the fairway (Tuesday), but I had to slice a 9-iron 40 yards just to hit the green. It doesn't make sense. Those are two holes in my mind that we don't even know how to play."
The mixed opinions regarding the course promises for an eventful and unpredictable 2012 U.S. open.