Miami Heat: 7 Changes the Team Must Make If They Lose the Finals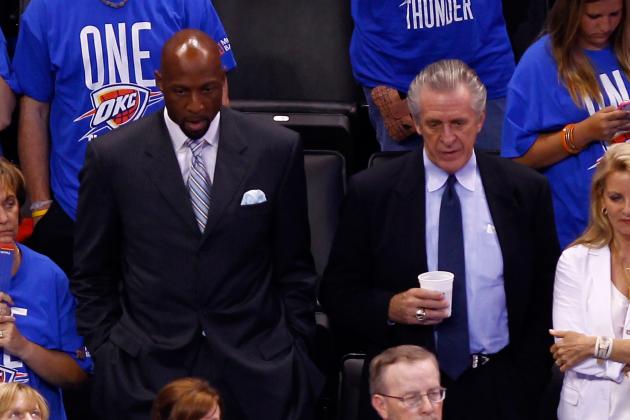 Mike Ehrmann/Getty Images
Heat executives Alonzo Mourning and Pat Riley will need to make changes if the Heat lose the Finals.
In most cases the solution to a team's problems is almost always "fire the coach."
There's a lot of logic to that, after all, you can't fire the whole team.
It's not the only solution though. In fact far too often it's sold as a fix-all to a team's problems, when in reality the team's problems run much deeper.
The Miami Heat are down 0-1 in the NBA Finals. The series is far from over, and this is the same Miami team that lost, and then reclaimed home-court advantage, eventually winning their last two playoff series against Indiana and Boston.
Then again there's enormous pressure on Miami to win this season. If they don't there could be major changes made to the Heat.
If the Heat are going to make major changes they need to do so with two major points of emphasis. What was wrong with the current Heat, and what was right. This team that is in its second consecutive NBA Finals is clearly not a bad basketball team. Then again if they were to lose the Finals for the second year in a row that would also show they're not quite good enough yet.
Begin Slideshow

»
Bob Levey/Getty Images
Until Wade and James are on the same page, the coach won't matter.
If this sounds like a couples counselor, it's because the chemistry of the two big stars on the Heat is of critical importance to the team's success.
Let's be clear, stars don't have to get along. They don't have to be best friends. Kobe and Shaq were never that close in Los Angeles, but they still won three rings in a row at one point. It wasn't because they spent their spare time together playing mini-golf either.
It was because on the court the two players had defined roles that complimented each other. If that's not enough proof for you then go back to the Celtics of the 1980's.
Larry Bird and Kevin McHale were never Batman and Robin either. They were two very talented players, both of whom were committed to winning. They had specific roles as well. They were not known as close friends though.
The Miami Heat have two players on their team who have both spent the better part of their basketball playing lives with the ball in their hands, facilitating the offense. Forget all the "blame" nonsense. It's immaterial. The diatribe about so-and-so should have passed it here, or shot it there, is for the most part just Monday morning quarterbacking.
What's critical is which player is able to allow the other to take over the team, not in one game or an individual part of one game. It's either Wade's team or LeBron's team and the Heat will go forward from there.
If neither player is truly comfortable being in a complementary role, then the solution is to trade one of them. While many fans would cringe at the thought of that happening it could end up being a major part of solving the team's problems.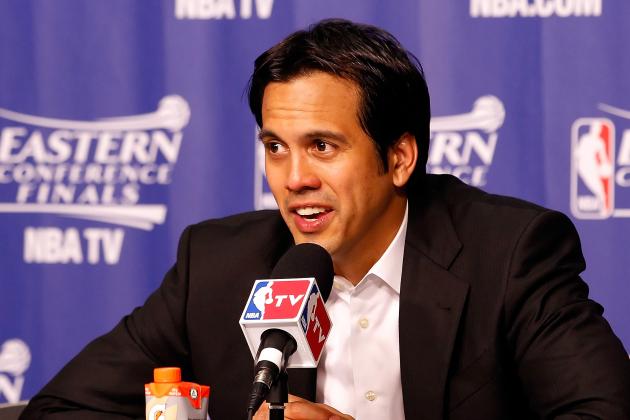 J. Meric/Getty Images
Time for a different voice?
Sure, fire the coach. Oldest play in the book right?
It doesn't always work, but then again if the current situation isn't working, then isn't a team obligated to try out various solutions?
Is Erik Spoelstra a bad coach? No, in fact he's a pretty good coach, but sometimes a coach isn't right for a specific team.
Just like some great college coaches are terrible in the NBA, some NBA coaches will succeed with one mix of players, and not with another.
Spoelstra's overall record is pretty good, but if the Heat lose in the Finals then he's going to get some serious blame.
His use of Chris Bosh since he's returned from injury has been especially puzzling. That's just one issue. Of larger importance is that all too often this postseason the Heat have only been able to play at their best when their backs were against the wall.
The chemistry of the team, the way the three stars play together, has yet to click for a prolonged period of time when it's mattered most. There might not be a coach out there that can solve that problem, but if Spoelstra can't, then the Heat should at the very least let someone else give it a shot.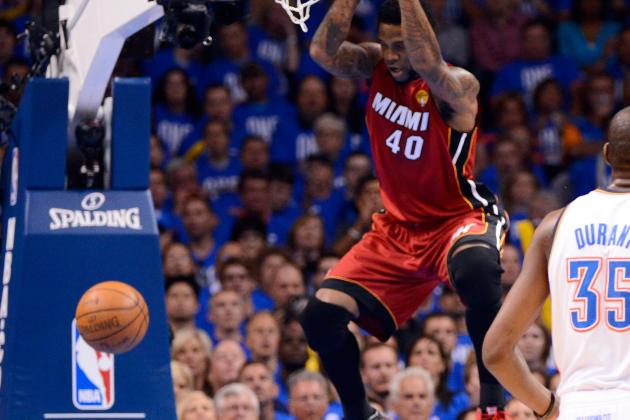 Ronald Martinez/Getty Images
Udonis Haslem's rebounding has been critical to the team's success.
The Heat have plenty of big bodies on the roster. Joel Anthony, Ronny Turiaf, Chris Bosh and Udonis Haslem, are all big enough to play the low-post in the NBA. They're not good enough though.
Bosh's rebounding numbers are down since joining the Heat. Anthony and Turiaf are very limited in what they can accomplish on the court. Haslem is a great rebounder, but a limited offensive player.
Miami's leading rebounder in both the regular and postseason is LeBron James. On the one hand that's a testimony to just how good he is. Rebounding takes effort, especially when you're only 6'8". As great an athlete as LeBron is, he's rarely the biggest, tallest, or strongest man on the court in the NBA.
Forcing him to shoulder that much of the rebounding burden removes him from fast-break opportunities, it puts him in a position to get into foul trouble, and most importantly it means that when he chooses to shoot an open jumper, the team's leading rebounder is too far from the rim to help crash the boards consistently.
In other words this team needs a genuine low-post presence. Chris Bosh likes to face the basket, but he also likes to take open jumpers. That's great when he's making them, but when he's not, he's another big body that is too far from the hoop to help on the boards.
How does Miami go about getting a decent big man? It could mean any number of things, multiple cuts from the current roster, a trade, maybe even a trade of Bosh? All options should be on the table because this is one the most glaring deficiencies on the team.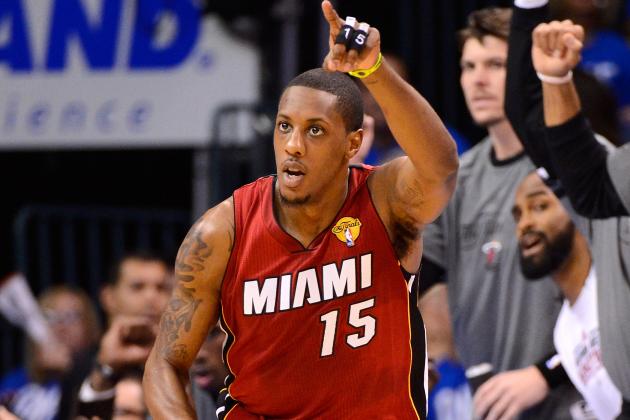 Ronald Martinez/Getty Images
The Heat may have to decide if Mario Chalmers is the right man at the point.
On a team with multiple great players such as Wade and James, who can create their own shots, the point guard role is not defined the same way it is on other teams.
In Los Angeles, Chris Paul brings the ball up court and sets up the offense, the same goes in Boston with Rajon Rondo, or Phoenix with Steve Nash.
In Miami it's different. That's fine, there's nothing wrong with that. It's just a matter of whether or not the current man in that role is the right man for that role.
The Heat don't need Deron Williams, and even though it would be a sexy move, they also don't need Nash.
They need someone who can adequately score or pass when called upon to do so. Most importantly, they need a great defender at the point. Many of the league's best players are now playing the point guard position.
Asking Wade or James to guard them could easily create a mismatch somewhere else. It's not just about who's scoring on offense for the Heat, it's about defense as well, and defending the opposing point guard is a critical assignment.
Mario Chalmers has become very adept at playing the role of off-the-ball point guard. He's like the emergency point guard. If the offense is stifled then get it to Chalmers and have him run a pick-and-roll play.
That's proven fairly successful. Defensively Chalmers isn't at a level where he can be counted on to limit the impact of the league's best point guards. That's a problem the team will have to address.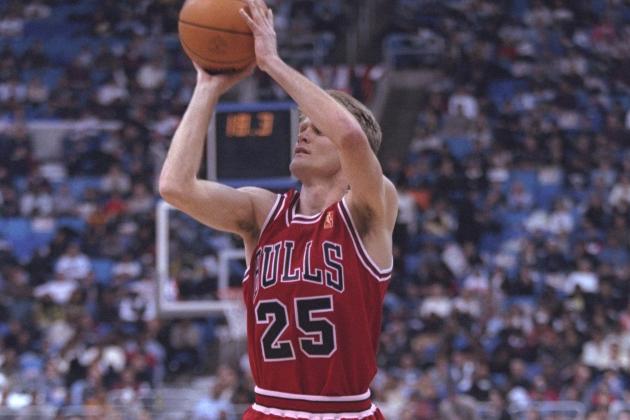 Brian Bahr/Getty Images
Even the great Michael Jordan always had a go-to deep threat.
When the Miami Heat stormed out to a 13 point lead in Game 1 of the 2012 NBA Finals they did so not because of a transcendent performance by Bosh, James, or Wade.
It was done because they were knocking down open three-point shots at an unsustainable rate. Shane Battier pumped in four three-point shots in the first half of Game 1.
Now if that was the expected price a team would pay for focusing nearly all of their defense on stopping Wade and James then the Heat would be a much more lethal team.
It's not though. In fact the Thunder were content to just wait out the three-point barrage by the Heat. They figured that guys like Chalmers and Battier weren't the types of shooters who would stay red hot all game and that once they cooled off the game would tilt towards the Thunder's advantage.
The Thunder were right.
The Heat do have Mike Miller, but he's often injured and he's not used in a manner in which he's allowed to get that hot, that often. That could be blamed on the coach, the players, or maybe Miller doesn't inspire too much confidence in practice. It's tough to tell.
What's not tough to tell is that the Heat need a killer outside shooter. Steve Novak leaps to mind but there are other great shooters out there as well.
The Chicago Bulls never had great low-post players; they never had a great point guard. They did have two of the best all around players in the NBA in Scottie Pippen and Michael Jordan and they always had a go-to spot-up shooter.
Whether it was Craig Hodges, John Paxson, or Steve Kerr someone would make a defense pay for placing all of their focus on Pippen and Jordan. The Heat have yet to find that guy, they need to.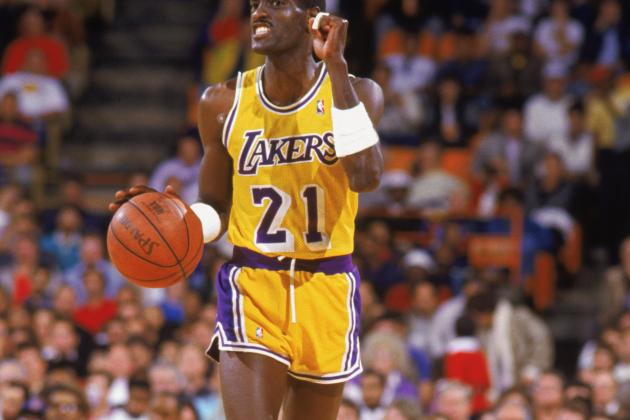 Stephen Dunn/Getty Images
That's Michael Cooper, one of several key role players on the Lakers championship teams of the 1980's.
Does everyone know what "treading water" refers to?
Just staying afloat, trying to survive, do the bare minimum to avoid drowning. You don't make much progress, but you stay alive.
Unfortunately for the Miami Heat that's what the team is often forced to do in the event that both James and Wade must head to the bench. In fact even removing one of those two key players can plunge Miami into a scoring drought.
That's a problem. It's a problem because it places an even greater burden on those players to score, and score quickly upon re-entering a game. It also forces their coach to play them for longer stretches which inevitably leads to fatigue.
The Heat have enough talent to navigate most of the pitfalls on an NBA season even though they really lack any sort of consistent scoring threat off the bench.
The Finals are different. In the Finals that's the type of subtle weakness that another extremely talented opponent could easily exploit.
In Game 1 of the 2012 Finals the Heat's bench was outscored 19-12 by the Thunder's. Ten of those 12 points were from Chris Bosh, who usually starts.
The Heat don't have a consistent scoring threat off the bench. They're so talented that they can still make the Finals, not once, but twice in a row. Winning them? Well that remains to be seen.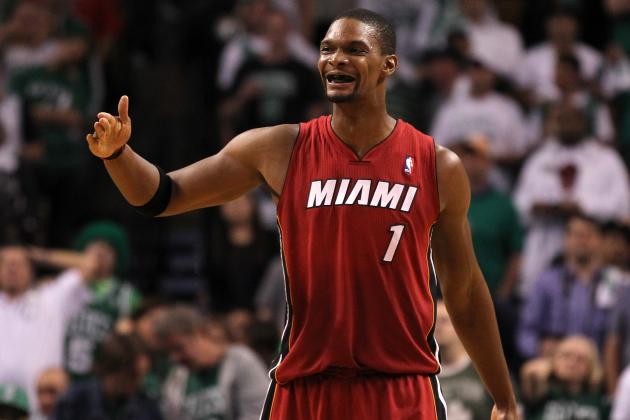 Jim Rogash/Getty Images
Maybe the parts just simply, don't fit?
A few key points.
Chris Bosh is a great basketball player.
Chris Bosh is, from all evidence, a great teammate.
There's a lot more to like about Chris Bosh's game than to not like.
That doesn't mean he's the best big forward to place on a team with Dwyane Wade and LeBron James though.
There are times when he certainly is a huge force to be reckoned with. The problem is, and always will be, that he's not a back-to-the-basket, low post, force to be reckoned with. Great big men are great because they rebound, block shots, and score from the low-post.
Chris Bosh doesn't really excel at any of those things. He's a big person, but he's not a classic NBA "big man."
That's okay, he can be, and still is a very good, productive player. Yet when the games become as competitive and intense as the NBA Finals are, his skill set doesn't represent enough of a departure from the defensive posture a Heat opponent is already in to force them to change their defense.
That's a problem. Ideally if you're going to build a "Big Three" the players should complement each other more than overlap each other.
In Boston Ray Allen was a shooter, Paul Pierce was a slasher, and Kevin Garnett was an under-the-rim guy who patrolled the paint.
The Oklahoma City Thunder team the Heat are matched up against have James Harden coming off the bench. He will at times replace either Durant or Westbrook on the floor. This not only allows one of those key players to rest, the team still scores in bunches while one star is not on the court.
Bosh isn't that guy though. He's been a starter, and an All-Star starter for nearly his entire nine-year career. He's only 28 years old; it's a bit soon to try and change him into a sixth man.
Trading Bosh could bring another player, with a ton of talent, who can play a different role while on the court. He could be more defensively focused, he could score from in the paint more, and he could be a fierce offensive rebounder. Sometimes it's not just about throwing three players together who are all best of friends off the court.
It's about how they play on the court, together, when the games are at their most important. The Heat are about to find out if this current mix works.
If it doesn't then they'll need to address a few of these seven trouble spots.