Heat vs. Thunder: What LeBron James, Miami Must Do to Fix Game 1 Woes
June 13, 2012

Ronald Martinez/Getty Images
The easy excuse from Game 1 of the NBA Finals is the Miami Heat choked.  Their mega-superstar, LeBron James, choked when it mattered the most—in the fourth quarter. 
But there was something a little different about Game 1 of the NBA Finals that was not like the rest.  That is not what happened at all.  The reality is scarier than that for Heat fans. 
Miami showed once again exactly who they are.  
The Heat showed they are the team they have been through all of the regular season and the playoffs.  Unless the Heat can quickly find a way to evolve, this season will end like the last one. 
From Christmas until Tuesday night, the pattern had always been the same for Miami.  They were always the most athletic team, the team that was faster than the rest of the league.  They were a team that could overwhelm you with little effort on defense and turn that into easy fast-break points.
All they needed was to carry out these facets in small spurts and create ball movement and transition offense.  Miami would allow themselves to revert to stretches of sluggish basketball, and that was enough to win. 
Enter Kevin Durant and the Oklahoma City Thunder.
But not all is lost for the Miami Heat and their fans.  The Heat still have three of the biggest names in basketball, and with those three superstars is always the potential to take over a game or a series.  Erik Spoelstra and the Heat will have to change some of their normal routines quickly, but with change could come success for the Miami Heat. 
Make Chris Bosh a Larger Part of the Heat Offense
I have said since Day 1 of the creation of Miami's "big three," Chris Bosh should be the hardest individual on the basketball court to guard.  By no means am I claiming that Bosh is the best basketball player on the floor, but rather that he is a 6'11'', 235-pound forward who can stretch the floor and be a matchup problem for most of the opposing defenses in the NBA.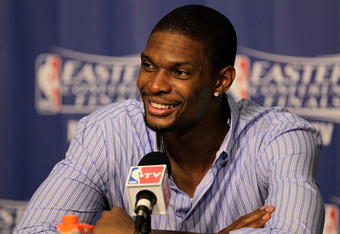 Mike Ehrmann/Getty Images
LeBron James will always draw the attention of the opposing defense, which should make Bosh even more of a matchup problem for the NBA's defenses.  Throughout basketball history, forwards, specifically ones of Chris Bosh's height and weight, have proven they do not like to defend or step out toward the three-point line. 
This is one of the exact reasons why Bosh needs to be a much larger part of the Heat's offensive game plan. 
Bosh is a 30 percent career playoff three-point shooter.  In the 2012 playoffs, Bosh is shooting 54 percent from beyond the three-point stripe.  That 54 percent is significantly higher than both LeBron's 28 percent and Dwyane Wade's 26 percent three-point shooting percentage during the 2012 playoffs. 
Even though Bosh does not start the game on the floor, he basically plays starter-caliber minutes.  Logging nearly 34 minutes in last night's contest, Bosh only took 11 field-goal attempts and two free throws.  Scoring 10 points is simply not good enough for the impact Bosh must have for Miami to beat the Thunder.  Bosh was the obvious X-factor in the series against the Boston Celtics, and he must reclaim that role for the Heat to come out victorious against the Thunder, also.
Chris Bosh's ability to step out and hit a shot from anywhere on the floor will be the difference in this series.  His ability to accomplish this will help draw Serge Ibaka and/or Kendrick Perkins out of the paint.  This will help Miami play the style of offense with which they are most comfortable.
Miami Has to Play Their Game
Dwyane Wade and LeBron James combined for a pathetic 18 of 43 shooting in Game 1.  Oklahoma City schemed to not allow these two stars to beat them, and because of this, Shane Battier and Mario Chalmers had a nice game combining for 29 points with a combined 60 percent three-point shooting percentage.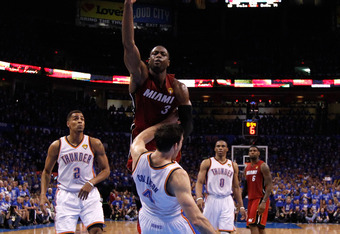 Pool/Getty Images
But the superstars of this series need to take over for Miami to win.  In Game 1, LeBron James's efficiency rating was minus-11.  Miami had zero starters with an efficiency rating that was positive.  Miami's starters combined to miss 34 shots from the floor and combined for nine turnovers with only 18 assists. 
Kevin Durant and Russell Westbrook outscored the Heat in the second half. 
Miami has to play their game offensively.  They are unbeatable when LeBron James and Dwyane Wade are driving to the hoop.  Either superstar can score around the basketball or get to the free-throw line at will.  There is no reason for the Heat to settle for jump shots when LeBron James is stronger and Dwyane Wade is quicker than everyone else on the floor. 
The Heat's two superstars need to quit worrying about the Oklahoma City big men and play their game.  Serge Ibaka and Kendrick Perkins cannot be everywhere on the floor at once.  Shane Battier had Ibaka drawn out of the paint for most of the game last night, and if Bosh can turn things around (as mentioned above), Perkins should be drawn out, as well. 
Either way, LeBron James and Dwyane Wade need to find ways to create space and drive to the basket.
The NBA Finals could be a short series if James and Wade don't play more aggressively.
Try Something New Against Kevin Durant
Bleacher Report's own Mike Chiari put it best:
"It's obvious that putting extra bodies on Kevin Durant opens up a can of worms for the Heat since guys like Russell Westbrook and James Harden can beat them as well, but if you cut off the serpent's head, the rest is usually rendered ineffective as well."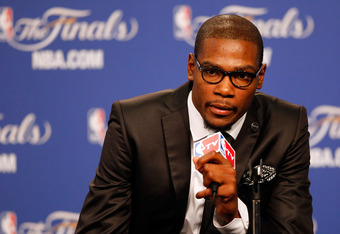 Mike Ehrmann/Getty Images
Kevin Durant shot 60 percent in the fourth quarter of Game 1.  Durant finished the game with 36 points and an efficiency rating of plus-15.  None of this can stand as acceptable for the Miami Heat. 
Before the series began, everyone spoke of the matchup between LeBron James and Kevin Durant.  After Game 1, I ask what matchup?  Durant had an efficiency rating that was 26 points higher than LeBron's.
Kevin Durant finished Game 1 as the leading scorer of the game while taking fewer shots than teammate Russell Westbrook and LeBron James.  Durant only attempted one more field goal than Dwyane Wade, while outscoring him by 17 points. 
Miami needs to find the drive to play defense in the rest of this series.  Standing in front of a player like Kevin Durant and doing nothing else is unacceptable. 
Erik Spoelstra needs to dial-up a couple new defenses for Kevin Durant as well.  Game 1 proved defending Durant one-on-one for most of the night is not going to work.  Miami needs to lock onto Kevin Durant for the rest of this series. 
The Heat need to take a page from Oklahoma City in Game 1 and not let the three-time scoring champion beat you.  Allow others like James Harden and Russell Westbrook prove they can beat you without Kevin Durant leading the charge.