NBA Finals: How Kevin Durant and the Thunder Are Making Basketball Cool Again
June 15, 2012

Ronald Martinez/Getty Images
Even with star power like LeBron James and Kobe Bryant leading the charge, it seemed like something was missing in the NBA.
Enter the Oklahoma City Thunder. These guys are making the NBA hip again.
They wear hipster clothes and nerdy glasses that aren't needed. There even was a building that sported a beard in honor of James Harden.
This is not to take away from guys like Kobe, who has been one of the most marketable stars the NBA has ever seen, but the NBA has needed some "nice guys" that fans can latch on to.
The Thunder are the coolest kids in the lunch room and basketball is more popular than it has been in years.

The Unassuming Superstar
Kevin Durant is a player that truly breaks the mold of what it means to be a NBA superstar.
This is the guy who sheepishly announced his contract extension via twitter the night before LeBron broke the news that he was taking his talents to South Beach.
On Tuesday, the Washington D.C. native had his coming out party.
Durant has been a star since he arrived in the league, but his first NBA Finals game is when he went insane. Durant had 36 points, including a dominating stretch in the final quarter in which he scored 17, leading the Thunder to a comeback victory.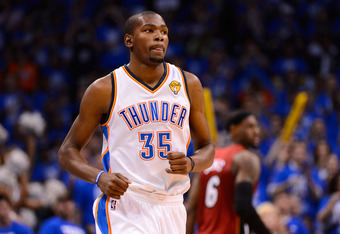 Ronald Martinez/Getty Images
He sometimes catches flack for being a tad on the skinny side, and his draft stock almost slipped in 2007 when he couldn't bench press 185 at the scouting combine.
Durant now has his team, a city and possibly an entire sport squarely on his shoulders.
The Pistol
The explosive combativeness of Russell Westbrook could be considered the yang, to the suaveness of Durant's ying.

He is feisty and moody, but his play and leadership is a vital reason why Oklahoma City is playing the Finals.
In 2008, when Westbrook broke into the NBA, it was a tough transition for the former UCLA Bruin, as he was making the switch from a college shooting guard to playing point.
Thunder coach Scott Brooks' faith and patience in the tempermental superstar has paid dividends for Westbrook, and it was evidently clear in Game 1.
Westbrook was having a tough first half. The type of first half that would have threw him off of his game a year ago. Instead, Westbrook took over the game in the third quarter and never looked back. He scored 12 of his 17 points in the third, including this awe-inspiring drive.
Ronald Martinez/Getty Images
The Beard
James Harden is a virtual Swiss Army Knife that does everything asked of him, and he does it all remarkably well.
He plays excellent defense, has a knack for making big shots, and even runs the point. 
Harden's play earned him this year's Sixth Man Award, and his beard is making him somewhat of a folk hero. 
Fans all over Oklahoma have been seen sporting fake beards and his popularity is soaring.
The difference between him and other folk heroes, is that Harden backs it up with his impressive play, and his value can't be understated.
Harden seems to enjoy his role and is a huge reason the Thunder are playing for a championship.
These three could all thrive without each other, but it's what these guys are doing as unit that is making them newsworthy.
They are all on the possible final roster for the 2012 games in London and it's ironic that the Thunder trio are making a push for Olympic spots. The last time basketball was this popular, the Dream Team was dominating opponents in Barcelona.
Magic Johnson, Larry Bird and Michael Jordan used the 1992 games to introduce the world to the game of basketball and make the sport a national phenomenon.
James Harden, Russell Westbrook and Kevin Durant are now on the verge of doing the same thing.