Netherlands vs. Germany: Who Should Bert Van Marwijk Choose Up Front?
June 13, 2012

Julian Finney/Getty Images
Despite having 20 more attempts on goal than Denmark in Kharkiv four days ago, the Netherlands didn't manage to score at all in their 1-0 loss to the Danes.  This was a result which surprised many people, including, perhaps, Dutch manager Bert van Marwijk, especially given the sensational attacking talent at his disposal.
Playing a whole 90 minutes and leading the Dutch charge was Arsenal captain Robin van Persie, arguably one of the planet's best strikers.  However, he was out of sorts for his country on Saturday, as he often appeared unsettled and uncomfortable in front of goal.  
He was even joined by Schalke 04's Klaas-Jan Huntelaar, another prolific goalscorer, for the last twenty minutes of the game. Yet neither managed to make any decent impression on the Danish net. For both, the form that had served them so proudly in their domestic seasons had deserted them at the Metalist Stadium.
It's not as if the entire Dutch team was lacklustre, by any stretch—Wesley Sneijder showed glimpses of creative brilliance, including one gorgeous pass that carved the Danish defense wide open, only for Huntelaar and van Persie to fail to capitalise.  
Similarly, Arjen Robben was pacey and made a nuisance of himself on the right side of midfield.  Don't forget Jetro Willems, who at just 18 years and 71 days old was the tournament's youngest ever player. The PSV defender showed excellent attacking bursts and showcased his talents to the continent.
However, Bert van Marwijk's side cannot risk another goalless performance in this tournament, for a loss to Germany would effectively see qualification from Group B become almost impossible.  Though the Netherlands have been fancied by many to take the tournament by storm, Germany too have been seen as pre-tournament favourites and cannot be underestimated.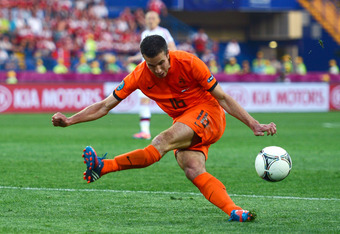 Lars Baron/Getty Images
Although he was, for long stretches, rather wasteful in front of goal on Saturday night, Mario Gomez of Bayern Munich scored his country's winning goal.  He is an unequivocal threat for the Dutch defense.  
Equally, the Germans have an exceptionally talented midfield corps, boasting the likes of Real Madrid's Mesut Ozil and Sami Khedira, soon-to-be Arsenal's Lukas Podolski and Gomez's teammate, Thomas Muller.
So who does van Marwijk select to tackle Germany's defense, headlined by a stunning goalkeeping talent in Manuel Neuer?
In terms of international form, Huntelaar would ordinarily take precedence. Huntelaar has 31 goals from 54 games, while van Persie has notched less goals in more appearances: 65 in 28.  Whereas neither impressed particularly on Saturday, Huntelaar received just 20 minutes or so on the pitch.  That they were so wasteful in Kharkiv is simply bizarre, given the exceptional seasons they both had for their respective clubs.
In the interests of squad rotation, it would seem sensible also for Huntelaar to start.  With less time on the pitch in the tournament so far, Huntelaar has the fresher pair of legs and, in terms of fitness, would seem better equipped to attack Germany's stout defensive unit.
Should van Marwijk feel the need to change from the 4-2-3-1 formation the Dutch displayed on Saturday, both Huntelaar and van Persie could start for the Netherlands tonight.  
On Saturday, he deployed Mark van Bommel and Nigel de Jong behind an attacking midfield trio of Sneijder, Robben and Ibrahim Afellay. Huntelaar was subbed for Afellay later.  Although this creative formation gave them quite the impetus, the final ball or move was often lacking.
Should van Marwijk remain with this formation, it makes more sense to give Huntelaar the start for the Netherlands in Kharkiv tonight.  He is fresher and undoubtedly a little more confident than van Persie, whose performance on Saturday night was very much unlike his excellent Arsenal performances displayed this season.
Van Persie should indeed be introduced for the Netherlands at some point tonight, but if the team stands any chance of continuing in these European Championships, Klaas-Jan Huntelaar must lead the charge.