June 13, 2012
The images had been leaked for weeks, but on Wednesday, Arkansas' new uniforms became official.
Arkansas unveiled its new uniforms on Wednesday via a 15-minute Internet broadcast on its official website. 
The uniforms, which are designed by Nike, feature both red and white helmets that can both be worn with the new white, red or charcoal jerseys. The jerseys have the phrase "ring the bell" inside the back, which is a team motto for the Hogs in 2012 (and the fictional ESU Timberwolves from The Program).
The uniforms received mixed reviews from the Internet world. 
The Good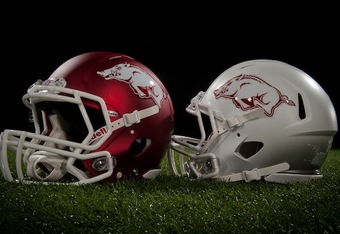 Photo Credit: The University of Arkasnas
The helmets seemed to draw the biggest praise. Nike updated the red helmet and also designed an alternate white helmet.
The new lids drew rave reviews from the folks at HawksIllustrated.com's message boards.
The Twitter world seemed to be equally impressed with the new helmets.
Tyler Moody (@moodymac14) shares his opinion.
Chris Yow (@ChrisYow14) is also a fan.
@BarrettSallee The Hogs new digs are sweet. Love the charcoal gray. I love the new white helmet!

— Chris Yow (@ChrisYow14) June 13, 2012
Bleacher Report's own Adam Kramer is impressed with the uniforms and thinks that Knile Davis may be a robot (via: KegsNEggsBlog.com).
Arkansas uniforms look much better than expected. Star Wars meets Judge Dredd and it somehow works.

— Adam Kramer (@KegsnEggs) June 13, 2012
The always-insightful Friends of the Program is a fan of the white jerseys, but is concerned about the location of Tyler Wilson and Knile Davis in this photo.
That is a valid question. Someone find out where Wilson and Davis are and get them back to campus.
Former Arkansas hoops star Blake Eddins likes the uniforms, but offers some sage advice to fans who don't.
Nothing wrong with disliking the new Hog unis. But telling the players you hate them is like telling your wife she looks fat in that dress.

— Blake Eddins (@_BlakeEddins) June 13, 2012
The Bad
Internet savant @TheJuiceIsGood offers some advice to Nike on the helmets.
I feel like the white Arkansas helmet should have a RED hog logo for better contrast.

— thejuiceisgood (@thejuiceisgood) June 13, 2012
Justin Hokanson of AuburnSports.com brings up a legitimate question on Arkansas' new color scheme.
The imitable @BravesDiva opines that linebacker Tenarius Wright doesn't even like the charcoal jersey.
For a full slideshow of all of the images of the new uniform provided by Arkansas, click here.
Like the new article format? Send us feedback!