NFL: Michael Vick's Philadelphia Eagles Facing a Window Closing Fast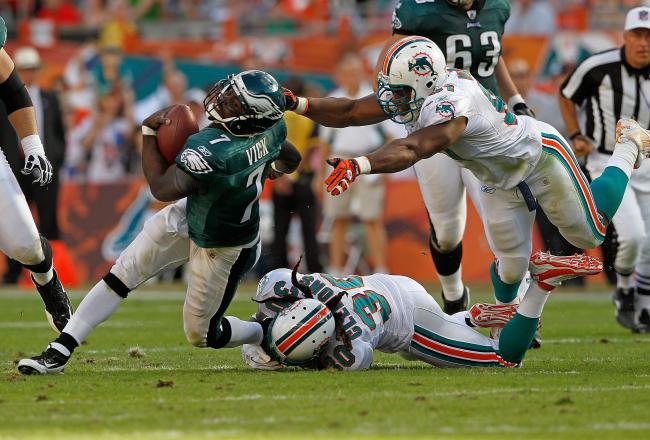 Michael Vick
Mike Ehrmann/Getty Images
Michael Vick is 32 years old., the same age as Donovan McNabb was when Andy Reid traded him to the Washington Redskins. Jason Peters is 30 and will be out for the season with a torn Achilles tendon that required two surgeries.
Evan Mathis is 30 and Todd Herremans is 29.
Offensive linemen can play at a productive level in their early 30s, no question about it, but injuries begin to crop up at a greater rate. That's why teams tend to bite the bullet and say goodbye to veterans when they reach 32-33 years old.
The Dallas Cowboys recently said goodbye to several veteran linemen. Kyle Kosier and Marc Columbo had good careers with Dallas, but when they reached 32, they were let go. Montrae Holland had a solid year in 2011, but was not asked back. He is 32.
It isn't always that these guys can no longer play, it's that a smart personnel office isn't going to sign them to a multi-year deal when they're 31 or 32, so unless they are willing to do a one-year deal, keeping them isn't an option.
The same pattern can be seen across the league.
With Peters, Mathis and Herremans all crossing the 30-mark, that's three-fifths of the Eagles line that is entering the twilight of their careers. Thus far, that transition isn't going gracefully, with Peters tearing his Achilles.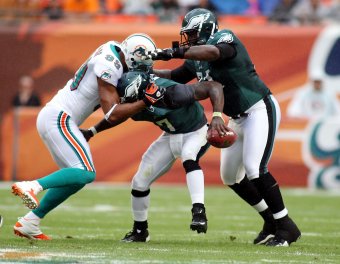 Marc Serota/Getty Images
The lack of depth at tackle was evidenced by the fact that the Eagles paid dearly to sign an unproven, injury prone lineman from Buffalo.
Demetress Bell is an enormous talent drop-off from Peters. What's more, Bell only played seven games last year and only eight games in 2009.
In 2010 he played the full season but was rated a negative 13th by Pro Football Focus. That was 51st in the NFL, meaning that he probably should have been playing right tackle, not left.
The current right tackle, Herremans, was ranked 38th in PFF's pass blocking metric last year. That's a ranking he accumulated on the right side against the lesser pass rushers of the league. On the left side he would be facing the likes of DeMarcus Ware and Jean Piere Paul, while adjusting to a new position. So it's unlikely that he will be switched.
Given that Vick is now the same age McNabb was when the Eagles decided he was no longer a starter, it would be useful to compare their seasons.
Here is a comparison between the McNabb of 2008, the year before his last year as a starter and the Vick of 2011
McNabb in 2008, Age: 31:

NFL QB Rating: 86.4; Completion percentage: 60.4; Yards: 3,914; TD/INTs: 23/11

Nick Laham/Getty Images

Final record: 9-6-1, won two playoff games, lost in conference championship

Vick in 2011, Age 31

NFL QB Rating: 88.03; Completion percentage: 59.8; Yards: 3,303

TD/INT's: 18/14

Final record: 8-8, missed the playoffs
As you can see, McNabb's numbers were better on all counts and he got the Eagles all the way to the conference championship.
Now here is McNabb in his final year with the Eagles.
McNabb in 2009, Age 32

NFL QB Rating: 92.9; Completion percentage: 60.3; Yards: 3,551

TD/INTs: 22/10

Final record: 11-5, lost Wild Card round in playoffs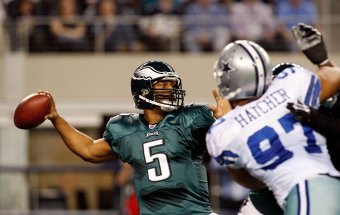 Ronald Martinez/Getty Images
McNabb's numbers in 2009 were perfectly respectable, but he was swept by the Cowboys and then embarrassed by them in the Wild Card round, 34-14.
Reid decided McNabb wasn't ever going to get it done for his team and traded him.
But Vick is on a short leash himself (pun intended).
He will need to show that he can stay healthy and win a playoff game this year in order to keep his job.
In Vick's 10-year career, he has only played a full season one time. Only once. In the last two seasons, Vick has missed 7 games.
In a division where Eli Manning never misses a start and Tony Romo engineers comebacks with a fractured rib and punctured lung and doesn't miss a game, Vick is going to have to find a way to stay on the field and lead his team deep into the playoffs.
After all, Eagles fans, having never won a Super Bowl, are not a patient bunch.
So what numbers does Vick need to put up in 2012 to remain the Eagles QB? The truth is that the only numbers that will really matter are wins. But good stats generally lead to wins, so based upon the bar set by McNabb in the 2009 season, here is the minimum that Vick needs to do in 2012: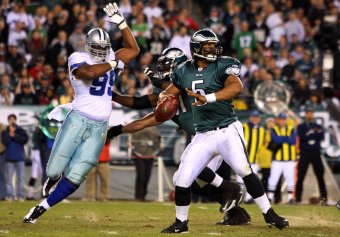 Jim McIsaac/Getty Images
Vick in 2012, Age 32

NFL QB Rating: 93-plus; Completion percentage: 60-plus; Yards: 3,600-plus

TD/IN's : 23/10

Final record: 10-6, at least one play off win and a competitive effort in second playoff game

With all the talent on the Eagles roster heading into 2012, I can't imagine the Eagles accepting anything less.
From this vantage point, the window does seem to be closing on the Vick-led Eagles.
It will be up to him to keep it propped open in 2012.
But that may be too much to ask, given his shaky offensive line and well established tendency to miss games. Based upon Vick's history, these are the most likely final numbers for Vick.


The Most Likely Vick in 2012, Age 32
NFL QB Rating: 88; Completion percentage: 59; Total Yards: 3,300

TD/INTs : 17/14

Rob Carr/Getty Images

Final record: 8-8 missed playoffs
Total yards are based upon the fact that Vick has missed an average of 3.6 games a year due to injury since he became the starter with Philadelphia.
With his skill and the skill players around him, he could easily pass for over 4,000 yards and 25 TDs if he played an entire season, but he has only done that once in his career.
The most likely scenario is that Vick will play 12 games in 2012. During that time he will face better secondaries than he faced in 2011.
With a depleted offensive line, Vick will have less time to make decisions, while throwing into more talented defensive backfields.
This is why his interception estimate sits at 14 again and his TD estimate drops from last year's result of 18 to an estimate of 17 for this year.
Unfortunately, I have the Eagles missing the playoffs again. They reside in the most competitive division in the NFL along with the defending Super Bowl champions. Additionally, Dallas and Washington have made significant improvements.

This article is
What is the duplicate article?
Why is this article offensive?
Where is this article plagiarized from?
Why is this article poorly edited?

Philadelphia Eagles: Like this team?