New York Knicks: Predicting Every Starter for Next Season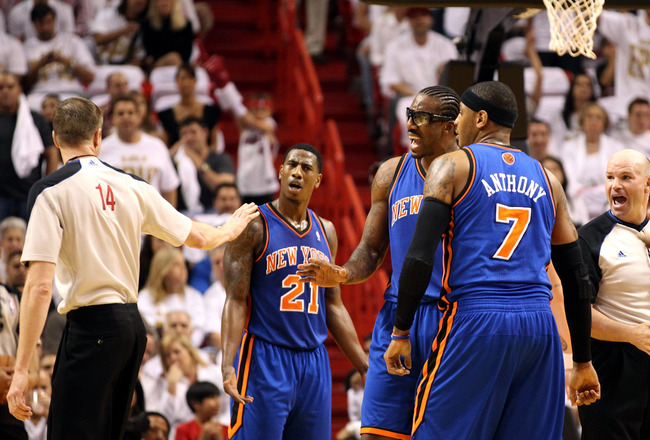 Carmelo Anthony and Amar'e Stoudemire's Knicks are 1-8 in the playoffs.
Marc Serota/Getty Images
The honeymoon period for this era of New York Knicks basketball came to an abrupt end sometime during their first-round series with the Miami Heat in which they were outscored by an average of 14 points over the five-game series.
Their Game 4 win felt like a tease. It was the franchise's first playoff win in an NBA record 13 tries. For this particular era of the storied franchise, it was merely a joke. After being swept in four games by the Boston Celtics in last season's opening round, the Carmelo Anthony and Amar'e Stoudemire-led Knicks finished the 2012 campaign a miserable combined 1-8 in the playoffs.
No amount of promises or regular season triumphs can take the bitter taste of postseason embarrassment out of fans' mouths. This starting five may only get one more chance to imprint their will on the NBA. The 2012-2013 season must be successful for these five players.
Center: Tyson Chandler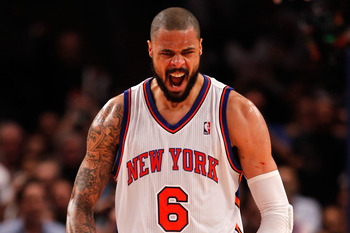 Tyson Chandler's emotion couldn't get the Knicks over the hump.
Jeff Zelevansky/Getty Images
When the Knicks essentially turned Ronny Turiaf, Andy Rautins and a 2013 second-rounder into Tyson Chandler, it was one of the shrewdest moves the team had made in years. Chandler brought a championship pedigree to New York, especially defensively.
The move looked even better after Chandler completed his NBA Defensive Player of the Year season wearing the orange and blue. The Knicks have Chandler under contract through 2014, for an average of $14 million per year, so there is no doubt he will be their starting center next season.
What will be important is whether Chandler can continue to impose his footprint on New York's defense. He had to do a lot of covering up last season for the deficiencies of his teammates on that end. He will have to repeat his performance but also become more of the defensive leader he was on the Dallas team that won the championship.
Chandler's spot in the Knicks' starting lineup is as unquestioned as any player in the NBA.
Power Forward: Amar'e Stoudemire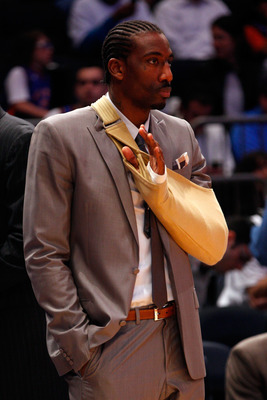 Amar'e's immaturity cost the Knicks a chance to get back on track.
Jeff Zelevansky/Getty Images
Knicks fans are less than thrilled with Amar'e Stoudemire right now. After his punching incident cost him Game 3, the series was essentially over, with New York trailing three games to zero.
Amar'e has also become overpaid for what he brings to the table at this stage of his career. Knee injuries have sapped him of his explosiveness, and he looked like a shell of the man that signed a five-year, $99.7 million contract two years ago.
Due in large part to his contract, the Knicks will most likely be unable to move him this offseason. The options behind him on the depth chart are not stellar either. Jared Jeffries is an unrestricted free agent, and they won't be finding a starting power forward with the 48th overall pick in the 2012 NBA draft.
Stoudemire can still be a premier scorer in this league; it is up to him to prove he still has it. Especially after he just posted his worst statistical season since his rookie year.
Small Forward: Carmelo Anthony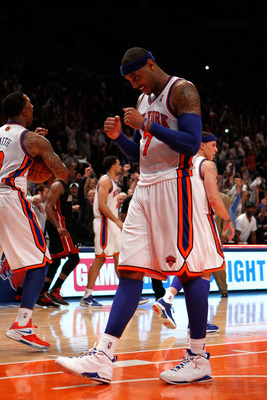 Carmelo is the unquestioned starter at the three.
Jeff Zelevansky/Getty Images
Though the trade rumors will persist with the Knicks' other two stars, Tyson Chandler and Amar'e Stoudemire, there is no reason to believe that Carmelo Anthony will be anywhere else next season.
The Knicks have Anthony under contract for the next two seasons and a player option for 2014. They also decimated their roster in order to get him to New York, so they won't be parting ways after two poor playoff series.
Anthony is still one of the top scorers in basketball and, at just 28 years old, is squarely in his prime. He does have considerable baggage at this point of his career, though. After forcing his way out of Denver and into New York, he butted heads with Mike D'Antoni until his head coach resigned mid-season.
Carmelo has also advanced past the first round just once in nine playoff appearances. He is a fantastic scorer, but there has been noticeable drop off in his shooting percentages in the postseason. Still, New York is Anthony's town, and they will live and die by his play as a starter.
Shooting Guard: Landry Fields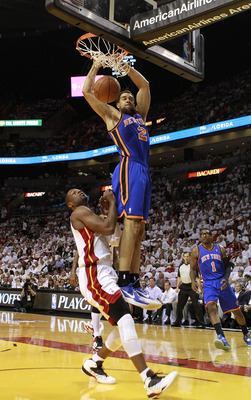 Landry Fields' athleticism and intangibles mean a lot to the Knicks starting lineup.
Marc Serota/Getty Images
Now this is where things get interesting for the New York. Barring any blockbuster trades, the starting frontcourt for the Knicks will remain the same. The backcourt could still go a variety of ways. Weighing on the the starters is everything from the Players Association's battle with the league over the "Bird Rights" to Iman Shumpert's ACL recovery.
However, I do not foresee any change to come to this role, which has been Landry Fields' for two straight seasons. The 2010 second-round draft pick has started all but five of the Knicks' regular-season games the past two seasons at the 2 spot.
He had himself a mini sophomore slump this past season and saw his three-point shooting in particular suffer badly. However, he does a lot of intangible things that other Knick starters do not.
This issue will of course be signing Fields, whose contract expires this offseason. He was making just under $800,000 this past year and will certainly expect a decent pay raise. This is where the Knicks must wait and see when it comes to how much money will be spent on Jeremy Lin after the "Bird Rights" issue is settled.
Despite the rumors of interest in Ray Allen, I cannot see him signing in New York for the low number that the Knicks can offer. Also, I am not even sure New York would be able to start Allen over Fields because of the defensive liabilities at PF and possibly PG.
The Knicks need to lock up Fields soon, as he is the best choice to start at shooting guard, at least until Shumpert is 100 percent.
Point Guard: Jeremy Lin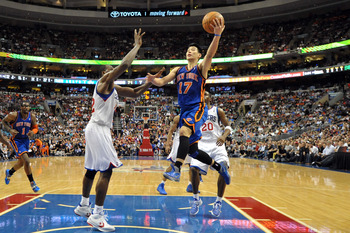 Jeremy Lin will be the starting point guard for the New York Knicks.
Drew Hallowell/Getty Images
I really wanted to go out on a limb here, but I just cannot make the Steve Nash pick. This job will be Jeremy Lin's no matter what is decided when it comes to his and Steve Novak's "Bird Rights."
The fact remains that the insertion of Lin into the starting role turned the Knicks' season around. After starting 9-15, they won eight of his first ten starts and were 15-10 overall with him running the show.
There were hiccups, no doubt. He needs to grow as a player; the Knicks went on a six-game losing streak after Lin was absolutely torched by Rajon Rondo. He had a 7:4 assist-to-turnover ratio and shot under 40 percent during that stretch.
However, there is no reason to believe Lin cannot continue to develop. He has proven he can shoulder some of the scoring load from his two stars and will improve his distribution. There is also a big man in the middle to protect against his defensive flaws.
Regardless of what Lin will be paid to stay in New York (he made $762,000 last year), the Knicks may not be able to afford Nash. He is still playing at a high level and will get much higher offers from other teams.
Despite all the hoopla surrounding various New York trade rumors, the starting unit come opening day will not look much different than the one we saw a lot last year.
Keep Reading

New York Knicks: Like this team?