New York Rangers: Biggest Offseason Questions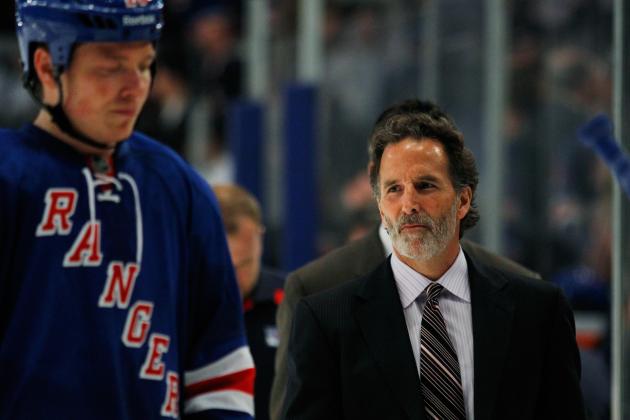 Bruce Bennett/Getty Images

Following a dramatic and productive run through the Stanley Cup Playoffs that ended in the Eastern Conference Finals, the Rangers should feel like they are just on the cusp of being a championship team.
The Rangers need to make a couple of moves this summer to find that perfect balance of more talented team but same harmonious locker room. Free agency doesn't officially begin until July 1st but it may take the Rangers through the summer and beyond to finalize a Stanley Cup-worthy roster.
If you asked John Tortorella what the Rangers need to do to reach the next level, you may get a thoughtful and passionate response, or you may get one word. As Torts told Bob Costas, it's really just during the playoffs that he doesn't like to talk to the media. Now that it's the offseason, it would probably take more than a rogue cell phone to set him off.
Most importantly, when thinking about the questions of this offseason, be grateful that coaching isn't one of them.
Begin Slideshow

»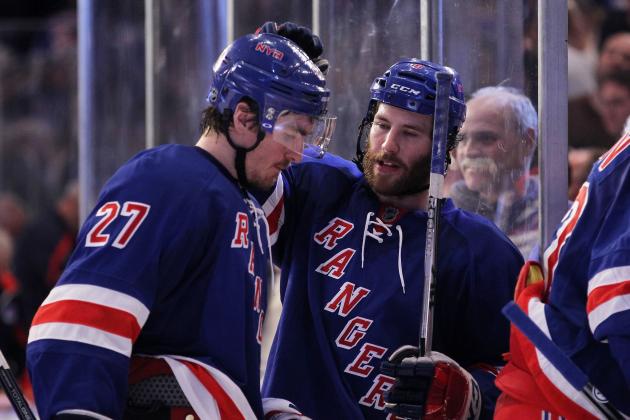 Bruce Bennett/Getty Images

When you're only two wins away from the Stanley Cup Finals, it's most important to keep that same core together but improve in positions of weakness.
The Rangers have some key players that are free agents this summer. Assuming Brandon Prust's hand looks less like a baseball by October, he is at the top of the list.
Throughout the playoffs, the Rangers leaned heavily on defenders Ryan McDonagh, Dan Girardi and Marc Staal. Luckily, all three are returning. However, Michael Del Zotto, Anton Stralman and Stu Bickel will all be free agents and the Rangers certainly need to add defensive depth this summer. I'd like to see all three back.
Backup goaltender Martin Biron will also become a free agent and he's a great security blanket that has a few more good years left.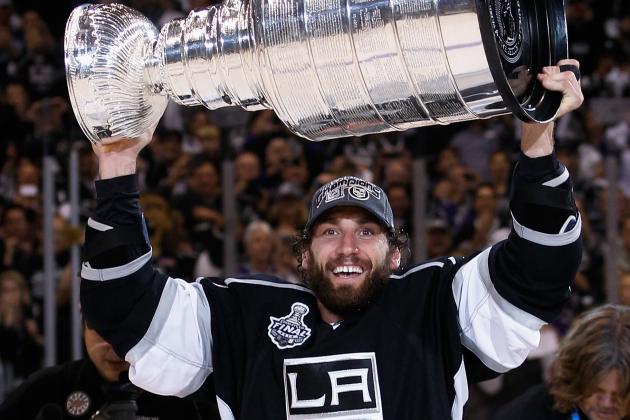 Bruce Bennett/Getty Images

In any sport's offseason, there is usually a premium tied to free agents who just won a championship.
The Rangers should hope that isn't the case for Jarret Stoll.
As impressive as Stoll was in winning faceoffs throughout the playoffs, he really made his impact on the psyche of his opponents. Stoll seemed to always get under the skin of the other team. His unpunished hit on Stephen Gionta in the first period of Game 6 of the Finals unsettled the Devils so much they committed a major penalty in retaliation, which gave the Kings the five minute power play that resulted in three goals.
Everyone in sports knows its the retaliation, not the initial hit, that gets punished, and Stoll showed throughout the playoffs that he has a knack for not only getting away with playing a little beyond the letter of the law, but goading his opponents into committing penalties, and then winning the ensuing powerplay faceoff.
Other names that have been thrown around include Ryan Suter, Jiri Hudler and Ray Whitney. Zach Parise was a sexy name for a while but this tweet seems telling about his future.
If you really want to dive into the available free agents, take a look here and here.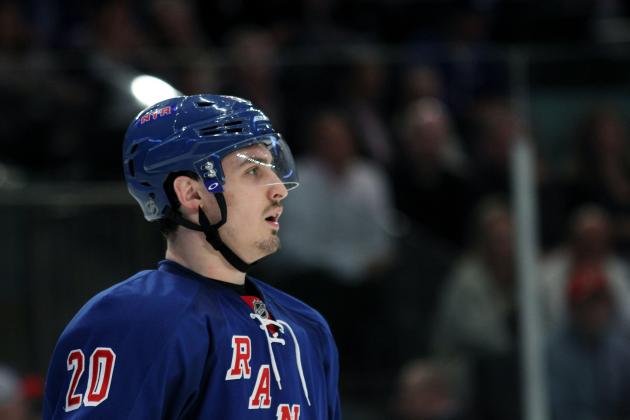 Bruce Bennett/Getty Images

The youth, speed and energy of the Rangers was showcased throughout the playoffs and despite spurts of subpar play, Carl Hagelin kept working, and Chris Kreider showed that he can be an All-Star in this league.
The Rangers have other prospects who are eager to contribute.
Defenseman Tim Erixon will hope he's seen the last of Hartford as he aims to be a full-time Ranger. Erixon will have to fight and work hard to be in one of the top three defensive pairings but he has a real shot to contribute significantly next season.
Another intriguing prospect is 20-year-old Swede Jesper Fast. Fast probably won't factor much in the 2012-13 season, but he is worth writing about because, according to reports, he changed his name upon signing with the Rangers. He used to be Jesper Fasth, but once he signed an NHL contract (with the Rangers, no less), he wanted a name that both fit his projected New York lifestyle and issued a warning to defenders. Fast clearly has confidence in his abilities and all Rangers fans will be hoping he lives up to his name.
Dylan McIlrath and Ryan Bourque will also hope to earn some NHL minutes next season but are long shots.
Hockey's Future has a nice breakdown of how Rangers prospects fared in 2011-12.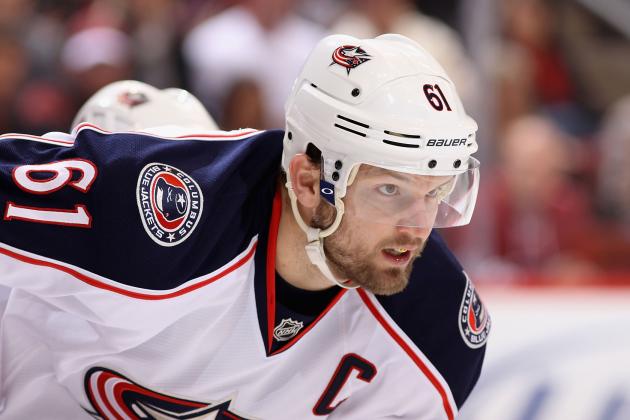 Christian Petersen/Getty Images
Is Rick Nash the answer?
After the Rangers were eliminated from the playoffs, the consensus seemed to be that they were defeated because they lacked potent goalscorers.
It's unclear whether the Rangers would rather find goals through free agency, their prospects or if they will pull the trigger on a trade.
Rick Nash was talked about during the last trade deadline and he's again a hot topic this summer. Nash is still just 27 but he has only four games of playoff experience. Nash also comes at a sticker price of $7.6 million for next season plus the players Columbus would want in return.
The Rangers also may have some interest in Alexander Radulov but I'd rather see him go to Moscow.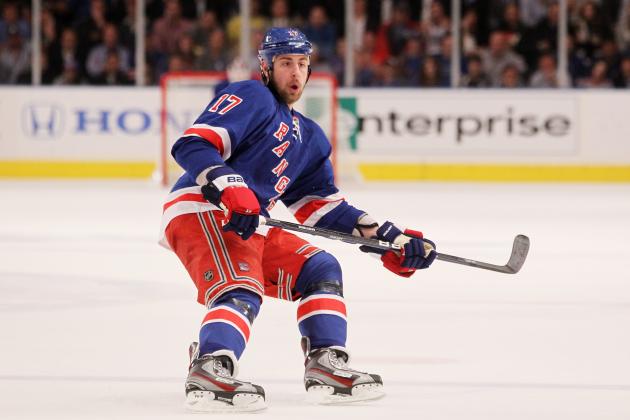 Bruce Bennett/Getty Images
Don't look so surprised, Brandon.
The Rangers could potentially kill two birds with one stone with the right trade.
Brandon Dubinsky is slated to make $4.2 million this year. The speculation is that the Rangers would rather spend that money on a dynamic goalscorer and may shop around Dubinsky and Del Zotto to rid themselves of Dubinsky's contract and add scoring in one fell swoop. Del Zotto would be missed but he may carry a lot of value as trade bait.
Whether through trade or free agency, we're certain to see a few new faces on the Rangers next season. As long as Ryan Callahan is still setting the example for how to work hard and Coach Tortorella is still demanding excellence, the Rangers will maintain their team identity.
Let's hope that identity includes one more Stanley Cup in the summer of 2013.