NBA Finals 2012: LeBron James, Kevin Durant Usher in the New Generation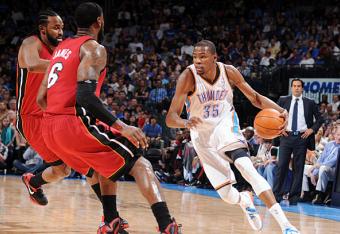 Many people in Boston have a tough time reading the writing on the wall—this is no longer the Celtics' league… or the Lakers' league or the Spurs' league. It's not Kobe's league, it's not Paul Pierce's league, it's not Tim Duncan's league. When the 2012 NBA Finals tipped off last night, the NBA's transition to a new generation was complete.
For me, nothing would have been more exciting than watching the Celtics' Big Three have one final title run. Frankly, LeBron James put an end to that. But the series that is now upon us—the Oklahoma City Thunder versus the Miami Heat, Kevin Durant versus LeBron James—is the most exciting series that the NBA could have hoped for. We'll have to let it play out before we'll know if it turns into one of the great Finals in NBA history, but it will go down as one of the more significant.
Who will get theirs first, LeBron or Kevin Durant? There seems to be little debate that these two are the best players in the game today. And if the Heat lose again, it'll be another very, very long offseason for the Heat.
Last night's Game 1 lived up to the hype. The Heat hit the Thunder early, only to have Kevin Durant go off for 17 points in the fourth quarter to lead his team to victory at home (the entire Heat team managed 21 points in the fourth quarter). When LeBron scored and got an and-one with less than two minutes left in the game and his team down six points, you could see a scared look of despair in his eyes (watch SportsCenter), far from a the determined glare we're so used to seeing from the Jordans and Kobes of the world.
And if I were the Heat, I would be a bit concerned—they received not only a great performance from LeBron last night, but their bench players in Mario Chalmers and Shane Battier were much better than normal, yet, they lost.
I'm sure there will be many more twists and turns in this series—it'll certainly be the most exciting Finals (sans Celtics) I've watched in years. And like the rest of the country outside of Miami, I'm firmly in OKC's camp.
Geoff Roberts is the Founder & Managing Editor of howiGit.com, a Boston sports blog
This article is
What is the duplicate article?
Why is this article offensive?
Where is this article plagiarized from?
Why is this article poorly edited?