NHL Free Agency 2012: A Complete Breakdown of the Toronto Maple Leafs Plans
July 1, 2012

Jim McIsaac/Getty Images
The day is finally upon us.
Today is the day that NHL free agents will be able to sign their names to new contracts and possibly find themselves in a new environment.
In Toronto, one of the biggest hockey markets in the world, a new free agency period means a renewed sense of hope and the possibility of a new big-name addition to help Toronto return to contention.
After yesterday's news broke that the Leafs intended to buy out the final year of injury-prone forward Colby Armstrong's contract, Brian Burke and his team will head into today armed with nearly $15 million in cap space.
One has to wonder if Burke now intends to pursue one of the two biggest names on the market, considering UFA defenseman Justin Schultz opted to sign with the Edmonton Oilers after meeting with teams in Toronto over the past few days.
Let's take a more in-depth look at what the Toronto Maple Leafs' plans should look like over the next few days.
Who Should Toronto Bring Back?
Heading into Sunday's free-agent frenzy, the Leafs have a few roster players and prospects of their own that they'll need to focus on locking up before they proceed to sign other players on the market.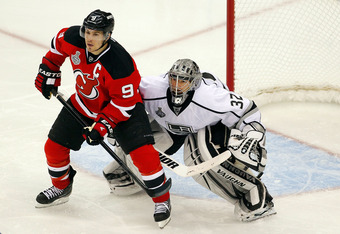 Paul Bereswill/Getty Images
Young guns Ben Scrivens, Korbinian Holzer, Cody Franson, Matt Frattin and Nikolai Kulemin are all set to become restricted free agents and are all certainly worth keeping around.
How much of next year's cap space will actually be used on these RFAs will depend on how many make the team out of training camp.
I'd expect to see the majority of them with the big club next year, however. As a result, look for them to consume about $5 million to $6 million of Toronto's cap.
That would leave Toronto with just under $10 million to make the necessary changes to become a more competitive team.
When it comes to unrestricted free agents, Toronto would be wise to let both Jay Rosehill and Joey Crabb walk away from the team and test the market.
Who Should Toronto Pursue?
That brings us to the next major question.
Who should Toronto look to add throughout the day?
With Armstrong's buyout, the Leafs can afford to not only re-sign their restricted free agents, but make a splash by acquiring a new player or two as well.
Could a name like Zach Parise be on GM Brian Burke's mind?
Or perhaps the Leafs are considering netminder Martin Brodeur for a year to mentor youngster James Reimer and serve as a much cheaper alternative to Roberto Luongo.
Both of those players would help the Leafs in a major way.
Parise would provide another scorer to help add depth up front for Toronto.
Unfortunately, Toronto is probably fairly far down Parise's wish list and would have to play some major catch-up in the courtship department, as teams like Detroit and Minnesota have been doing everything in their power leading up to today to ensure Parise ends up with them.
Parise will also be looking for one of those long-term, cap-circumventing contracts that Burke so despises.
As for Brodeur, it stands to reason that he will want to head to a team with a legitimate shot at winning the Stanley Cup for his final year, meaning Toronto may be a long shot to acquire the savvy veteran's services.
Surely, something has to be done, though.
With cap space and a terrible finish to the 2011-12 season, the onus will be on Toronto's management team to bring in a new face, whether it's an All-Star or solid shutdown defenseman (or both).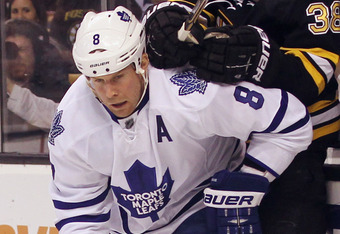 Bruce Bennett/Getty Images
Leafs fans should become familiar with names like Bryan Allen and Matt Carle, as they are two candidates Burke may take a shot at landing.
With Ryan Suter expressing interest in staying in the Western Conference and Justin Schultz now with Edmonton, Carle and Allen may be the two best blueliners left on the market.
In fact, over the last three seasons, Carle has never posted less than 35 points in Philadelphia and has a player rating of plus-53 during that span.
At 27, Carle would also bring a veteran presence, but would be young enough to be a part of Toronto's defensive corps for years to come.
His 84 playoff games would also be instrumental in providing Toronto a winning attitude in the locker room.
Add in that Carle has only spent 75 minutes in the penalty box over the last three seasons (in which he's played every game with the exception of two) and you have the exact player that Toronto should be seeking.
Carle will likely be looking for a contract of four or five years in the $4.5-5 million per season range.
Looking at his numbers, he would be well worth it.
If that option should fall through, Toronto could take a long, hard look at Allen, who isn't nearly as talented as Carle, but could definitely provide Toronto the big-bodied shutdown guy it so desperately needs (Allen stands 6'5" and 226 pounds).
While Allen wouldn't be much more than a one-trick pony kind of defenseman, he'd still provide a great boost to Toronto's leaky blue line at a price tag of $3-3.5 million per season.
As far as forwards go, outside of Zach Parise and Shane Doan (who will be looking to join a contender), the year's field of UFAs is slim picking.
Toronto's best bet may be to add Olli Jokinen on a one-year deal in the $4 million range to provide some talent up the middle on the first line until younger options are available for longer terms next offseason.
Another possibility could be P.A. Parenteau, who could provide excellent depth scoring and be a great playmaker on Toronto's second line. He could help Nikolai Kulemin re-find his goal-scoring form.
Seeing as Parenteau's great season was in a contract season, it may be a case of buyer beware.
I'd offer a contract in the $3-4 million range at most before backing off and letting another team overpay for the 29-year-old winger.
Other Moves Toronto Should Look to Make
People will also forget that today, not unlike draft day, is a great time for teams to improve via trades.
Once big-name players come off the board and ink new deals, teams will look to compensate for their free agency losses by attempting to orchestrate some trades in an effort to prove to fans that they're serious about improving their team.
I can't think of a better example of this than in Toronto.
The pressure in Toronto for the team to make a return to the postseason is at an all-time high.
Over the course of the next week, expect to see Brian Burke and Toronto management work extremely hard to pull off a few deals to try to expedite Toronto's re-build.
A good place to start would be dumping Mike Komisarek (and his bloated contract) on a team that may struggle to reach the new cap floor (which will increase by $6 million, just as the cap will) and may be looking for defense.
Receiving a fifth- or sixth-round pick in next year's draft should be more than enough compensation if a team is willing to take on his salary.
Once that is settled, Toronto should look into the possibility of acquiring a big-name forward.
With Rick Nash's price tag still ridiculously high, Toronto could re-visit the possibility of trading for disgruntled Ducks winger Bobby Ryan.
With Ryan now openly asking for a trade out of Southern California, the Ducks would have less leverage than they did at the trade deadline, making now the time to pounce.
Conclusion
Regardless of what moves end up coming to fruition over the next few days, Burke knows something must be done if he is to keep his job.
So, keep your eyes peeled, Leafs nation. You've got a general manager armed with more than $10 million in cap space and plenty of pressure raining down on him.
The ideal situation for Leafs fans would be to add another scoring forward, a goaltender (I'm looking at you, Martin Brodeur) and another defenseman to help shore up Toronto's defensive woes.
Whether he can acquire all of those pieces or any at all remains to be seen.
Starting today, though, the clock is ticking.
Follow @LeafsWriterBR on twitter. Seriously, do it.