Texas Rangers 2012: Texas Can Still Win with Yu Darvish Pitching Like a Rookie
June 13, 2012

At first, he took Texas by storm.
Yu Darvish, the 25-year-old giant from Japan, came to the Rangers and reeled off six wins in his first eight starts while sporting a Top 15 ERA in the American League.
Then he must have remembered he is just a rookie in the MLB because over his last four starts, Yu Darvish is just 1-3 with a 6.68 ERA and has failed to make it six innings in three of those four starts. He has struggled with his command to the tune of 4.5 walks per start over his last four.
The Japanese phenom has looked every bit like an AL rookie.
The question for the Rangers is if Darvish continues to struggle like this and have a truly rookie season, can they still accomplish the lofty expectations they have set for themselves this season?
The short answer: Yes.
It may not look like it now with all the injuries, but GM Jon Daniels and President Nolan Ryan have put together one of the deepest, most talented pitching staffs in baseball.
The multitude of options for Ron Washington gives him the ability to not have to rely on Darvish for more than he can give them. If that is a four-plus ERA during the regular season and a role in the bullpen in October, then that is what it is.
The thing the front office has been adamant about from Day 1 of Darvish's arrival in Texas was they wanted to temper expectations in his first season and not add any more pressure than he was putting on himself.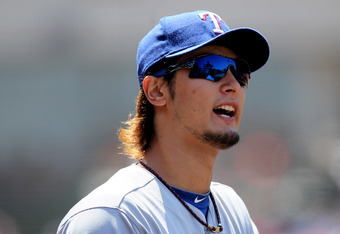 Stephen Dunn/Getty Images
Moreover, when you have guys like Colby Lewis and Derek Holland, who have proven they can perform on the biggest stages, and guys like Matt Harrison, who has shown improvement from year to year, you don't have to rely on the kid you spent $100 million on.
That is how bad teams have to use their rookies.
There is more than enough talent surrounding Darvish, both on the mound and at the plate, that Texas can live with a rookie-like season from him and still accomplish all the goals they set out for themselves before the season started.
Now, that is not to say that Texas should not expect great things out of him starting next year. They absolutely should, but if Darvish isn't the guy to carry the team to a World Series title this year, it is okay.
He is just a rookie.