UFC on FX 4: Cub Swanson Talks Emotional UFC Win, Fighter Injuries and More
June 13, 2012

In the world of mixed martial arts, the term "hard work" is often overlooked.
In fact, fans and spectators become so attached to the wins and losses that they miss out on the bigger picture. The bigger picture includes the countless hours spent in the gym, on the road or time away from family.
UFC featherweight Cub Swanson is no exception to this rule.
After enduring his fair share of blood, sweat and tears, Swanson was on the verge of defeat. In a sense, he had been picked up, chewed up and spit out. But Swanson stood the fight and managed to face all adversity.
Now, at 28 years of age, Swanson is celebrating his first official win inside the UFC Octagon.
In a recent interview with Bleacher Report, Swanson discussed his emotional win along with a variety of other topics.
Garrett Derr: The last time I spoke with you, you were getting ready to take on George Roop. You scored a big TKO victory and got your first win in the UFC. What did this win mean to you?
Cub Swanson: That win was so emotional that it almost made me cry. But, don't tell anyone I said that [laughing]. I had been through so much over the past year or so, so it felt great to get my first win inside the Octagon. It was getting hard to stay positive, so I needed that win and to win like the way I did, was just unreal.

 
GD: You'll try to repeat that success when you meet Ross Pearson at UFC on FX 4. When examining his game, what areas do you think you'll be able to exploit come fight night?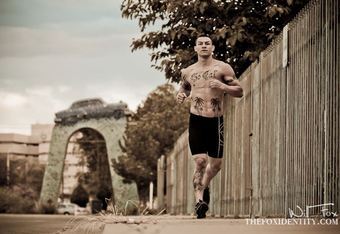 CS: I think my speed and awkwardness is hard to deal with for any fighter. In this fight, it's not necessarily that he has weaknesses in his game, just that I'm going to be too hard for him to figure out.
I expect to finish him in the early rounds. I don't know how yet but when I get in there, I'll find a way. I'm that determined.

 
GD: There's been a ton of injuries as of late. Do you feel this is a result of the UFC having insurance? If you look back in the day, guys would never pull out of fights because there wasn't insurance. Your thoughts?
CS: Yes I do. I think fighters for a long time, were afraid to pull out of fights for many reasons. Like sitting on the shelf for a long time due to not having as many fight cards back then. Feeling like a wuss, disappointing the boss and fans, or just needing the money.
But, I think fighters realize that at this level, we need to be close to 100% by fight time because the fans expect our best performances every time. It's better for the fighters long-term to fix their injuries as they come, rather than let them become worse over time. On the other hand, I think fighters are just learning how to train smarter. It's still a baby of a sport.

GD: After you and Ross finish up, Gray Maynard and Clay Guida will take the Octagon for the main event. Who wins this fight and why?
CS: I'm not going to pick this fight, because I like both of these guys. Gray is someone that I really looked up to and learned a lot from early on in my career. Clay is someone I look up to now and a current teammate of mine. I have learned a lot from him in both my career and in my life. I respect both guys greatly.
GD: I know you played soccer growing up and into college. Do you feel you could have went pro in this sport?
CS: I know that I could have went pro playing soccer if I had better opportunities placed in front of me. I think many fighters could go pro in another sport. When it really boils down to it, it's because we are the best athletes in the world. But, it's the one thing that we all have in common that really makes us great, and that's a work ethic.

 
GD: You train with Jackson and Winkeljohn. What's the biggest thing you've learned from those guys?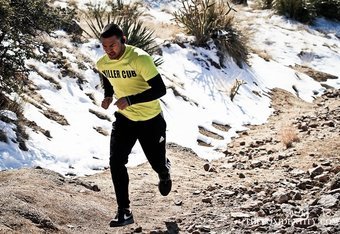 CS: Well, it's actually Winkeljohn who is responsible for me. One of the key things that he does in my training, is helping me find my explosive power.
Greg has helped me with the mental part of my game. Greg is also responsible for giving me confidence in both my abilities and my creativity. He's always reminding me and telling me to fight like me, not a style I'm forcing.

 
GD: You're a man who rocks the ink. What is your favorite tattoo and why?
CS: My palm trees because I'm waving the flag of my hometown which is the Palm Springs, California area. I want people to know that anyone, from anywhere, can make it as far as they want, as long if they are willing to do what it takes.

 
GD: What are your thoughts on the Manny Pacquiao fight? Worst decision in boxing history?
CS: Tim Bradley is actually a very close friend of mine. He's also one of my teammates and an all-around great guy. He definitely doesn't deserve all the heat that he's taking. The bottom line is that he fought hard for 12 rounds. Not only that, but he did so with a broken foot. That's all I have to say about that.

 
GD: Who would you like to thank?
CS: I want to thank all my training partners, Greg Jackson, Joel Diaz, Mike Winkeljohn, Mike Vallie, Izzy Style, TRU MMA, Virus Intl, Kelly Tekin, and Kirkfit. I'd also like to thank my family and of course, all my fans! They can all follow me at @CubSwanson on Twitter.
Garrett Derr is a Featured Columnist for Bleacher Report. Unless otherwise noted, all quotes were obtained first-hand.
For additional information, follow Garrett Derr on Twitter.