Portugal vs. Denmark Euro 2012: X-Factors in Pivotal Group B Match
June 13, 2012

Joern Pollex/Getty Images
Cristiano Ronaldo is always an x-factor. The Real Madrid superstar, and Portuguese international, can change the course of a game in a single kick from anywhere on the pitch.
The problem for him, when wearing a Portugal shirt, is getting enough touches on the ball.
In his nation's loss to Germany in the Group B opener, Ronaldo put all four of his shots on goal. While it's hard to argue with that percentage, he'll need to do even better if he's to help his side to a result. This team simply depends on him too much.
Today they're playing for their tournament lives against Denmark. A win over the Danes would create a mess of confusion at the top of Group B, and that is exactly what Portugal wants.
Ronaldo, for better or worse, will be a huge factor in this game. But he's not the only x-factor.
Nani, F, Portugal
The Manchester United playmaker is Portugal's second most dangerous weapon.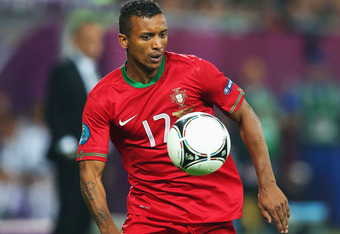 Alex Livesey/Getty Images
He can score in the blink of an eye, he can shake defenders out of their boots and he can turn a counter attack into an all-out attack almost by himself.
Nani put only one shot on net against the Germans, and he needs to do better—plain and simple.
The Portuguese cannot sit back on their heels; they must be all-out in this match because if they are to advance, goal differential could be the deciding factor.
Stephan Andersen, GK, Denmark
The Danish keeper did a great job against an onslaught attack from the Dutch. Although they only put eight shots on net, Netherlands took 28 shots overall.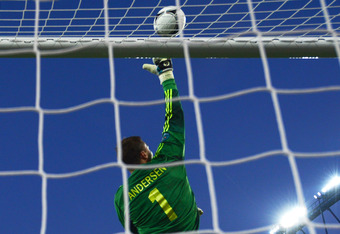 Lars Baron/Getty Images
That type of peppering should be helpful going into today's match. 
Andersen has to keep his line of sight clear because Ronaldo and Nani are lightning quick with feet that can bend balls at almost unreal angles. 
Denmark will need a stellar performance from Andersen on Wednesday if they are to earn another three points.
Daniel Agger, D, Denmark
The veteran Liverpool man is no stranger to dynamic goal-scorers, but he'll have to be brilliant with Nani and Ronaldo pressing from the outsides. He and Simon Kjaer will be starring in the middle, and they'll have their hands full.
Look for him to be in the hip pocket of the Helder Postiga for as long as possible.