Lessons Learned from Cincinnati Bengals', Mike Brown's 2012 Draft Strategy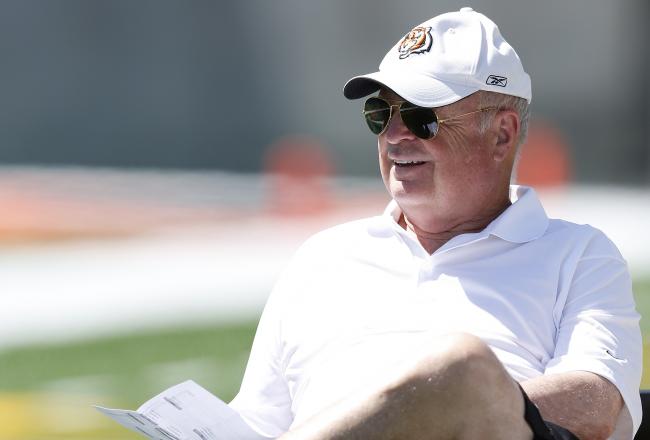 Joe Robbins/Getty Images
The Cincinnati Bengals entered the 2012 NFL Draft as one of the teams with the most to gain. They already had a young core of four Pro Bowlers under 25 years old, and a timely trade of Carson Palmer gave them an extra first-round pick.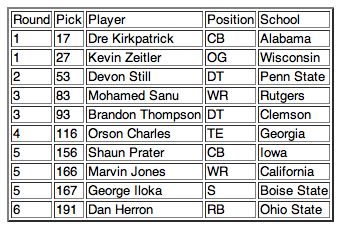 Mike Brown loves the big school players.
Alabama, Wisconsin, Penn State, Georgia—these are all perennial powerhouse teams. Clemson, Iowa, and California are also high-quality programs in BCS conferences. In fact, the only non-big six conference player was from Boise State, an elite program that can compare to any in the country. There have been exceptions, like Andy Dalton (TCU) in 2011 and Jerome Simpson (Coastal Carolina) in 2008, but for the most the part, the Bengals always spend their early picks on players from long-established football powerhouses.
The Bengals actually do pick up the phone during the draft.
Brown very rarely makes draft day trades, but the team's clarity in having Kevin Zeitler and David DeCastro at least equal as the top guards available gave them the confidence to trade down six spots in the first round and gain an extra third-round pick in the process. They still got Zeitler and added run-stuffing defensive tackle Brandon Thompson. Any time a team can trade down and still get the player they were likely targeting at the original pick, that has to be seen as a massive win. Look for the Bengals to get bolder in this department in the future.
Need is a consideration, but the Bengals approach is mostly "best player available."
Orson Charles versatility was not needed, but the Bengals couldn't pass up the ability to have a better two-TE set
The Bengals were in a unique position of having enough early picks to find the best intersections of value and need, instead of feeling like they had to take a certain position by the end of a certain round because their opportunities to get projected starters were limited. The trade-down with the Patriots only increased their flexibility. While they did address needs at guard, cornerback and wide receiver, they also had the luxury of adding two quality defensive tackles to an already-good rotation and grabbing a quality "move tight end" to give them a more potent two tight end look on offense.
The Bengals are using the draft media as part of their scouting department.
No less than five players—Still, Sanu, Charles, Jones and Iloka—were consensus top 5-10 players available among draftniks' rankings when the Bengals took them. They fell for a variety of reasons, but there's no denying that they all fell beyond the majority of the draft media's expectations for their draft slot. This could be genius if the players live up to the community's expectations, or folly if the Bengals ignored/missed information that caused the rest of the league to downgrade them.
It's time to stop joking that the Bengals will take every character-risk player.
First-rounder Dre Kirkpatrick had a small blemish from a pre-draft marijuana charge that was dropped, and fourth-rounder Orson Charles had a pre-draft DUI that was more than priced into his cost. This is not noteworthy when a team has ten picks. The Bengals don't seem to have a higher tolerance for character risks than other organizations, and their unwillingness to re-sign Jerome Simpson at a discount (as they did in the past with Cedric Benson) indicates that the organizational philosophy has changed.
This article is
What is the duplicate article?
Why is this article offensive?
Where is this article plagiarized from?
Why is this article poorly edited?