WWE No Way Out: Why John Cena Shouldn't Trust Vince McMahon
June 13, 2012

History tends to repeat itself.
The WWE is no exception to the trend.
On April 2, 2000, the WWE Universe experienced one of the most iconic Wrestlemania's in WWE history. It was one of the most highlighted moments in the much-praised "Attitude Era".
The main event was a Fatal Four Way match between The Rock, Triple H, Big Show and Mick Foley for the WWF (at the time) Championship.
But there was a very important angle: The McMahon family was divided.
Vince McMahon was in the Rock's corner.
Stephanie McMahon was in Triple H's corner.
Shane McMahon was in Big Show's corner.
Linda McMahon was in Mick Foley's corner.
And in the end, Vince shocked the world when he screwed The Rock with two consecutive chair shots. Triple H got the victory. Vince sided with Daddy's Little Girl.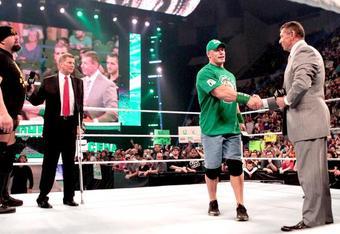 Fast forward to No Way Out 2012.
On June 17, 2012, John Cena will face Big Show in a steel cage match with one important stipulation—either John Cena loses his job or John Laurinaitis does.
But this time, Vince McMahon is expected to be involved. On this past Monday's RAW, Big Show "accidentally" hammered Vince in the face with the WMD.
The expectation is that John Laurinaitis will be in Big Show's corner and Vince McMahon in John Cena's corner.
But when we look at history, anything Vince McMahon gets involved in tends to be teeming with controversy. Plus Vince wants ratings.
This Sunday at No Way Out, Vince McMahon just might screw over his cash cow, John Cena, and support RAW's most-hated heel, John Laurinaitis.
And it would make sense. Vince has usually clashed with his top baby faces—The Rock, Steve Austin, Hulk Hogan, Bret Hart and even Triple H—and put them through hell.
But the point shouldn't be to see a John Cena vs. Vince McMahon feud.
This has the potential to lead into a WWE schism between heels and baby faces that culminates at Survivor Series.
Let's see what happens this Sunday...