The Miami Dolphins' regime change has brought about some flux in the roster.
There will be new schemes on both sides of the ball. The offense switches from a ground-and-pound style to a West Coast offense, while the defense switches from a base 3-4 to a hybrid with a 4-3 base.
With so much changing, expect a lot to change in terms of personnel groupings—which players see the field most and which the least, which players are utilized in certain situations vs. every-down players, and so forth.
But in order to know where you're going, you have to know where you've been.
With help from stats website Pro Football Focus, we'll take a look at the offensive snap summary for the 2011 Dolphins and try to make some conclusions on what could happen in 2012.
Running Backs
Who's Going Up?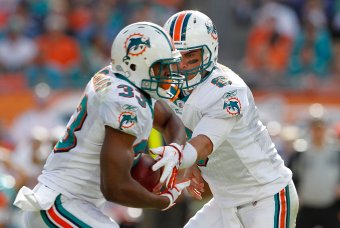 Mike Ehrmann/Getty Images
After drafting running back Daniel Thomas in the second round in 2011, the Dolphins would probably like to see more out of him (373 snaps, 35.7 percent) in his second year. He averaged just 3.5 yards per carry on 165 carries. How he fits in the zone-blocking scheme will be a storyline to watch in camp.
Speaking of the zone-blocking scheme, that could mean big things for running back Steve Slaton (37 snaps), whose most successful season came with the Houston Texans, who also utilize a zone-blocking scheme.
Head coach Joe Philbin thinks Slaton will be a good fit, which could mean a heavier workload for the veteran back in 2012.
Who's Going Down?
Winslow Townson/Getty Images
Running back
Reggie Bush
(614 snaps, 58.8 percent) may have high hopes to lead the league in rushing, but the addition of rookie running back Lamar Miller—who shares a similar skill set to Bush—could cut into Bush's playing time.
Make no mistake—Bush is the Dolphins' most talented offensive player. While I wouldn't agree with pulling Bush off the field, it's a distinct possibility.
Other Takeaways
Some might look at the running back position minimally in terms of value, especially in a pass-first West Coast offense. On the contrary, history shows that offensive coordinator Mike Sherman will not hesitate to utilize his backs, so the battle for playing time will be an important one to watch.
Wide Receivers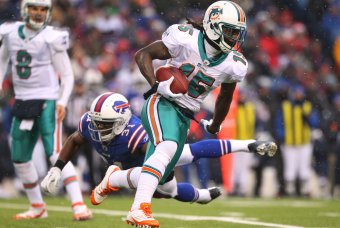 Tom Szczerbowski/Getty Images
Who's Going Up?
Wide receiver Davone Bess (563 snaps, 53.9 percent) is widely considered one of the top two receivers on the Dolphins' depth chart. With receiver Brandon Marshall now gone, taking 907 snaps with him, the Dolphins will be left to replace his production and his playing time. Bess is widely seen as a good fit for the West Coast offense.
Wide receiver Brian Hartline (709 snaps, 67.9 percent) played even more than Bess last year. Hartline was among the "most impressive" receivers at minicamp, according to The Miami Herald. He should be a solid fit in the West Coast offense, and even after seeing the second-most significant workload of any receiver in the offense, he could get even more snaps this coming season.
Who's Going Down?
With Marshall out of the equation, the Dolphins will be trying to replace a significant number of snaps. That likely means none of last year's receivers will see a lightened workload.
One name to watch, though, will be wide receiver Clyde Gates. He played just 155 snaps in his rookie season, and reports are he's not picking up the offense as quickly as other Dolphins receivers, according to The Miami Herald.
He's a long way from the top of general manager Jeff Ireland's list, as well, according to the Palm Beach Post.
Other Takeaways
The Dolphins made a couple of late-round draft picks in receivers Rishard Matthews and B.J. Cunningham, so it will be interesting to see how those two come along in the offense, but in the end, the snap counts will come down to who the best fits are.
Tight Ends
Who's Going Up?

If one tight end stands to benefit from the West Coast offense, it's Charles Clay (405 snaps, 38.8 percent). He was kept in more as a blocker than a pass-catcher last season (165 pass patterns, 240 blocking plays) but part of that may have been a function of a run-heavy offense.
Clay could be utilized as an H-back in the new offense. Philbin knows how to get the most out of a versatile tight end—just ask Green Bay Packers tight end Jermichael Finley.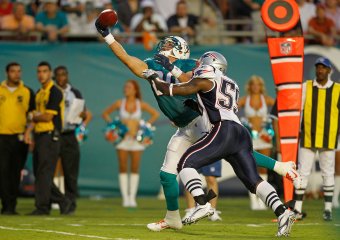 Mike Ehrmann/Getty Images
Who's Going Down?
Tight end Anthony Fasano (917 snaps, 87.8 percent) has shown flashes of brilliance as a pass-catcher and as a blocking tight end. But with the possible emergence of Clay and the selection of Missouri tight end Michael Egnew in the third round, the Dolphins maybe looking to get a bit more athletic at the position in 2012, with more of a focus on pass-catchers.
Other Takeaways
How the Dolphins utilize the tight end position as a whole will have a big impact on how the snap counts break down.
If they're looking for more production in terms of pass-catching, they could turn to Egnew and Clay. Fasano is the most well-rounded of the tight end group, but his career-high of 39 receptions isn't exactly sterling.
Offensive Line
Who's Going Up?
Joel Auerbach/Getty Images
Rookie tackle Jonathan Martin is a name to watch. He could be tasked with the starting right tackle duties as early as Week 1. He's likely the best option after the Dolphins parted ways with right tackle Marc Colombo (more on that later).
Beyond that, look for guard John Jerry (363 snaps, 34.8 percent) to get a heavier workload. He's been running with the first team at practice, according to the Sun-Sentinel, but the team is still trying to "get him established" as either a guard or tackle.
Who's Going Down?
With the subtraction of Colombo and his 1,037 snaps (99.3 percent) as well as Vernon Carey's 857 snaps (82.1 percent), the Dolphins will have a lot of snaps to replace.
They're searching for the best fits in their zone-blocking scheme after years of the offensive line being built toward ground-and-pound.
Other Takeaways
Not much room for change here. The entire left side of the line, from center Mike Pouncey to guard Richie Incognito and franchise left tackle Jake Long, is locked down. The departures of Colombo and Carey open voids where the Dolphins need to find replacements, but that appears to be taken care of.
Erik Frenz is the AFC East lead blogger for Bleacher Report. Be sure to follow Erik on Twitter and "like" the AFC East blog on Facebook to keep up with all the updates.